Speak Up Like A DIVA - Public Speaking for women who mean BUSINESS!
Description
SPEAK UP LIKE A DIVA is for GO-AHEAD WOMEN who want to improve their public speaking skills and boost their confidence in front of groups.
*Want to speak to up-level your career or your business?
*Would you like to find a safe, nurturing environment full of like-minded, heart-centred, ambitious women where you can learn and grow?
*Looking to gain the presence and communications skills needed to propel yourself to the next level?
*Are you working on a presentation and would love a place to give it a trial run and receive constructive feedback?
*Do you lack the time and energy to commit to joining a speaking club for 6 months or a year?
You want your speech to be perfect for that big moment - whether in the boardroom, at a conference or when you're out there promoting your own business.
You need to speak SOON, but you know that other clubs might require that you wait 3 or 4 months before you get a slot!
We have a unique solution for those who need the valuable experience that can only be gained from speaking in public. Come and enjoy our evening workshops. Book a speaking slot on demand and watch our bonus videos to help you prepare in your own time.
---
You can participate at one of 3 levels:
1. Pre-book a 7 minute speech slot
Amazing bonuses include:
20-MINUTE, PRIVATE LASER COACHING SESSION on Skype with Shola

- includes speech review and detailed feedback (£150 value)

Written DIVA feedback report from Shola (emailed to you as a PDF after your 121 session)

We video your speech
Free mini video series

- How to prepare for my speech

Free PDF copy of the Amazon.com bestselling book "How to be a DIVA at Public Speaking" (£10 value)
Written feedback from all attendees

(on the night) using the DIVA Speaking System
2. Pre-book a 5 minute speech slot
Amazing bonuses include:
Free mini video series

- how to prepare for my speech

Written feedback from all attendees

using the DIVA Speaking System

Free PDF copy of the Amazon.com bestselling book "How to be a DIVA at Public Speaking"
3. Workshop attendance and participation
Amazing bonuses include:
Learn from the valuable experience of providing speech feedback

Participate in the impromptu speaking sessions

Network with other women who are going places, like you!

Free chapter on storytelling from the Amazon.com bestselling book "How to be a DIVA at Public Speaking"
FREE NIBBLES WILL BE AVAILABLE TO ALL ATTENDEES. This month we'll also be celebrating Shola's birthday with some delicious, specially-made, artisan cake. Yum!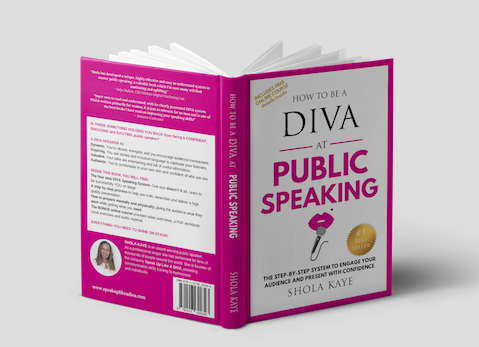 ---
***Sep 27th WORKSHOP THEME: We explore how to be a VALUABLE speaker.
What kind of speech is best for your audience? How should you STRUCTURE your speech for maximum impact? How to open and close with power, and much more. ***

Evening workshops are held monthly. Each one consists of:

Prepared speeches: Have a speech to try out? You can pre-book a 7 minute or a 5 minute speech slot. No waiting in the queue for months! If you need a slot, pre-book, and it's yours.
Or, you can simply come along and enjoy the workshop and listen to the speeches.
Interactive workshop: Using the acclaimed DIVA Speaking System from the best-selling book, each workshop will focus on a different aspect of public speaking. This accessible framework focuses on helping you become a well-rounded, authentic speaker using examples of well-known, successful DIVAs, providing you with strong, female role models you can aspire to.

Impromptu speaking: There will also be the chance for some off-the-cuff speaking, which sounds scary, but is good fun and is amazing at improving your communication skills and confidence.
Each meeting works like this (approx timings):
6.30 - 7pm: Optional networking with other ladies at our luxurious Central London venue
7pm - 8.15pm: Interactive public speaking workshop
8.15pm - 8.30pm: More networking, complimentary nibbles, or grab a wine from the hotel bar!

8.30pm - 10pm: Prepared and impromptu speeches and feedback
Not sure how to prepare for your slot? Don't worry - you'll be fully supported with a mini-video course to help you get ready!
---
TESTIMONIALS

As well as improving my presentational skills, I now have a better understanding in offering my clients greater incentives and stronger call-to-action business proposals to work with my company. With this entrepreneurial knowledge, I know it will enhance my enrolling skills and increase revenue for my design business. The course was compact, very well-structured and informative. I look forward to more training sessions with Shola's Speak Up Like a DIVA. NIEAL GREWAL - AGENCY DIRECTOR
Thanks so much Shola. Your course was great and very effective! Definitely the most practical I've experienced, and I've attended at least five different speaker training courses in London! AGILE PROJECT MANAGER, LONDON

I attended a Speak up like a Diva event recently and I thoroughly enjoyed it! Shola truly creates a wonderful vibe so women feel comfortable to speak up. The workshops during the evening, one by Shola and one by a guest speaker, were full of tips and tricks not only on how to improve as a speaker, but also to help women be confident with themselves and their unique capabilities. With Shola's support everyone in the audience went up to speak in front of us all, and that was really uplifting. KATJA VAN KOTEN - SPARKLING SPEECH

I've hired Shola to train and consult my team in being confident, content and powerful speakers as they go and meet our clients on a weekly basis and present to them. I've seen a tremendous difference within the team and the individuals and they've also felt that they've benefited from Shola's coaching sessions and have become more confident as a result. I would be very happy to recommend Shola to any business leader and their team, she makes truly a positive and profitable difference into the team and team performance. Thank you Shola. I look forward to continuing our working relationship. SAIJA MAJON - FOUNDER & CEO MAJON DIGITAL

Here's a testimonial from a lady who attended the last meeting: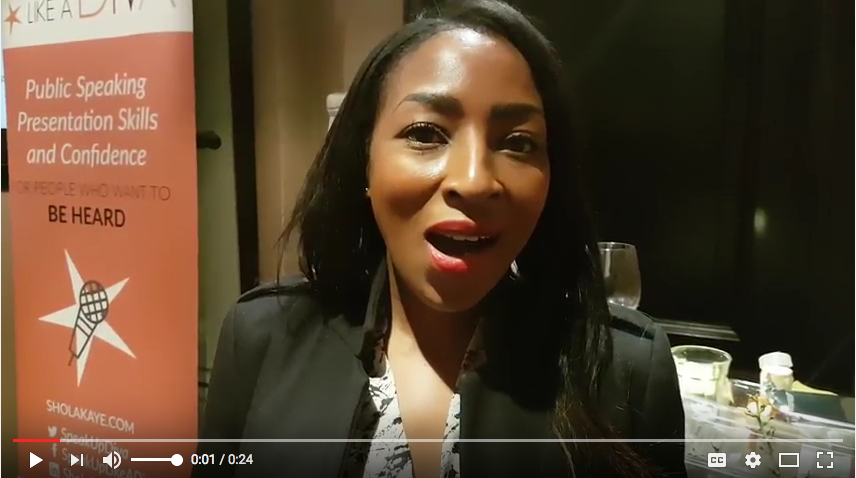 Here's a slide show of a few of the speakers at our last meeting: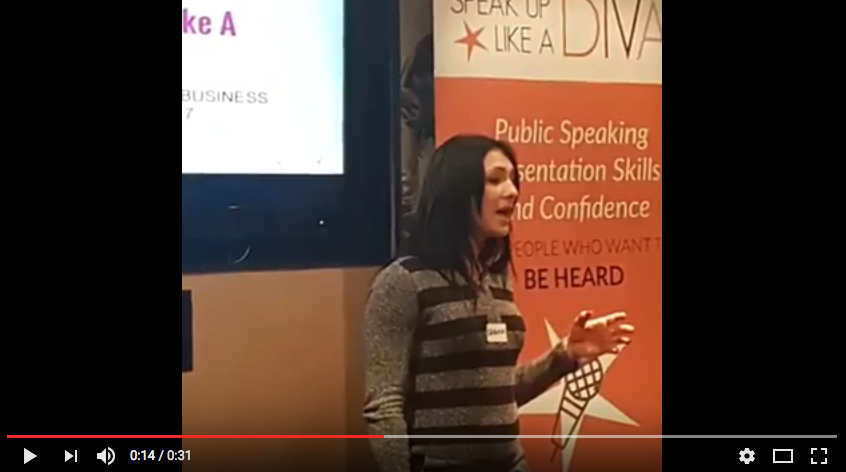 ---
The venue:
Rydges is a modern and elegant boutique hotel, less than 60 seconds' walk from Gloucester Road tube station (Piccadilly and District lines). With an airy, full service restaurant and a cosy bar, it's a great place to enjoy a glass of wine or meet up with fellow DIVAs for a bite to eat before or after the workshops.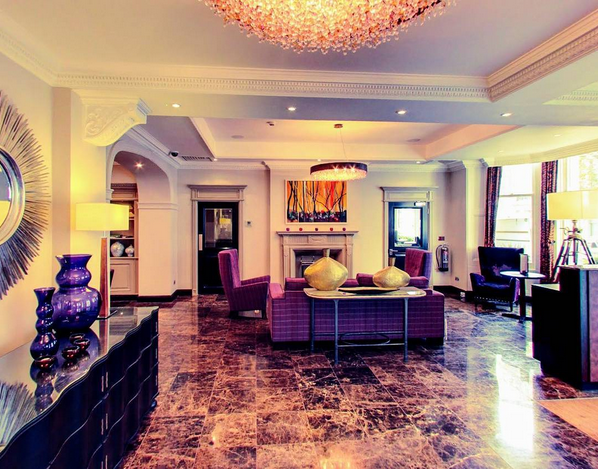 ---
About the trainer:
Shola Kaye is author of the bestselling book, How to be a DIVA at Public Speaking. She's also an award-winning professional speaker and an international performer. With corporate experience gained at blue chip companies in New York and London, and qualifications in teaching and coaching, Shola will show you the unique DIVA Speaking System that will help you become an authentic, powerful public speaker. As someone who was once afraid to speak in public, she is sympathetic and encouraging towards nervous speakers. Shola has won numerous speaking contests, spoken to audiences as large as 1500 people and has performed in front of tens of thousands internationally. For the more ambitious speakers that attend, Shola can share a raft of knowledge that will help propel you to the next level.
ANY QUESTIONS?

Q - What should I speak about? Whatever you like! It can be a personal story or work-related. Please remember you are there to improve your public speaking - NOT to pitch to the group to sell your product or service. It's OK to ask for feedback on your delivery but not to out-and-out ask the audience members to buy your stuff!
Q - Can I speak at consecutive events? Yes of course! As long as slots are still available you are always welcome to speak.
Q - How far in advance can I book my slot? The earlier the better. There is a limited number of slots each meeting, so as soon as you know you'd like to speak, book it! That way, you'll have more time to prepare and will probably do a better job. It's OK to book at the last minute (subject to availability), especially if you have a looming presentation and need to practise. But in general, the more time you have and the less rushed the preparation, the better the result!
Q - Can I use notes? Yes but respect your audience by writing your bullet points on a small piece of card. Please don't come along and read your speech verbatim from a sheet of paper or an exercise book!
Q - If you video my speech will it be available to the public? Absolutely not! The video is available only to you and to Shola. It will be loaded on to youtube but as a private video so we can discuss it during the 121 skype session. This will be an amateur video recorded on a phone for training purposes, and not a professional quality video.

Q - Can I book a slot longer than 7 minutes? We have to limit the length of each slot so that as many as possible get the opportunity to speak in front of the group. If the presentation you wish to practice is longer than this, create a shorter version. Keep the opening and ending - but shorten the content in the middle. We will still get a good flavour of your speech and the feedback you'll be given should still be highly relevant and useful.
Q - Can I repeat the same speech? Yes, of course. Each time you book a slot you will need to pay, but you can keep working on the same speech over multiple meetings if you wish.
Q - If I can't attend, can I use my slot at another meeting? If you cancel at the last minute unfortunately we can't guarantee we will move your spot to a different date but we will try our best. If you give us minimum 2 weeks notice of cancellation then, yes, we will definitely allow you to run your speech at the next scheduled meeting instead.
Q - Can I use slides? Yes, there will be a pc laptop there. Please inform us at time of booking (Use the contact form at www.sholakaye.com/contact) that you wish to use slides. I'd suggest capping the number of slides to maxiumum 4. This is so you focus on your delivery as a public speaker, rather than use the slides as a crutch. Please bring your slides on a USB stick. I'd recommend you don't use slides if possible, especially for such a short presentation.
Q - If I don't pre-book a slot will I still have a chance to speak? There will be a number of one-minute impromptu speaking slots available but these are not pre-assigned. We can't guarantee you will speak to the group but the workshop is interactive so you will get plenty of chances to speak to a partner or in small groups
More questions? Once you book your speaking slot we will direct you to our mini video training series that will guide you through everything you need to prepare your speech. Or contact shola at www.sholakaye.com/contact0

Save
Save
Save
Save
Save
Save
Save
Save