Description
Are you ever asked to speak in front of a large audience? Does your job include creating speeches that senior management will deliver to employees, customers or investors? Whether you're new to giving speeches or a seasoned presenter, join SF IABC and Toastmasters to help hone your skills.

Learn quick and easy tips from IABC leaders and experts in the Toastmasters public speaking community on how to prepare and present awards, use visual aids and props, incorporate body language, and more. Then put those new skills into practice with an (optional) interactive presentation exercise, and receive actionable feedback from event speakers.
You'll receive high-impact, tried-and-tested advice on how to:
Overcome nerves

Present with confidence

Prepare and practice strategically and efficiently

Write content on behalf of another speaker (e.g., leadership)

Speak on-the-fly

Be sensitive to cross-cultural communication differences
Invest in yourself and learn new skills at this fun, interactive event.

Toastmasters International, founded in 1924, is a proven product, regarded as the leading organization dedicated to communication and leadership skill development. Through its worldwide network of clubs, Toastmasters helps nearly 280,000 people communicate effectively and achieve the confidence to lead others. Learn more about joining Toastmasters.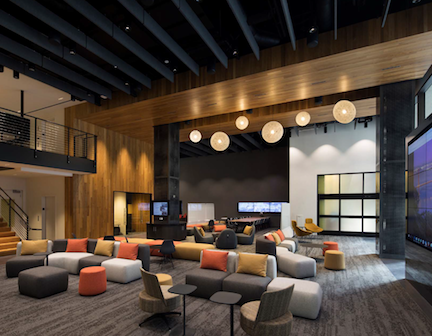 Speakers at this event include:
Suki Baz, Vice President of Professional Development, SF IABC
Suki has a passion for connecting people through communications, driving organizational culture, and strengthening the feedback loop between leaders and the workforce. Suki joined the National Park Service in 2012 and launched the first-ever internal communications team to engage with a geographically dispersed workforce of 24,000 full-time and seasonal staff. Suki has been actively involved in IABC since 2008, and is currently the co-Vice President of the Professional Development portfolio. She values the continual learning and networking opportunities that the organization provides, in addition to the great friends she has made along the way. Connect with Suki on LinkedIn and learn more about the skills she brings to the SF IABC board.
Svetlana Danilova, Member, "Evening Stars", advanced club, San Francisco (District 4), and "Lamorinda Toastmasters" club in Lafayette (District 57).
Svetlana joined Toastmasters International in 2009, and among many other awards, she has received the Distinguished ToastMaster title in 2011. Svetlana never stops learning and is very engaged in Toastmasters--including being involved with Pathways (a new educational program), mentoring, sponsoring new clubs, training Toastmasters officers for their roles, turning around troubled Toastmasters clubs, serving in various officer roles, and supporting members on an individual basis. Svetlana is a Bio Chemical Physicist by trade and worked for many years in financial industry (currently a team member of Foreign Exchange at Wells Fargo). She is a proud US Citizen, and currently resides in Clayton. Before moving to the USA, Svetlana lived in many countries: grew up in Uzbekistan, got her education in Siberia, worked in Germany for 5 years. She loves to travel and wants to visit 100 countries before her retirement. She also loves to learn foreign languages to be able to communicate better. Connect with Svetlana on LinkedIn.

Iolanthe Denman, Website Director, SF IABC, and Member of the Toastmasters Stagecoach Speakers Frontier Club
Iolanthe has worked in communications and real estate for over a decade, partnering with senior leadership and providing strategic, editorial counsel across diverse platforms including large-scale investor events, internal engagement campaigns and town halls. As Website Director of SF IABC, she oversees content strategy and is currently focused on a site redesign. In 2017, she took a deep breath and joined the Stagecoach Toastmasters chapter, to hone her voice and presentation skills. Whether drafting an article, or delivering a speech, her passion is telling compelling stories that resonate. Iolanthe holds a bachelor of arts degree in English Literature and Linguistics from Lancaster University in the U.K. Connect with Iolanthe on LinkedIn.

Nathan Mellin, Distinguished Toastmaster and Past President, Toastmasters Stagecoach Speakers Frontier Club
Nathan Mellin is a Project Manager for Wells Fargo Community Banking focusing in vendor management who looks for innovation and efficiencies to help develop improvements for their customers. He utilizes crucial communication skills to achieve these goals that he largely got in part thanks to Toastmasters training that helped him improve his public speaking and leadership skills. He's able to share his vision with his team members more effectively and support their growth as well. He's even benefited from this in his personal life where he can apply himself more confidently as CEO of the Project Management Institute San Francisco Bay Area Chapter and delivering a speech at his brother's wedding! Connect with Nathan on LinkedIn.
Todd Nelson, Vice President of Professional Development, SF IABC
Todd Nelson helps people and organizations tell powerful stories. As founder and principal of TNTpr, he is a communications and marketing leader known for creative work and strategic initiatives at diverse startups, agencies, nonprofits and established companies. In addition to hard skills, Todd brings empathy, adaptability, intellectual curiosity, cultural competency, and 360-degree thinking—soft skills essential for success in this global, digital, change-filled era. The legal cannabis industry is Todd's niche; his expertise has been featured by multiple associations and he is widely known as the "Pot PR Guy." Connect with Todd on LinkedIn and learn more about his unique PR specialization.

Mabel Oza, Vice President of Education, Toastmasters Stagecoach Speakers Frontier Club
Mabel is a marketer turned engineer, who has an insatiable drive to simplify life's complexities. Mabel possess a passion in technology, experiencing different cultures, and a strange liking for public speaking. Mabel joined Wells Fargo in 2015 has worked on numerous application development projects throughout the bank. At Wells Fargo Mabel has been an active member and the Vice President of Education of Stagecoach Toastmasters and has founded the Blockchain special interest group. Mabel founded the ODM Meetup group in San Francisco in 2016 and has brought in more than 70 members and has hosted and organized several live and virtual meetings. Prior to joining Wells Fargo, Mabel worked for IRI Worldwide as an ODM developer and SAS programmer, that opportunity gave her extensive experience in product management and machine learning. Connect with Mabel on LinkedIn.

Prakash Stec, Club Treasurer, Toastmasters Stagecoach Speakers Frontier Club
Prakash is excited about self-improvement and has been with the Toastmasters Stagecoach Frontier club for 2 years. He has taken advantage of both the leadership and public speaking opportunities there, and currently serves as the club Treasurer. Prakash works as a data analyst for Wells Fargo Small Business Lending. His projects focus on pricing, promotion analytics, and reporting. The analytical focus from his job has led to deeper insights in his public speaking development at Toastmasters. In turn, the public speaking skills gained through Toastmasters aid in communicating ideas effectively in the workplace. Connect with Prakash on LinkedIn.

Carlos Vadillo, President, Toastmasters Stagecoach Speakers Frontier Club
Carlos joined Toastmasters in 2016, and achieved the Advanced Communicator Bronze and Advanced Leader Bronze awards. Carlos Vadillo is a User Experience engineer, helping Visual and Experience Designers to validate their ideas and build proofs of concept and prototypes. Carlos moved to the Bay Area from Mexico in 1993, and is a self-proclaimed Jedi Master. He has built many Lightsabers and donated them to institutions like La Casa de las Madres, Fund for the Northern California Fires Victims and Alameda Education Foundation as auction items. Connect with Carlos on LinkedIn.