Event Information
Refund Policy
Refunds up to 7 days before event
Description
Speak Up For Your BUSINESS – public speaker training for women entrepreneurs and women who want to get ahead at work (Brought to you by Speak Up Like A DIVA)

Are you excited to grow your business with public speaking but need help with structuring and practising your speech?
Have you been delaying your business networking presentation because you're not sure what to say?
Do you need to present for work or business but you're not sure how to organise your ideas?
If you answered yes to any of the above, then Speak Up For Your BUSINESS is for you!
WORKSHOP FOCUS:
1. CREATE A GREAT 10 MINUTE PRESENTATION TO PROMOTE YOU AND YOUR BUSINESS
2. PRACTISE YOUR PRESENTATION AND GET FEEDBACK FROM THE GROUP

3. LEARN HOW TO EXTEND YOUR PRESENTATION TO FIT LONGER SPEAKING SLOTS
4. RECOGNISE THE TWO MOST POPULAR TYPES OF BUSINESS NETWORKING PRESENTATION AND WHICH ONE BEST SUITS YOUR BUSINESS OBJECTIVES

5. LEARN SLIDE BEST-PRACTICE - NO MORE DEATH BY POWERPOINT!
AND...
If you feel you need additional 121 personalised training you can book an add-on Skype laser coaching session with Shola to help you fine-tune your presentation.

---
In this one-day intermediate speaker training for women entrepreneurs and business people you'll learn a step-by-step technique to create a compelling speech that will persuade others to buy into you and your ideas. Even if you are new to public speaking, you will still find value in attending.

People with great communication and presentation skills tend to:
• Earn more money
• Have more productive work relationships
• Get promoted more rapidly
Our gentle approach will instill you with confidence so that even after you leave the event, you can continue to spread your wings and fly.
WHAT WE COVER:
Learn a proven step-by-step process for creating your presentation
Practise your presentation and get detailed feedback
Tap into a rich, strong engaging voice using powerful vocal exercises
Tell inspirational stories that draw in your listeners
Persuade and inspire with inclusive language
We also look at best practice with slide creation/usage

Learn techniques to overcome nerves and jitters
And you will also receive these great bonuses!
BONUS 1: All participants will receive a complimentary PDF copy of the Amazon.com bestselling book, How to be a DIVA at Public Speaking.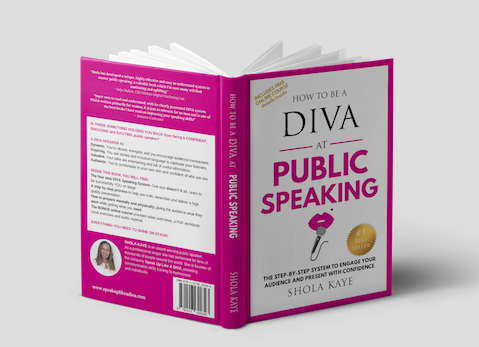 BONUS 2: All participants will gain access to the online 3-part video series: How to Prepare your Speech
PLUS: If you opt for the ADD-ON LASER COACHING SESSION you will receive a 20 minute private Skype coaching session with Shola. We'll fine-tune your presentation and you'll receive a written assessment, using the DIVA framework, that you can keep and use every time you speak.
---
TESTIMONIALS:
Here's a slide show of a few of the speakers at a previous meeting:
Here's a testimonial from a lady that attended one of the meetings: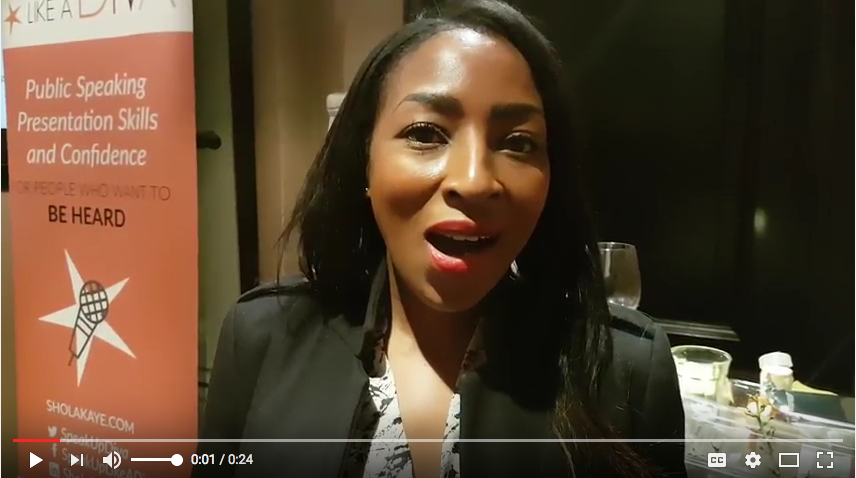 Here's a testimonial on the add-on 121 laser coaching session that you can book for more in-depth help: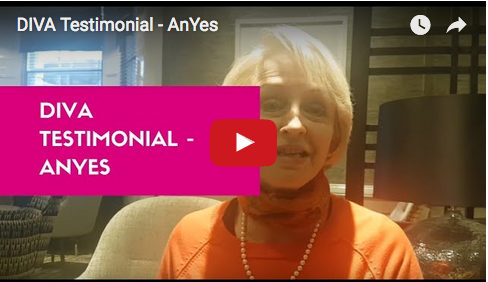 Watch more testimonial videos at http://sholakaye.com/live-events
Find out more at http://sholakaye.com/business
ABOUT Speak Up Like A DIVA:
This is a group for women who want to speak up and be heard.
Gain confidence and work on your public speaking, presentations and voice skills.
Improve your business networking, present better at work and overcome public speaking fears.
Work on your voice to increase projection and oomph!
ABOUT THE TRAINER:

Shola Kaye is author of the bestselling book, How to be a DIVA at Public Speaking. She's also an award-winning professional speaker and an international performer. Recently she has written for Marie Claire and been featured in The Metro. With corporate experience gained at blue chip companies in New York and London, and qualifications in teaching and coaching, Shola will show you the unique DIVA Speaking System that will help you become an authentic, powerful public speaker. As someone who was once afraid to speak in public, she is sympathetic and encouraging towards nervous speakers. Shola has won numerous speaking contests, spoken to audiences as large as 1500 people and has performed in front of tens of thousands internationally. For the more ambitious speakers that attend, Shola can share a raft of knowledge that will help propel you to the next level.
A WORD FROM SHOLA:
Hi, as a self-confessed introvert I know what it's like to have nerves and stage fright. I used to hate speaking in front of a group. Years ago I even got fired from a job because I didn't speak up during meetings. One day I knew I had to take the bull by the horns and deal with my fears. Eventually I had the courage to become a professional singer. Over the years, as both a speaker and an international vocalist, I've performed and spoken in front of tens of thousands of people. I'm now an award winning speaker. A far cry from the shy and frightened woman who would sit in meetings hating every moment of it.

If I can do it, so can you! Take the first step by coming to one of our events. They're fun, friendly, gentle and encouraging. Presentation skills are SO valuable in today's society. Whether you want to get ahead at work, be more assertive during conversations, or deliver your personal message to the world, you owe it to yourself to be the best communicator you can be. It's not about being perfect, it's about giving yourself the freedom to be YOU.
FEEDBACK from previous meetings and events:
"I'm sure you will be happy to hear, I am finding I'm much more readily up for engaging in conversation with people at work, usually one to one. Generally feeling less anxious about speaking up, which is quite a revelation. I even spoke to somebody in the company that I've hardly spoken to in nearly 10 years of being there, although, she is usually on a different floor.
I also enjoyed meeting the other women who were at the meeting, including yourself of course. Such a wonderful venue too, I'm glad the next one is at the same place."
"It was great to know that many women are in the same situation as myself. I feel positive that I will develop my confide
nce and public speaking"
"Thank you for hosting the event last night. It was very rewarding and refreshing to be amongst like-minded women with a personal goal towards self-development. I've already told so many colleagues about your event who want to attend the next one."
"Thank you Shola for the precious & priceless gift yesterday! I have spent thousands of pounds & countless hours learning & training! Never before have I had a coaching session so precisely & perfectly made to fit the job in hand! That one short session got me through a very challenging speech & will serve me for the rest of my life!" Lena Julie Porter
"Shola offered our startups a fantastic workshop exploring the art of presenting confidently which really showed at the demo day pitches at the end of our cohort.
Her experience as a singer was invaluable and showed how skills can be easily transferred across into the business world. The workshop was highly engaging and the startups came out full of energy, a new found confidence and had vastly improved their pitch" Rishi Chowdhury
"Shola was the opening and closing speaker at our event and tailored her speech to cater for needs of the audience. She is a brilliant speaker.
An absolute professional, she was very easy to work with and her style is an entertaining combination of high energy, humorous tales and warm authenticity. There was a powerful take home message behind every story she shared and our attendees were fully engaged from the first moment. I look forward to inviting Shola back to other events here at Lloyds." Sarita Yadav
Save
Save
Date and Time
Location
Refund Policy
Refunds up to 7 days before event