Description
How can you be more in the flow when it's time to speak and share your message?
How can you be a channel for the Divine in those oh-so-important moments when clients, money and impact are on the line?
Join your fellow speaker entrepreneurs for stage time, laser coaching and speaker training.
You are deeply intuitive, empathic and an expert at what you do as a healer, coach or therapist. You know how to lead others into relaxation states and through powerful processes that change their life.
You might have gotten business support around your messaging, niche and programs… but as your business grows it's time to attract your ideal clients through speaking.
Speaking for you could mean actual stages at a conference or event; or, it could mean a webinar, a networking event or even just in enrollment conversations.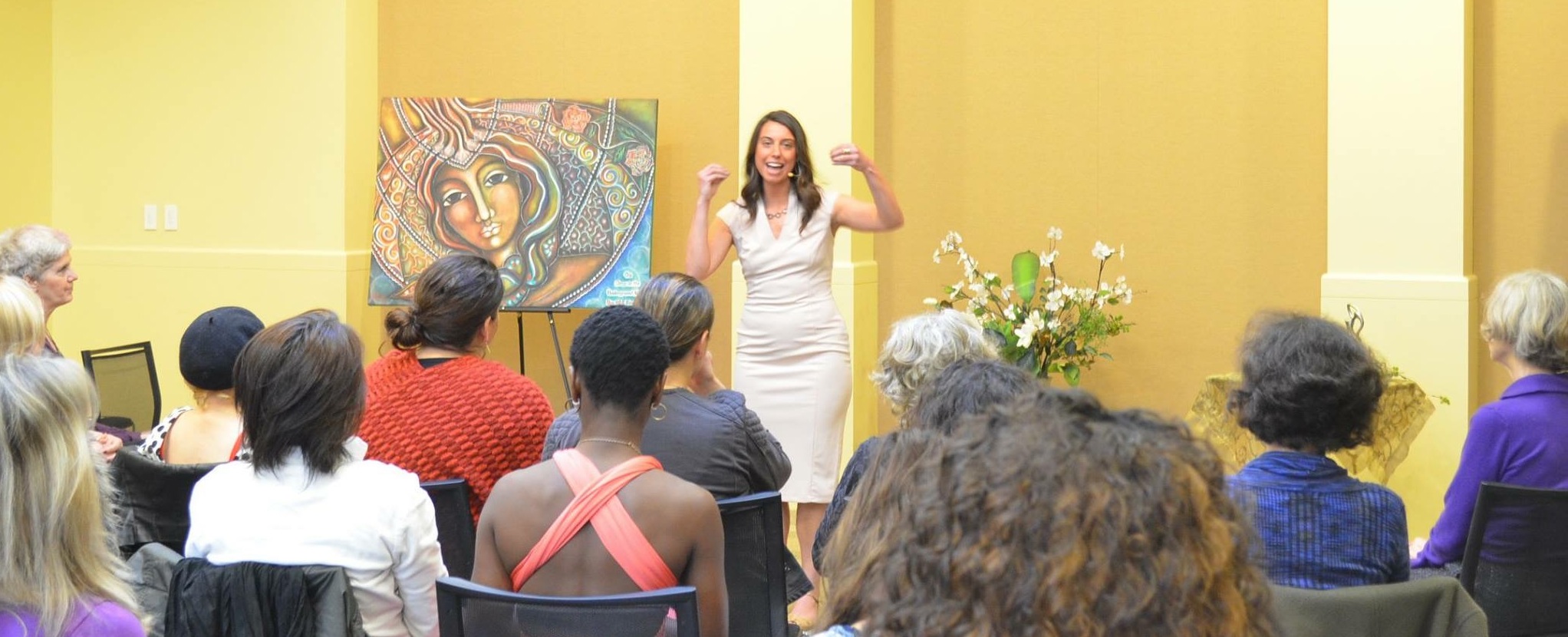 Whatever your stage, you want to speak from your essence, feel comfortable in your own skin and have clients clamoring to work with you. Right? Yes, please!
Perhaps you tend to go out of your body in those high-stakes moments and you wish you could feel more embodied, more feminine, fully-expressed and less awkward on stage. You end up playing small, with a soft voice and a stiff body when you know how powerful you are!
Perhaps you spend hours (or days!) preparing your content and are still changing every little detail up to the last moment, not sure what's best to say. You might be giving too much away but don't know what else to do because you don't want to be salesy… but you're conversions are low and it's time to figure out this speaking thing already!
What if it didn't have to be so… hard!?!
Speaking can be one of the most triggering things we do in business especially when we are selling from the stage. It's often where I see entrepreneurs lose credibility. Even if you have gotten over the initial fears of just getting up there, are you fully expressed and converting every time you speak?
It's especially tricky for us healer-types because the "yoga-teacher/meditation" voice just doesn't work for a talk. And, speaking ABOUT your business is very different then doing workshops FOR your business.
I've worked with 100's of women entrepreneurs who were struggling to step confidently and charismatically onto the stage and were stuck in a pattern of spinning out around content. I've helped them to get out of their heads, have a lot more fun up there as their authentic selves and grow their business organically with their magnetic presence.
Join me to learn the foundational pieces to Speak To Inspire. The great speakers know these things, and I want YOU to be one of the greats.
Speak To Inspire: Come Alive On Stage To Attract Your Ideal Clients And Change The World With Your Message
Co-Sponsored by FEM Talks
Friday January 26th 6:30-9:30pm
Berkeley Unitarian Universalist Fellowship Hall (entrance on Cedar St.)
You might just be missing a few pieces around how to take your audience on a journey, how to light up any room, and how to make your spiritual message into a grounded, engaging presentation.
In this special intro event, you'll…
Learn The 3 Keys To Inspire Any Audience

Enjoy Fun, Embodied Exercises That Warm-Up Your Public Speaking Muscles

Receive Stage Time And Personalized Laser Coaching

Learn How To Go Deeper With Speak To Inspire Coaching
****There will only be 10 speaking spots available for this event. Only 10 eager, fast-action speakers will get stage time and coaching (to manage time). Grab your ticket early! These spots will sell out. ****