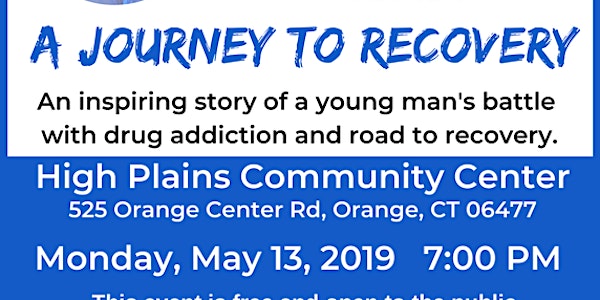 SPEAK SOBRIETY Stephen Hill: A Journey to Recovery
When and where
Location
High Plains Community Center 525 Orange Center Road Orange, CT 06477
Description
Stephen Hill (Motivational Speaker/Law Student/Author) presents "A Journey to Recovery" - An inspiring story of a young man's battle with drug addiction and road to recovery.
Stephen gives a heartfelt presentation about his personal struggles with substance abuse, journey to recovery, and highlights the many benefits of living a clean and sober lifestyle today.
This event is free and open to the public.
Subject matter appropriate for middle and high school age students and their parents/guardians.
Doors open at 6:30pm for refreshments.
Questions?
Please contact:
Jessica Simone, MSW
Orange Youth Services Coordinator
(203) 891-4785
jsimone@orange-ct.gov

About Stephen Hill (https://speaksobriety.com/about/)
Stephen Hill had everything going for him growing up: a loving family, lots of friends, and he excelled in school – especially sports. Elevated to play on the junior varsity lacrosse team in 8th grade, Stephen was introduced to drugs and alcohol by older peers. He started drinking and smoking his freshman year of high school, and his life quickly spiraled out of control. Before long, he was addicted to prescription painkillers and heroin. The American opioid epidemic has taken the lives of many and destroyed even more. At the height of Stephen's addiction, it seemed as if it were just a matter of time before he ended up just another deadly statistic. After a decade of substance abuse, multiple failed attempts at treatment, and numerous arrests, Stephen was finally able to achieve long-term sobriety. His story of hope and recovery will leave readers inspired and with a better understanding of addiction and recovery. Stephen is now living out his passion Speaking Sobriety to teens, parents, and teachers at schools and community events all over the country.