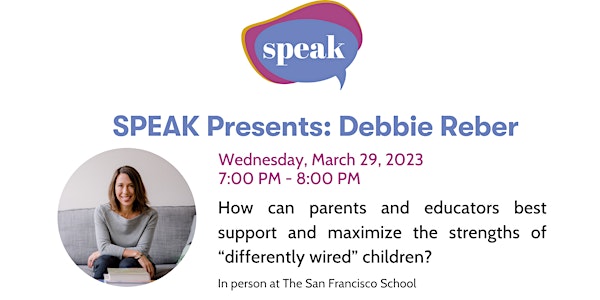 SPEAK SF Presents: Debbie Reber
How can parents and educators best support and maximize the strengths of "differently wired" children?
Date and time
Wednesday, March 29 · 7 - 8:15pm PDT
Location
San Francisco School 300 Gaven Street San Francisco, CA 94134
About this event
When more than 20% of young people today are neurodiverse, how can parents and educators best support and maximize the strengths of these "differently wired" children?
On Wednesday, March 29th from 7:00-8:00pm, parenting activist and podcaster Debbie Reber joins SPEAK in person at The San Francisco School to share her insights on the challenges neurodiverse and twice exceptional kids face in and out of school. Reber, founder of Tilt Parenting and author of Differently Wired: Raising an Exceptional Child in a Conventional World, will also highlight strategies to positively shift the way these children are seen, understood and supported.
Debbie Reber, MA is a parenting activist, bestselling author, speaker, and the CEO and founder of Tilt Parenting, a resource, top-performing podcast, consultancy, and community with a focus on shifting the paradigm for parents raising and embracing neurodivergent children. Her most recent book, Differently Wired: A Parent's Guide to Raising an Atypical Child with Confidence and Hope, came out in June 2018. After living abroad in the Netherlands for five years, Debbie, her husband, and differently wired teen moved to Brooklyn, NY in 2019.
NOTICE OF FILMING AND PHOTOGRAPHY
When you attend a SPEAK event or program, you enter an area where photography, audio, and video recording may occur. By entering the event premises, you consent to interview(s), photography, audio recording, video recording and its/their release, publication, exhibition, or reproduction to be used for news, webcasts, promotional purposes, telecasts, advertising, inclusion on websites, social media, or any other purpose by SPEAK and its affiliates and representatives. Images, photos and/or videos may be used to promote similar SPEAK events in the future, highlight the event and exhibit the capabilities of SPEAK. You release SPEAK, its officers and employees, and each and all persons involved from any liability connected with the taking, recording, digitizing, or publication and use of interviews, photographs, computer images, video and/or or sound recordings. By entering the event premises, you waive all rights you may have to any claims for payment or royalties in connection with any use, exhibition, streaming, web casting, televising, or other publication of these materials, regardless of the purpose or sponsoring of such use, exhibiting, broadcasting, web casting, or other publication irrespective of whether a fee for admission or sponsorship is charged. You also waive any right to inspect or approve any photo, video, or audio recording taken by SPEAK or the person or entity designated to do so by SPEAK. You have been fully informed of your consent, waiver of liability, and release before entering the event.