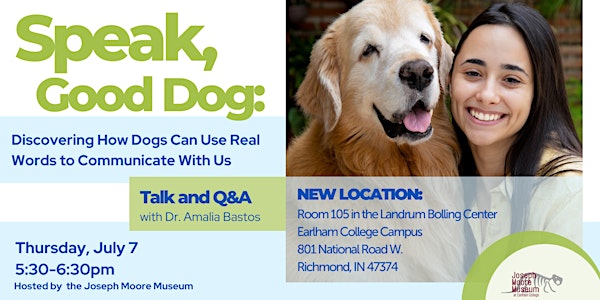 Speak, Good Dog: Discovering How Dogs Can Use Real Words to Communicate
Come learn about the exciting world of animal communication with Dr. Amalia Bastos!
When and where
Location
Joseph Moore Museum 801 National Road West Richmond, IN 47374 United States
About this event
***LOCATION CHANGE***
Due to high interest in this event, we have changed locations to a larger venue. Please join us in Room 105 in the Landrum Bolling Center on Earlham College's campus.
After you turn into Earlham College's main entrance, the Landrum Bolling Center is just up ahead on the right. You can find the nearest parking lot by turning right at the first stop sign.
_____________
***LIVE STREAMED EVENT***
Due to high interest in this event, we will live stream it through Facebook and Instagram in addition to hosting it in person. To watch our live stream through Facebook, click on Navigation Panel and then select the Live Videos short cut. To watch via Instagram, click on the Joseph Moore Museum profile image when you see the word "Live" and a colorful ring appear around it. If you miss our live stream and the in-person event, we will provide a recording of the live stream via our social media pages.
_____________
Once, the idea of speaking to animals was restricted to children's books. Past attempts at communicating with other species, primarily captive apes, raised a number of scientific and ethical concerns, leading to the dissolution of the field of animal language studies. Now, a citizen-scientist-led resurgence is reviving the field, with thousands of pet owners teaching their dogs, cats, and other domestic animals to "talk" with buttons. How much of this is true communication, and what could this work teach us about animals' inner thoughts and feelings?
Dr. Amalia Bastos is a postdoctoral researcher at the Comparative Cognition Lab at the University of California, San Diego. She is interested in how evolutionary pressures have shaped the minds of different species, and which cognitive mechanisms animals employ while interacting with the world around them. Currently, her work is exploring the extent to which domestic animals -- particularly dogs -- might use soundboards to communicate with their people.
This educational talk will take place at the Joseph Moore Museum at 5:30 PM on Thursday, July 7th. The talk will last about 25-30 minutes with time for Q&A afterward. Please preregister as seating is limited.