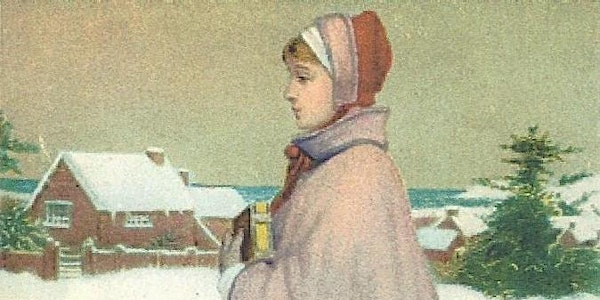 Speak for Thyself Awards Dinner
The 16th annual Speak for Thyself Awards Dinner celebrates outstanding women in the spirit of Priscilla Mullins Alden.
By Alden Kindred of America
Date and time
Thursday, May 11 · 6 - 9pm EDT
Location
Jones River Trading Post 42 Elm Street Kingston, MA 02364
Refund Policy
Contact the organizer to request a refund.
Eventbrite's fee is nonrefundable.
About this event
The 16th annual Speak for Thyself Awards will recognize exceptional women who, in the spirit of Mayflower Passenger Priscilla Mullins Alden, have been pioneers, advocates, and leaders, promoting extraordinary outcomes by speaking on behalf of themselves and others. Sponsored by the Alden Kindred of America, this year's awards will honor two Duxbury community leaders - Donna Wood and Kay Drake - along with retired director of the Woods Hole Historical Museum Jennifer Stone Gaines and Veterans advocate Pamela Nichols of Birmingham, Alabama. Duxbury senior Grace Nightingale will be recognized with the "Aspiring Priscilla" award.
The Alden Kindred of America owns and operates Alden House Historic Site, part of the property granted to Mayflower passengers John and Priscilla Mullins Alden and home to generations of their descendants. Designated a National Historic Landmark, Alden House welcomes visitors for guided tours and educational programs.
The awards dinner will be held at the picturesque Jones River Trading Post in Kingston.
Cocktails, Dinner, Awards Program. Tickets $85.
Kay Drake, Estero, Florida
During Kay's 50 + years living in Duxbury, she was committed to the community which was evident by the many committees and organizations she shared her time and talent with. Her gift of time at the School Committee had a long-lasting effect on the quality of education in town. Her greatest gift to the community was the 20 + years she served on the Duxbury Interfaith Council as the Outreach Coordinator. Kay became the face of the Duxbury Interfaith Council to many people during her decades of membership. Each day for nearly 20 years, Kay would respond to calls for help on the DIC line. She vetted callers, created lists of families who for many reasons, needed support. Kay brings joy and love to each of her volunteer roles and spreads that love to everyone. In 2015, Kay was awarded the President's Lifetime Achievement Award for her lifelong commitment to building a stronger nation through volunteer service, the ideal recognition of her passion for helping others!
Jennifer Stone Gaines, Falmouth, Massachusetts
During her 34-year tenure at the Woods Hole Historical Museum, Jennifer Stone Gaines has had a passion for bringing history to the people. She removed local history from obscurity and made it part of everyday life, both for residents and those employed in the village, as well as for the thousands of tourists moving through this unique seaside village, which is an internationally prominent marine science center. Jennifer has become a beloved figure in the Woods Hole community. Under her leadership as Executive Director, many new programs and accomplishments were added to the Museum's repertoire. Among these are annually changing exhibits, walking tours of the village, the peer-reviewed journal Spritsail, summer internships, a thriving and award-winning book publication program, the festive Woods Hole Model Boat Show, and an on-site boat restoration program. In addition to her role at WHHM, Jennifer has simultaneously been a librarian at the Woods Hole Public Library, a teacher at the Children's School of Science, and a competitive racer of Cape Cod Knockabouts at the Woods Hole Yacht Club.
Pamela Nichols, Birmingham, Alabama
Over her 30-year healthcare management career, Pam's list of professional accomplishments includes development of numerous successful health services programs, including mental and senior health. Pam served as a Board Member and officer for many professional, civic, and non-profit organizations committed to serving needs in her community. In retirement, she has become an advocate for Veterans and has received many recognitions for her tireless volunteer service and leadership, including the Daughters of the American Revolution Medal of Honor; the Daughters of Colonial Wars' American Heroes Award; and was selected as a permanent member of the state of Alabama Senior Citizens Hall of Fame in 2021. Pam was co-founder/Director of Honor Flight Birmingham which honored living WW II veterans, which she describes as one of her greatest personal accomplishments. Pam continues as Chairman and coordinator for organizations which honor fallen veterans and their families, receiving additional Volunteer Service Awards in 2022. Pam was nominated for this award by her brother, Jim Byram, a longtime member of the Alden Kindred of America.
Donna Wood: Duxbury, Massachusetts
Donna is passionate about the South Shore of Massachusetts and has been excelling in real estate for over 50 years, selling over 800 homes in the area. She has led many local organizations focused on supporting and promoting South Shore towns, including her hometown of Duxbury. She is currently the President of the Duxbury Rural & Historical Society, as well as a Director of the Duxbury Yacht Club and was the President of the Duxbury Business Association for over 10 years. Donna also served as President of Plymouth County Board of Realtors. Most recently, Donna helped form a collaboration of local non-profit groups to help promote their organizations and bring more awareness of the history and cultural events in Duxbury. She worked with the President of the Alden Kindred and the Chair of the Board of Directors of the Duxbury Bay Maritime School among others to create the Duxbury Cultural Consortium (DCC). Their first joint community event - "Out to See Duxbury" which will be held on April 29th this year.
"Aspiring Priscilla" Grace Nightingale, Duxbury, Massachusetts
This busy high school senior and National Honor Society student balances a full schedule of school, chorus, and leading the award-winning varsity cheerleading squad but still finds time for activities close to her heart that include teaching those with disabilities to ski and helping protect the environment. Grace has also volunteered at the Alden House, sharing her expertise with organic farming by helping maintain the heirloom gardens and at the annual Haunted House. Grace's mother Elizabeth Nightingale was awarded a Speak award in 2007, the year after the award was established.
About the organizer
The Alden Kindred of America owns and operates Alden House Historic Site in Duxbury, MA, part of the property settled by Mayflower passengers John and Priscilla Alden and home to generations of their descendants.  Today the Site is designated a National Historic Landmark and offers tours of the Alden family home and archaeological foundation of the Alden's original Duxbury home, education programs and offers assistance for those seeking to certify their lineage to John and Priscilla.