De belangrijkste Europese verkiezingen OOIT komen eraan! Leer alles over de EU en haar invloed op 10 maart 2019, midden in Utrecht.
About this event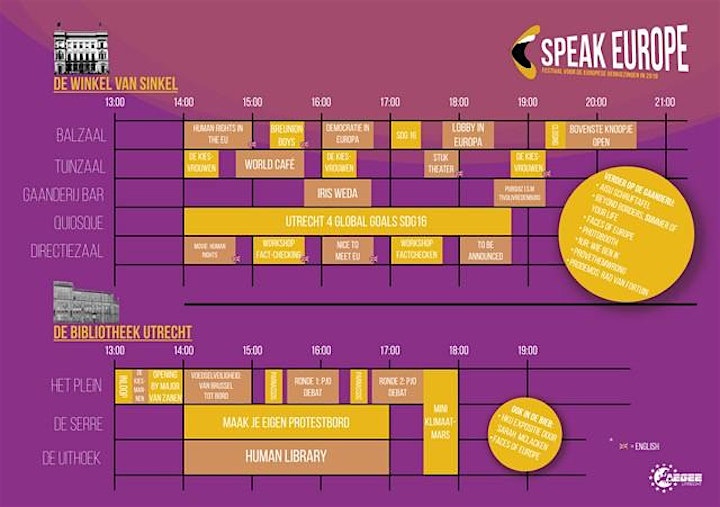 --ENGLISH BELOW--
Op 23 mei 2019 zijn er Europese Parlementsverkiezingen. Maar wat weet jij eigenlijk over de Europese Unie? Wat houdt dat eigenlijk in, de Europese Unie? En, willen we dat wel?
Kom naar het Speak Europe festival! Een bomvolle dag waarop we Europa binnenstebuiten keren onder het thema mensenrechten. Dat doen we niet alleen met lezingen, maar ook met bijvoorbeeld theater! Daarnaast zijn er verschillende sprekers, kun je jongeren uit heel Europa ontmoeten en is er een Human Library. Ook is er kunst, verschillende muziekoptredens en kun je zelfs eten proeven uit heel Europa, er is te veel om op te noemen!
Prijs: Gratis
Locaties: Bibliotheek Utrecht en Winkel van Sinkel
Tijd: 13:00 - 21:00
Organisatie: Y Vote Utrecht (AEGEE-Utrecht)
--ENGLISH--
The European parliament's elections are on 23 May 2019. What do you know about the European Union?
Y Vote, part of AEGEE-Utrecht, organizes the Speak Europe festival on 10 March 2019.
During the Speak Europe festival, you will find out why you should vote. What is the European Union? Do we want it this way?
The Speak Europe festival will help you to figure this out. We will turn Europe inside out with the theme; human rights. Not only through lectures, but even through a theatre performance. Furthermore, there will be different speakers, you can meet youth from all around Europe, and there will be a Human Library. There will also be art made by HKU students, several music performances and you can try food from all over Europe, and so much more!
Admission: Free
Locations: Bibliotheek Utrecht and Winkel van Sinkel
Time: 13:00 - 21:00
Organisers: Y Vote Utrecht (AEGEE-Utrecht)
-DISCLAIMER-
Tijdens deze dag zal beeldmateriaal worden gemaakt wat gebruikt zal worden voor journalistieke en niet-commerciële doeleinden. Door aanwezigheid op dit evenement geeft u toestemming dit beeldmateriaal te gebruiken.
During the day, audio and video footage will be made and used for journalism and non-commercial purposes. By attending the event you accept these terms.
Y Vote Utrecht wordt financieel mogelijk gemaakt door:
Universiteit Utrecht, Hogeschool Utrecht, Utrecht4GlobalGoals, K.F. Hein fonds, STUF, OSHU en Erasmus+ en AEGEE-Utrecht