Event Information
Location
Teachers To Go
800 Wilcrest Dr., Ste. #258
Houston, TX 77042
Description
This is Class 7 of the ESL English course Speak English Confidently In Eight Weeks, with classes every Tuesday and Thursday at 12pm for people who are learning English and want to improve their ability to get better jobs, communicate with American speakers, and speak in public. All English language learners who took English classes in the past that didn't help them speak fluently, or who want to improve their English when they speak, will benefit from this course.
English speaking is completely different from written English, and traditional English classes don't teach you how to speak it fluently. We show you why and how English really works, then teach you a quick and simple system to learn English and speak with confidence. Beginner through Advanced: all levels will benefit. (Beginner students with no prior English may not understand all that is said, but the information presented will be made accessible for them to follow and learn.) This class is for anyone learning or mastering English as their second language who wants to improve communication quickly for talking with native speakers, job interviews & promotions, or public speaking.
In particular, this class is recommended for Beginner students who want to start speaking English quickly and accelerate their English studies, Intermediate students who want to apply for entry-level jobs, and Advanced students who want to pursue promotions or new positions in their chosen field. Highly recommended for anyone who is having trouble being understood, or anyone who is worried about his or her accent.
The material in this class is part of the course: Speak English Confidently In Eight Weeks, a small group English class taught on Tuesdays and Thursdays at 12pm starting at the beginning of every other month in West Houston. All study materials are included.
Student registration fee of $25/each class is required, and available number of seats in each class is limited to 8 students.

Please enter the building from the parking lot through the main front door entrance. See parking map below. Take the elevator up to the 2nd floor, and go right. We are down the hall on the right hand side in suite #258.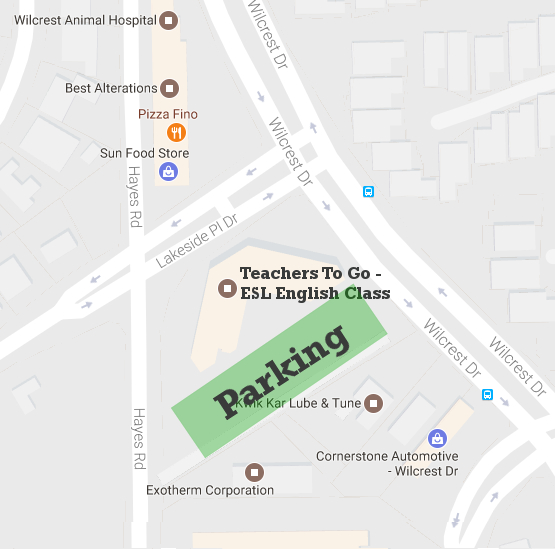 Date and Time
Location
Teachers To Go
800 Wilcrest Dr., Ste. #258
Houston, TX 77042
Refund Policy