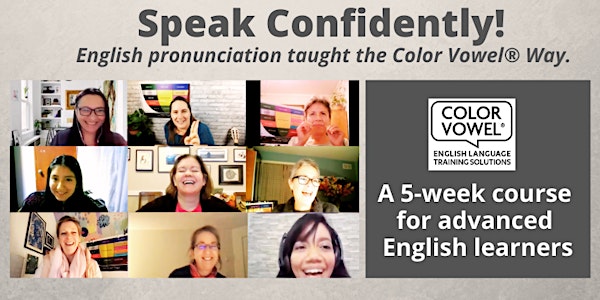 Speak Confidently: An English pronunciation course for non-native speakers
Refund policy
Contact the organizer to request a refund.
Eventbrite's fee is nonrefundable.
Discover the secrets of English pronunciation in this unique course for non-native English speakers and advanced English learners.
About this event
Course Overview
In this 5-session practice-based course, you will participate in a series of brain-based English pronunciation exercises that will help you build a new and powerful awareness of the sounds and rhythms of English.
Who should take this course?
This course is for non-native English-speaking teachers and learners of English with high-intermediate or advanced English vocabulary and grammar.
Who teaches this course?
Jennifer Campion and Karen Taylor teach with a dedicated team of Level 2 Color Vowel Pronunciation Coaches. For you, the participant, this means that you receive LOTS of attention and personalized pronunciation feedback both during the live sessions and in response to your asynchronous homework video tasks.
Course Objectives
Through your participation in this course, you will:
Master specific words and phrases that have always given you trouble;
Expand your awareness and use of word-level and phrase-level stress;
Improve your perception and production of the vowel sounds of English;
Learn powerful strategies for life-long pronunciation mastery;
Increase your overall confidence in knowing how spoken English works.
Course Activities
Each week, participants will explore:
Pronunciation skills: vowel sounds, stress, rhythm, consonants, etc.
Conversation tasks: speaking spontaneously on a familiar topic and receiving real-time feedback and private coaching
Functional tasks: telling a story, giving a presentation, telling a joke
Daily practice with the Premium Blue Canoe app for improved pronunciation.
Weekly pronunciation homework tasks that you submit via video to your pronunciation coach, who provides detailed feedback.
Course Dates
This is a five-week course that meets on Wednesdays from 1-2:30 pm ET.
Due to the U.S. Thanksgiving holiday, there will be no class on Wednesday, November 23rd. Our live session dates are therefore November 2, 9, 16, 30, and December 7.
Please check your time zone carefully. This course is designed for live participation, but we do have asynchronous make-up options for students who must miss a class.
Course Tools
This is an online course. Our live meetings take place in Zoom, and your video-based homework tasks are submitted in our course platform.
You will need:
1) access to a computer or mobile device with audio and video capability;
2) a strong internet connection for the live meetings;
3) a quiet space where you can speak out loud and practice during live meetings.
As a participant in this course, you also receive 6 weeks* of supported Premium access to Blue Canoe, our AI-powered app for improved English pronunciation. (*Offer not available to current subscribers.)
Participant Testimonials
Karen, thanks for helping me to learn English. I want to shout to the whole world to hear how happy I am! - Gilson Lopes, EFL Teacher, Brazil
It was great to have such a diverse group of people from countries like Brazil, Japan, and China in our class! It was very interesting to see that no matter where we come from we have the same questions, the same doubts, and the same feelings. Our professions and the Color Vowel Chart brought us together. - Gabriella Properzi, ESOL Instructor, TX