Description





Welcome to Speak Club
"Too many women in too many countries speak the same language - silence."
- Hillary Clinton
Bring your dry mouth, your unleashed voice, your wobbly knees, and your desire to change the world, one speech at a time. Speak Club is a public speaking club for women who want to exercise their public speaking skills and strengthen their speaking-up muscles.
If you've ever passed up an opportunity and later wished you'd spoken up, this club will help you to reduce that inhibition or even eliminate it.
If you dream of being on stage giving presentations but you're not sure what to say, you'll learn how to develop material that's meaningful to you and easy to talk about.
If you've ever felt embarrassed when all attention is on you, you'll learn to be comfortable being seen and to ask for the feedback you need.
Think of this club as an incubator for confidence. This is a safe training arena with a supportive group of women who've got your back and who all have similar goals. There are no expectations or pressure to perform a certain way. (We already put enough on ourselves, don't we?!) Every member trains at her own pace and no experience is necessary.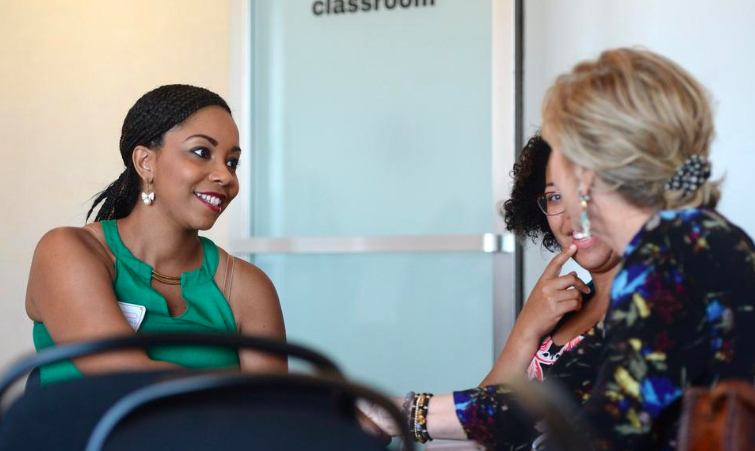 Visitors
With an RSVP, every woman can visit once before applying to become a member. An overview of our typical meeting agenda is below:
Hello/intro from each attendee (1 min each)

Improv game to warm-up (10 min)

A body language tip on public speaking (5 min)

Up to 6 women give a 5-7 min speech (~30 min)

Members provide 5 mins of feedback on each speech. Positive feedback is provided & constructive feedback is given upon request. (~30 mins)

2 min freestyle speeches by any attendee (20 mins)

Discuss the rasa prompt for the following meeting and members sign up to speak

Closing & Announcements
How it Works
Speak Club structure revolves around a powerful concept from theater called rasa. Rasa is the essence of an emotion that is communicated through body language. Each meeting will use a different element of rasa as a theme and will incorporate a new body language tip to enhance your presence.
We meet in person 2x per month on the 1st and 3rd Wednesday of every month 6.30-8.30 pm

Each meeting, up to 6 members give a 5-minute speech and receive feedback

Suggested prompts are provided for each meeting

With an RSVP, every woman can visit once before applying to become a member.

Members pay a $25/monthly membership fee which holds their "seat" in the group and qualifies them to receive monthly additional materials on using body language and rasa for speaking

Members can opt to keep the conversation going in a private Facebook group to share resources, support, and make great connections
Note
An online version facilitated by the creator of Speak Club, Berit Elizabeth, will be held on an additional Wednesday monthly, beginning January 2020 via Zoom. As a bonus, paying members of Speak Club Erie members receive free access and the ability to expand their circle and their experience.

The maximum number per club is 12 members and new clubs may startup with more interest
Whether you're interested in enhancing your public speaking powers to become a more confident communicator in your personal relationships, leadership role at work, or professional speaking engagements, Speak Club will get you in shape.