Description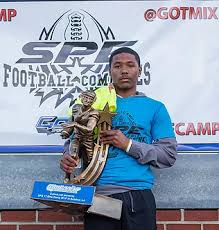 Event Description SPE18 Elite Camp is a camp for underclassmen. SPE18 was formed to create a focused environment that allows freshmen, sophomores and juniors to showcase their skills and talents for college recruiters and recruiting organizations, giving each student-athlete ample opportunity to get recruited throughout his high school career, not just the spring before his senior year.
SPE Elite Camp Alumni are as follows, Merlin Robertson (CA) Bryan Addison (CA) Keyon Green (TX) Gary Haynes MVP (TX), Deriq King (TX), Jack Jones MVP (CA), Hunter Mattox (CA), Hunter Hagdorn (TX), Ed Oliver (TX) UH, Jerry Jeudy (FL), Isaiah Chambers(TX) TCU, Bravvion Roy (TX) Baylor, and MVP of SPE 2015 Jeffery Simmons (MS) Todd Harris (LA) Jacoby Simpson (TX), MVP SPE Camp 2017 Max Williams (CA) Jordan Murphy (MS), Jacquez Jones FL (TN commit) were present at past events. SPE18 utilize football as a vehicle to convey to high school student-athletes that equal amounts of energy must be applied to academics, athletics and life skills development in order to be successful. "Mind of an Athlete" is a program that has partned wih SPE Camps help these athlete's accomplish there goal by emphasizing the need to focus on "The Mind You Must Have". Mind of an Athlete brings pro player stories to these young athletes. These athletes tell there story about how important academics and life skill's are. This program was designed for football student-athletes who aspire to attend college.
SPE Elite Camp Linemen Challenge was created to help provide competition to offensive and defensive linemen during the off season. Most coaching staff would agree football players greatly increase their chances of success by staying active and in shape during the off season. This challenge will give competitors a way to develop speed, strength and endurance while they are away from the gridiron. The challenge will also provide an opportunity to develop strong bonds among players from other states and can make new friends along the way.
The purpose of the SPE Elite Linemen Camp Challenge is to provide athletes who play on the offensive and defensive line an opportunity to compete in organized competition during the off season. Each competition consists of 7 events to test the speed, strength and overall ability of the athlete.
Eligibility The Challenge events are open to athletes who play on the offensive and/or defensive line. This includes the offensive positions of tackle, guard, center, tight end and the defensive positions of nose guard, tackle and end. Players that only play a skill position are not eligible to compete. Competition Format SPE Elite Linemen Challenge is made up of the following 7 events: Bench Press, 40 Yard Dash, Shuttle, Farmers Walk Dead Lift, Tire Flip Competition, Tug War. Schedule The competition will be one event at a time. Unless the number of participants is so great that it demands a "shot gun" format start. When an athlete completes an event, they will move to the next event.