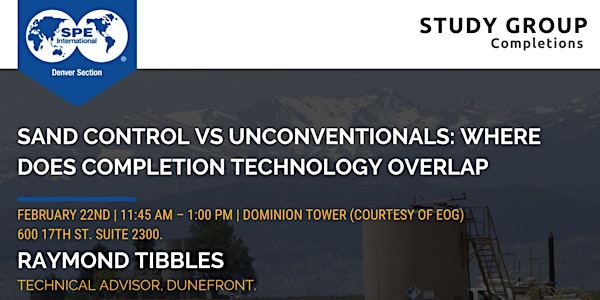 SPE Denver February Completion Study Group (Changed to Virtual)
Event Information
Location
Dominion Tower (Courtesy of EOG Resources)
600 17th Street
Suite 2300
Denver, CO 80202
Sand Control vs Unconventionals: Where Does Completion Technology Overlap
About this event
Change Announcement:
PLEASE note that the meeting has been changed to VIRTUAL instead of in-person. A ZOOM link will be sent to your email. PLEASE use that link to access the meeting.
Thank you!
Feb 4, 2022
Abstract:
In general reservoirs requiring sand control are quite different from unconventional reservoirs. Sand Control reservoirs are generally very high permeability (100's to 1000's of mD) vs the extremely low Nano Darcy permeability of unconventionals. There are some areas where completion technologies overlap:
· Many sand control wells are completed as high angle to horizontal open hole (ignoring the screen)
· In these horizontals, in many instances gravel is placed using brine
· In cased vertical wells, gravel packs are placed using brine at high rate above fracturing pressure
These similarities may provide some common ground where technology/understanding from one domain can be used in the other. This talk won't provide any answers but, it will discuss some of these overlapping areas.
Biography:
Ray is a Technical Advisor for DuneFront based in the USA with over 40 years of experience in sand control and hydraulic fracturing, working to support DuneFront's internal and external technical projects. Prior to joining DuneFront, he worked globally for Schlumberger and Cairn India in field operations, engineering, marketing, and technical support roles. He is 35-year active member of SPE, receiving multiple awards while also co-chairing and assisting numerous workshops and forums. He was a Distinguished lecturer in 2009/10 and 2020/21 and received the Distinguished Member award in 2011. Ray has a Bachelor of Science degree in Chemical Engineering from the Michigan Technological University, has authored 29 technical publications and is the main inventor or co-inventor in 12 patents.
Date and time
Location
Dominion Tower (Courtesy of EOG Resources)
600 17th Street
Suite 2300
Denver, CO 80202
Refund policy