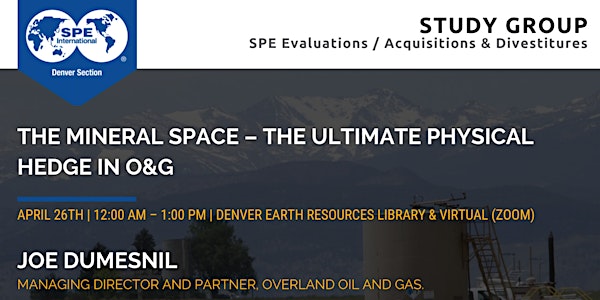 SPE Denver Evaluations / Acquisitions & Divestitures (A&D) Study Group
The Mineral Space – The Ultimate Physical Hedge in O&G
About this event
This is a Hybrid event, both live in person and on Zoom. For those who would like to attend in person, please join the event at Denver Earth Resources Library,
730 17th St B-1, Denver, CO 80202
Speaker:
Joe Dumesnil, MD and Partner Overland Oil and Gas
Abstract:
Fee acreage is an asset class unique to the United States. Institutional interest in Mineral and Royalties on fee acreage has gained over the last 10 years as the physical endowment in acreage has been maximized on unconventional resources. Many investors see it as one of the safest ways to play the oil and gas sector. This talk aims to bring perspective on the topic of minerals and royalties. What, why, and where are the risks and the returns? How are minerals different as an asset class? What can and cannot be controlled in the space? These questions and more are something we will discuss as we all try to leave the study group a little more educated about this unique asset class.
Biography:
Joe Dumesnil serves as a Partner and Managing Director of Geosciences and New Ventures for Overland Oil and Gas and as a Managing Member of Orchid Petroleum Advisors, LLC (OPAL). Joe has 20 years in the petroleum industry, nine with Halliburton Company in technology implementation to achieve global economic success in wells. Joe screens and values investment opportunities for Overland and works to optimize their portfolio. Overland focuses on upstream asset classes with an emphasis on minerals and royalties but regularly entertains other options throughout the value chain in the broader energy sector. Joe has an undergraduate B.A. in Geology from Denison University, an M.Sc. in Mineral Economics from Colorado School of Mines, and an M.Sc. in Petroleum Business Management from Institut Francais du Petrol. He serves on the boards of the Energy Tech Hub, Society of Petroleum Engineers, and the Mines Alumni Entrepreneurship and Innovation Interest Group. Joe also holds accreditation as a Certified Petroleum Geologist.