SPE 2011 Carnival: "Celebration of the Nations"

Saturday, May 7, 2011 from 11:00 AM to 3:00 PM (PDT)
Event Details
South Pointe Elementary School 2011 Annual Carnival
"Celebration of the Nations"
Saturday, May 7    11:00am - 3:00pm

We invite you to be part of a fun afternoon benefitting South Pointe Elementary PTA's improvement and enhancement projects. On May 7, 2011, 11:00am to 3:00pm, SPE will hold its annual carnival at 1050 4th Street, Miami Beach.

The 2011 Carnival is themed a "Celebration of the Nations" and it will give our children the opportunity to explore the foods, the cultures and the customs of other countries while enjoying carnival rides and games. Our carnival has become an integral part of our school and an important fundraising event. Last year, funds from this event paid for the much needed repaving of our playground.

We need your help now to obtain event sponsorships. Last year's carnival was very successful with over 800 people attending and we anticipate another spectacular turn-out. Sponsoring this event gives visibility to locals, neighbors and friends. We urge you to ask the businesses you support to support our local school with a financial contribution, gift certificate or item donation. At right, are the various levels of sponsorship and more detailed information is available.

Additionally, we welcome donations at all and any level. Every dollar is an important step to SPE PTA's improvement projects.

Please contact us with any questions. You can email us at southpointepta@gmail.com. Additionally, if you have any leads, please let us know so that we can follow-up. Thank you in advance for your efforts.

Your event co-chairs,
Geane Brito 917-653-6429
Liza Samuel    305-490-4717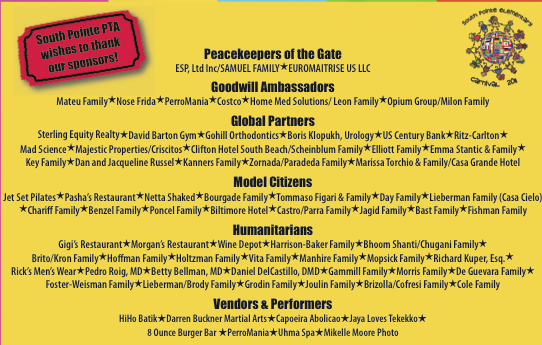 SPONSORS SO FAR! THANK YOU!
ESP, Ltd Inc/Samuel Family ★ Euromaitrise US LLC
Mateu Family ★ Nose Frida ★ PerroMania ★ Costco ★ Home Med Solutions/ Leon Family ★ Opium Group/Milon Family
Sterling Equity Realty ★ David Barton Gym ★  Gohill Orthodontics ★ Boris Klopukh, Urology ★ US Century Bank ★ Ritz-Carlton ★ Mad Science ★ Majestic Properties/Criscitos ★ Cambean Hospitality/ Scheinblum Family ★ Elliott Family ★ Emma Stantic & Family ★ Key Family ★ Dan and Jacqueline Russel ★ Kanners Family ★ Zornada/Paradeda Family ★ Marissa Torchio/Casa Grande Hotel
Jet Set Pilates ★ Pasha's Restaurant ★ Netta Shaked ★ Greater Miami Skin and Laser Center/ Zaiac Family★  Bourgade Family ★Tommaso Figari & Family ★ Day Family ★ Lieberman Family (Casa Cielo) ★ Chariff Family ★ Benzel Family ★ Poncel Family ★ Biltimore Hotel ★ Castro/Parra Family ★ Jagid Family ★ Bast Family★ Fishman Family

Humanitarians

Gigi's Restaurant ★ Morgan's Restaurant ★ Wine Depot ★Harrison-Baker Family ★ Bhoom Shanti/ Chugani Family ★ Brito/Kron Family ★ Hoffman Family ★ Holtzman Family ★ Vita Family ★ Manhire Family ★ Mopsick Family ★ Richard Kuper, Esq. ★ Rick's Men's Wear ★ Pedro Roig, MD ★ Betty Bellman, MD ★ Daniel DelCastillo, DMD ★ Gammill Family ★ Morris Family ★ De Guevara Family ★ Foster-Weisman Family ★ Lieberman/Brody Family ★ Grodin Family ★ Joulin Family ★ Brizolla/Cofresi Family ★Cole Family ★

Sponsor-a-Family & Other Donations

Sandor's Bakery ★ Catherine Villano & Family ★ Meyer Family ★ Chimento Family ★ Redondo Family ★Touati Family ★ Giovanna Tiffany and Family ★ Thielecke Family ★ Castro Family

VENDORS:
HiHo Batik ★ Darren Buckner Martial Arts ★ Capoeira Abolicao ★ Jaya Loves Tekekko ★ 8 Ounce Burger Bar ★ PerroMania ★ Uhma Spa ★ Mikelle  Moore,Photograpy
When & Where

South Pointe Elementary
1050 4th Street
Miami Beach, FL 33139


Saturday, May 7, 2011 from 11:00 AM to 3:00 PM (PDT)
Add to my calendar