Description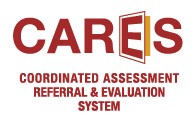 The Service Prioritization Decision Assistance Tool is an evidence-informed approach to assessing an individual's or family's acuity. The tool, across multiple components, prioritizes who to serve next and why, while concurrently identifying the areas in the person/family's life where support is most likely necessary in order to avoid housing instability. This is a case management tool and cannot be administered without attending this full day training. Upon completion, you will receive a certificate that can also be used in reporting continuing education credits for service providers of multiple industries. This training is ONLY for those using the full SPDAT as a case management tool.
Lunch and breaks will be provide. Please email andria@fmhomeless.org if you have any dietary restrictions that we can accommodate.
This training is provided by the Coordinated Assessment Referral & Evaluation System (CARES) through the Fargo-Moorhead Coalition for Homeless Persons. CARES is a program of the North Dakota Coalition for Homeless People, West Central Minnesota Continuum of Care, White Earth Nation, and Fargo-Moorhead Coalition for Homeless Persons.
For questions contact andria@fmhomeless.org or call 701-936-7171.