SPD 2014 Student Design Competition Entries

Ends Wednesday, March 5, 2014 at 5:00 PM (EST)
Event Details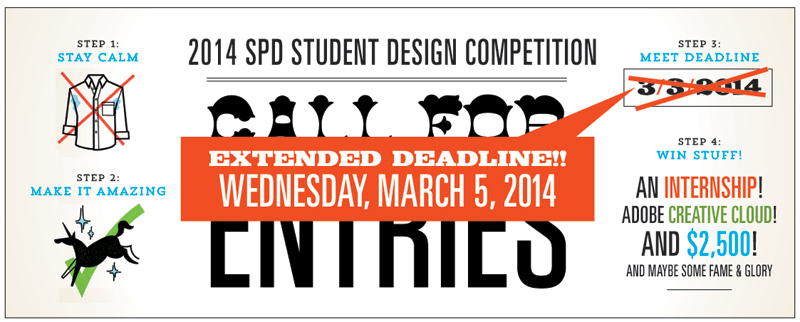 The annual SPD Student Design Competition invites entries from accredited schools, and is open to any undergraduate student. The top three winners receive a cash prize ($2,500 First Place, $1,000 Second Place and $500 Third Place), Adobe software, and summer internships at top NYC magazines (even many of our runners-up get this coveted prize!). And we all know: Internships lead to jobs.
Now, the prizes are good, but there are other reasons you should enter:

1.  You get your work in front of an awesome panel of judges, comprised of some of the top talent in the magazine design world. The truth of this industry is, the more people who see your work and love it, the better your chances of getting hired. Let your work be seen!

2.  Aside from the little old internship, a 1-year Adobe® Creative Cloud membership and cash prizes, there's fame and glory to be found on our blog and online outlets and in our SPD Annual (Pub 48). If you're not aware of our Annuals yet, you'll find that for magazine designers and photo editors, they are essential resources. Getting into that essential resource this early in your career is a very good thing.
If you're an SPD Student Member (or if you join now), you get your FIRST 3 entries for FREE! Otherwise each entry is $10.
For complete details, FAQs, tips and more, check out our informational blog post here: http://www.spd.org/competitions/student.php
Download the Entry Form & Rules PDF, open it, and get to work!
And for more help and advice, keep an eye on our blog and Facebook page.


HOW TO ENTER
Once your designs are ready, follow the instructions and fill out the entry form in the PDF here. Use this site to pay for your entries and print out your receipt as proof of payment. Package this payment receipt with your entries and send it off to us for delivery by 5pm EST Wednesday, March 5, 2014.
Remember SPD Student Members get their first 3 entries for free -- you can choose to join or renew if you need to. (You read that right: all current Student Members get 3 free entries, a free Annual, free admission to events, and more!)

SEND all entries with your receipt to:
The Society of Publication Designers  
27 Union Square West, Suite 207
New York, NY 10003

::::::::::::::::::::::::::::::::::::::::::::::::::::::::::::::::::::::::::::::::::::::::::::::::::::::::::::::::::::::::::::::::::::::

Please read the instructions carefully and stay within the guidelines. SPD reserves the right to disqualify any late, miscategorized or incomplete entries.
When & Where

Entries due to: SPD HQ (mail@spd.org)
27 Union Square West, Suite 207
New York, NY 10003


Ends Wednesday, March 5, 2014 at 5:00 PM (EST)
Add to my calendar
Organizer
The Society of Publication Designers (SPD)
First and foremost, SPD is a membership organization dedicated to promoting and encouraging excellence in editorial design across all print and digital platforms.
Our members are art directors, designers, photo editors, photographers, illustrators and information graphics professionals, editors and students. Since drafting its charter in 1965, SPD remains the only organization specifically addressing the visual concerns of print and digital editorial professionals, whether that be journalism, storytelling, service or more. Editorial design plays a crucial role in shaping and documenting our common history; as such, the efforts of the Society serve to educate and enlighten our members, their fans, and the general public about the importance of magazines.
We love magazines and the people who make them, however they're printed, called-up on your screen, or ported on your iPad.
SPD 2014 Student Design Competition Entries