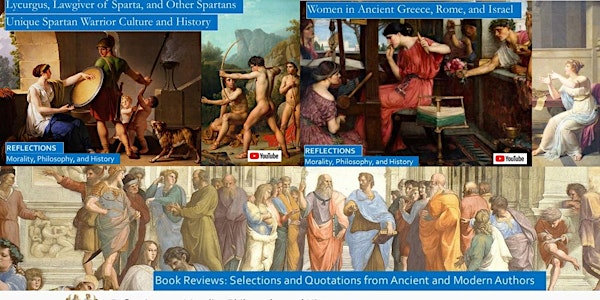 Spartan Warrior Culture, and Women in Ancient Greece, Rome, and Israel
Spartan Warrior Culture, and Women in Ancient Greece, Rome, and Israel
About this event
To understand Dialogues of Plato you need to understand ancient Greek history, especially its wars, and to understand Plato's Republic, which is a debate between the type of governments found in Sparta and Athens, you need to reflect on the warrior culture of Sparta. Our sources will be Plutarch's Life of Lycurgus, and the other Spartan Lives, Xenophon's essay on Sparta, the ancient histories by Herodotus, Thucydides, and Xenophon, plus modern historians such as Will Durant and Professor Kenneth Harl of the Teaching Company, or Wondrium.
Likewise, since the Athenian populace after the Peloponnesian War had many widows, and since Plato's Republic explores the family, a study of women in the ancient world would be helpful. We will also consult the Orthodox scholar McGuckin on this, since he has an essay on women in the ancient world, plus many other sources, including Will Durant and Teaching Company lectures.
This online discussion is a practice session for future YouTube videos. Questions, suggestions, participation, and input are welcome!
Please subscribe to my YouTube Channel, Reflections on Morality, Philosophy, and History: https://www.youtube.com/channel/UCLqDkfFbWhXOnzdjp__YZtg
My Blog: http://www.seekingvirtueandwisdom.com
Please join my Meetup Group for notices of future discussions:
https://www.meetup.com/Reflections-on-Theology-and-Moral-Philosophy