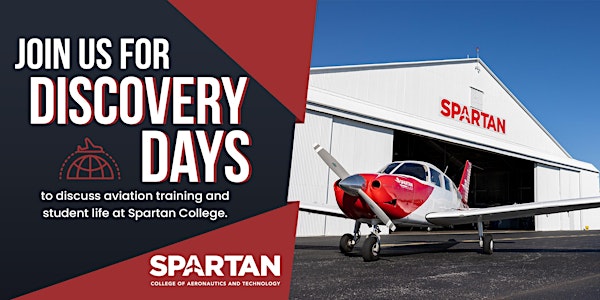 Spartan College - Tulsa Flight Discovery Days | Saturday, December 10th
Spartan Flight will host a Discovery Days on Dec. 10th. Join us to discover steps to become a pilot and explore planes, simulators and more!
When and where
Location
Spartan College - Flight Facility 123 West Cessna Drive Tulsa, OK 74132
About this event
Spartan College – Discovery Days | Tulsa Flight
Join us at the Tulsa Flight Facility on Saturday, December 10th for a tour, a chance to take a discovery flight, and get a look at our fleet of Piper Archer airplanes with G1000 Nxi Garmin technology! There is limited availability so register now before it's too late.
What to expect at our Discovery Days event
Learn about Spartan College and how we can train you to become a pilot. Find out what a day in a flight student's life is like and discover how to make your flight training goals a reality. Our admissions team is excited to talk training and will be available to field any questions and comments.
Meet and greet begins at 10:00am
Presentation
Tour
Demonstrations
Airplane exploration
Aviation Flight Program Overview
Find out more about training for your Associates of Applied Science Degree in Aviation Flight in as few as 17 months.
Discovery Flight
For those who qualify for Spartan's Aviation Flight program, we will have discovery flights available! This allows our students a chance to get on a plane with instructors and take flight. Discovery flights will be available weather permitting. Discovery flights will be offered to our students first and may have limited availability/capacity restrictions. Call our campus at 866-343-3818 to get more details on cost and availability.
Registration is Required
Please note that Discovery Day Flights are limited. As this is an in-person event, flights are limited to 6 student candidates to ensure guest safety. Flights must be confirmed with an admissions representative. Please keep an eye out for a phone or email confirmation.
Those looking for private pilot training information are welcome to attend for tour and information session. Discovery flights are reserved for those who are qualified for the Aviation Flight degree program at Spartan College.
Sign up today!
About Spartan College
Spartan College of Aeronautics and Technology can help you start the process of exploring aviation training. Established in 1928, Spartan has trained over 100,000 pilots and technicians. Spartan College students have come from across the United States and over 40 countries.
Technology | Safety | Practicality
By attending Spartan College of Aeronautics and Technology events, you understand and agree that Spartan College, anyone acting on behalf of Spartan College, and assigns, shall have the right, where permitted by law, to print, publish, broadcast, distribute, and use in any media now known or hereafter developed, in perpetuity, and without limitation, your portrait, picture, likeness, image, statements about the event, and biographical information for news, publicity, information, trade, advertising, public relations, and promotional purposes, without any further compensation, notice, review, or consent.