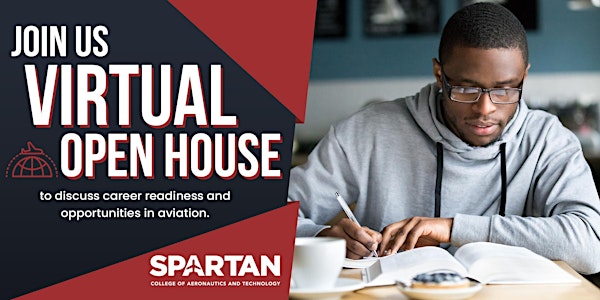 Spartan College Career Readiness | Virtual Event 8/26/22
Spartan College Inland Empire Area Campus in Riverside, CA hosts Career Readiness Presentation online Friday, August 26th.
About this event
What should you expect at the virtual event hosted by the Spartan Inland Empire Area Campus?
Spartan College Invitation:
Join us virtually at 1:00 PM Pacific on Friday, August 26th for a chance to learn about the aviation industry from our Career Services Director. This online session will be a great way to get your questions answered regarding what an aviation career looks like and how to get started training for this industry. There is limited availability so register now before it's too late.
What to Expect:
When you join the virtual event, you can expect an informative aviation career readiness presentation that will share insights to the aviation industry. Additionally, our career services and admissions departments can help share what a typical day in a student's life is like at Spartan College.
A Day in the Life of a Student:
Repairing & assembling aircraft turbines
Learning about aviation science and theories
Sheet metal fabrication & Repair
Basic welding, paints & finishes
Understanding various aircraft systems
Electrical and Fire Protection Systems
Curriculum & Student Support
Our Inland Empire Area Campus admissions team is excited to meet you! They can help answer questions about our aviation training programs, student services, and career service assistance.
Aviation Maintenance Technology (Diploma) - In as few as 15 Months
Register today for this online event!
About Spartan College
Established in 1928, Spartan College of Aeronautics and Technology has trained over 100,000 pilots and technicians. We have campuses located in the following areas: Tulsa, OK; Los Angeles, CA; Inland Empire, CA; and Denver, CO. Spartan students have come from across the United States and over 40 countries.
Spartan College of Aeronautics and Technology, Riverside, CA is a branch location of Spartan College of Aeronautics and Technology, Inglewood, CA.
Financial Aid is available to those who qualify. For consumer information visit www.spartan.edu.
Technology | Safety | Practicality