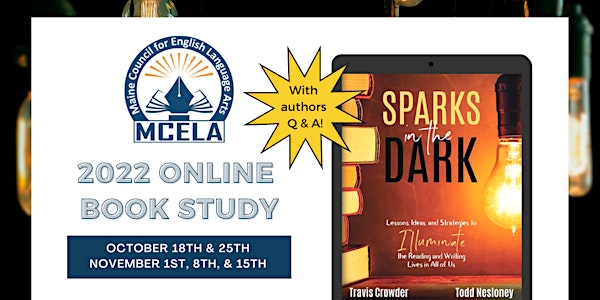 Sparks in the Dark Book Study
Join MCELA for an online book study of Sparks in the Dark by Todd Nesloney and Travis Crowder
Refund Policy
Contact the organizer to request a refund.
Eventbrite's fee is nonrefundable.
About this event
An online space for discussion and support around teaching reading and writing.
2022-23 fall book study: Sparks in the Dark by Todd Nesloney and Travis Crowder.
"A teacher must become a guide, a mentor, and an example, demonstrating clearly what it takes to read and write effectively" (37).
"If we expect our students to take learning seriously, we have to show them none of us ever stops learning" (166).
Cost: Free for members, and $40 for non-members.
Attendees can earn up to 15 contact hours for their learning.
Not an MCELA member yet this year? Make your $30 member donation here to get this year's member/promo code for free online events like this one: https://www.mainecela.org/membership.html (note: you'll get the membership code on your PayPal receipt that you can use to register for this book study free).
We ask that participants provide their own copy of the book. An autographed copy of the book can be purchased at a discount on the author's website https://thesunriseshopnesloney.com/collections/books/products/sparks-in-the-dark-book
Our virtual book group will take place via Zoom on Tuesdays from 4:00 - 5:15 P.M. EST.
Dates:
Meeting 1: October 18th – We'll be discussing chapters 1-4
Meeting 2: October 25th– Chapters 5-7 will create our talking points
Meeting 3: November 1st – Chatting about chapters 8-10
Meeting 4: November 8th – Our final group conversation centered on chapters 11-13 and the epilogue
Meeting 5: November 15th – Q & A with the authors!