Let's Celebrate the Lantern Festival with barbecue platter and sparkling wines in one of the best hotels in Hong Kong.
About this Event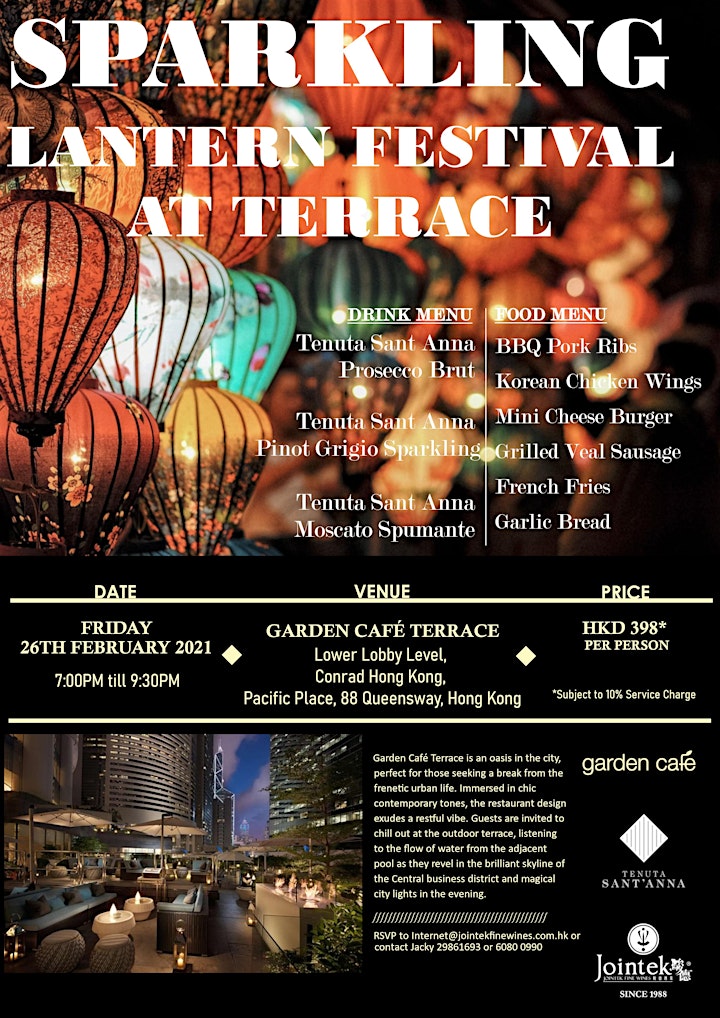 GARDEN CAFÉ TERRACE
Garden Café Terrace is an oasis in the city, perfect for those seeking a break from the frenetic urban life. Immersed in chic contemporary tones, the restaurant design exudes a restful vibe. Guests are invited to chill out at the outdoor terrace, listening to the flow of water from the adjacent pool as they revel in the brilliant skyline of the Central business district and magical city lights in the evening.
Event Information
Date : 26th Feb 2021 (Friday)
Time : 7:00PM-9:30PM
Venue : Lower Lobby Level, Conrad Hong Kong, Pacific Place, 88 Queensway, Hong Kong
Price : $398(+10% Service Charge)
For Enquiries, Please Contact 6080 0990 or Email internet@jointekfinewines.com.hk
Register Form
https://docs.google.com/forms/d/e/1FAIpQLSerTxBOi0Msext8ti_uCmB47Rpbezl4nkm72nGCl-NALtF9lg/viewform
Barbecue Platter
BBQ Pork Ribs
Korean Chicken Wings
Mini Cheese Burger
Grilled Veal Sausage
French Fries
Garlic Bread
Wine List
Tenuta Sant Anna Prosecco Brut
Tenuta Sant Anna Pinot Grigio Sparkling
Tenuta Sant Anna Moscato Spumante
Lets enjoy the Event, taste the amazing wines and food with new friends!
Winery introduction
Tenuta Sant'Anna
Tenuta Sant'Anna is one of the largest vineyard-wineries in the east of the Veneto region. The estate, which lies some 50 km east of Venice, covers 150 hectares, 140 of which are dedicated to vine growing. Tenuta Sant'Anna main strength is of course its Prosecco, made in the traditional Charmat method, well recognized for its elegance and pleasantness. 
Organizer
Jointek Fine WInes (Hong Kong) Ltd
Jointek Fine Wines established since 1988, used to be the Sole distributor of Martell, Remy Martin, Chivas Regal and other spirits in China at the 90's. While in 1996, JFW set up his headquarter in Hong Kong and starting to focus on imported wines business.
JFW is one of the biggest wine importers in China, Hong Kong and Macau, operating on a nationwide distribution network, with over 160 JFW shops, over 100 regional wholesalers and distributors, with more than 12200 accounts on different channels, covering 33 provinces all around China, Hong Kong and Macau.
JFW is one of the most reputable, powerful importers in the area and keep the highest standard on supplying wines to suit consumer and customer needs.
We are authorized importer of the First Growths (Premiers Crus) of Bordeaux wines in China as well as exclusivity of over 1000+ wines from 230 wineries or vineyards, selected from the world's most famous wine producing regions.
We work with international brand owners to build strategic alliance in the China market.
JFW continuous strive for excellence and now building a new OTO platform to fill market needs. On the other hand, we also work on another project to provide a sustainable and profitable supply chain platform on imported foods and beverages in 10 operational system i.e. Showroom, Wine and Dine, Finance, En-premier, Culture, Education, Brands, Auction, Warehouse and Trading.
駿德集團始創於1988年,是國際知名品牌馬爹利、人頭馬、軒尼詩、芝華士威士忌等洋酒的中國代理商。1996年在香港成立採購總部,一直專注從事進口葡萄酒業務,是首個進口葡萄酒銷往中國大陸的港資企業。在二十多年的葡萄酒業歷程中,我們與全球葡萄酒頂級名莊結成牢固的合作關係,是經營世界名莊葡萄酒的國內最具權威的經銷商之一。
駿德集團行銷網路遍佈中國和香港、澳門等地。目前擁有160多家品牌專賣店,100多個代理商,批發客戶達12200多家;銷售管道覆蓋星級酒店、高級中餐廳、高級西餐廳、時尚會所、大型連鎖商超等。
駿德集團具有大規模的倉儲物流基地,在香港、深圳及南沙等地擁有具溫度控制葡萄酒保稅倉。為了維持酒品的最佳品質,駿德集團在全國各主要城市配備專業恒溫、保濕、模擬式酒窖倉庫,建設標準嚴格,保證在合適的溫度和濕度下保存。位於香港葵湧偉倫中心的大型葡萄酒儲存倉庫,通過了香港品質管理局頒發的葡萄酒儲存認證(HKQAA-WSMS),倉庫設有二十四小時恒溫及濕度控制,確保所有餐酒在交到顧客手上之前,均獲得妥善的保存。
駿德集團正構建一個全方位的網上服務平台,包含產品展銷、西餐與葡萄酒、金融服務、期貨買賣、文化交流、教育考證、品牌食品、結算中心、商品拍賣以及倉儲物流等。
計畫未來幾年我們的倉儲及展示交易平台面積將達20多萬平方米,品牌連鎖專賣店將有1800家,駿德美酒美食莊1800多個,駿德集團致力於為廣大消費者提供優質新鮮的進口葡萄酒和進口食品食材並向消費者提供更優質、更便利的服務。