Description
Pet Love - Customizable Sparkling Mosaics (Presented by: Under The Horizon)
Benefiting

The Angel Fund at Compassion Animal Hospital, LLC

What is a Sparkling Mosaic? This original art form created by Alice, at Under The Horizon, is a stunning and user friendly art form that is perfect for artists of all ages. Using ready-to-hang clear glass palettes, you will get to choose your design from a set of provided templates in either a 12" x 12" or 4 individual 3" x 3" ornaments. With your template, you will use glass frit in multiple colors (safe to use and is not sharpe) to create your design. Sparkling Mosaics are perfect to hang in a window.

Saturday, October 21, 2017 - 7 to 9 pm. Doors open at 6:15pm. Come early to enjoy snacks, wine tasting, and to get settled in.

Ticket purchase required. Purchase online. Cost $45.00. Must be at least 16 years of age. Ticket includes all supplies, instruction, and light snacks.

Event will be held at Compassion Animal Hospital, LLC located at 1665 Route 194 N, East Berlin, PA 17316. For more information about the event and services, please contact Compassion Animal Hopsital, LLC, at (717) 459-9100.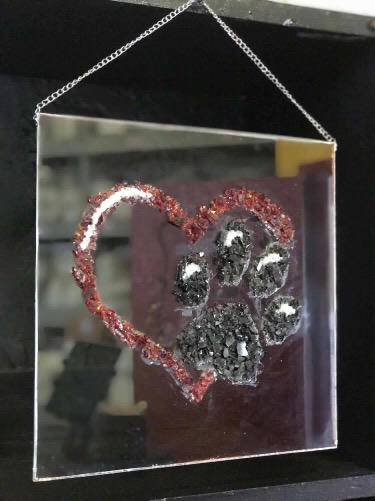 Our professional artist will walk you through the entire process. Beginners are most definitely welcome! Bring a friend (or two) and enjoy an evening of creativity and fun, and fellowshop - ALL WHILE HELPING A GOOD CAUSE.
Due to limited seating and planning for the supplies involved, tickets must be purchased in advance of the event and are non-refundable unless the event needs to be cancelled by Under the Horizon. Ticket sales will end Ocotber 18th so we can prep our supplies.
Please feel free to share event information with your friends and family! We hope to see you soon! And don't forget to check out the other services and products Under the Horizon has to offer!
www.UnderTheHorizon.net