Description
Join us on June 4 to stand up for affordable housing and the right to a home!
Our 34th anniversary event, SPARKING CONNECTIONS: GET UP, STAND UP! will help to provide affordable homes, services, community and opportunities that transform lives for hardworking families and people with special needs and build stronger places, stronger lives!
Featuring: MATT LEVIN Data Reporter at CAL Matters & Co-Host of "Gimme Shelter: The California Housing Crisis Podcast"
Honoring: IONA WILSON LifeLong Medical Care, for friendship and exceptional case management for residents at University Avenue Homes and Erna P. Harris Apartments.
Discount until May 11, 2018: $110 / PERSON. After May 11, 2018: $125/ PERSON
Reserve your tickets here or by mailing payment to Resources for Community Development, 2220 Oxford Street, Berkeley, CA 94704. Please include guest names and organization.
RSVP BY MAY 30. RESERVATIONS WILL BE HELD AT THE DOOR.


Thank You to Our Event Sponsors!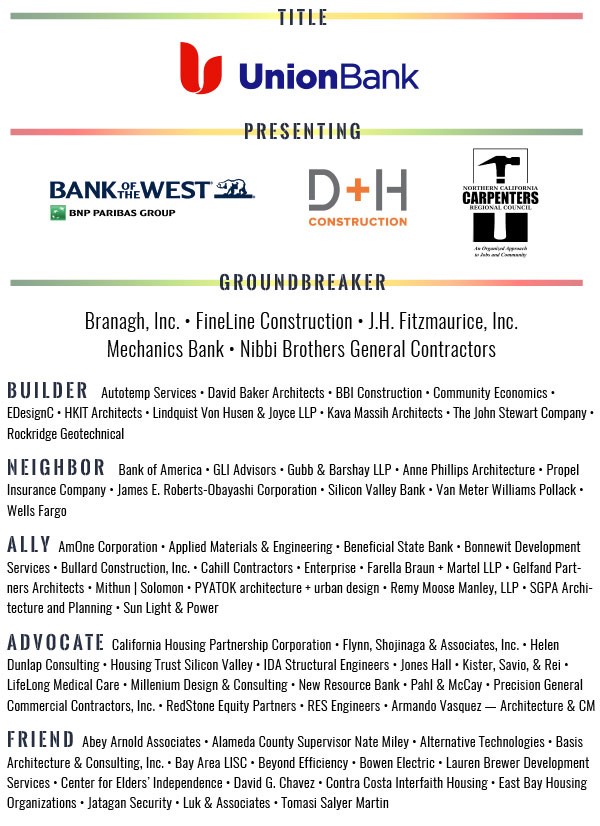 Thank You to Our In Kind Supporters:
ACT San Francisco, Beach Blanket Babylon, Berkeley Repertory Theatre, California Canoe & Kayak Oakland, Claremont Club & Spa- A Fairmont Hotel, The Crucible, Drake's Brewing Company, Faction Brewing, Gather, Gilroy Gardens, The Marsh, Punchline San Francisco, Sacramento Zoo, San Francisco Zoo, Smuin Ballet