SPARK with Eva Yazhari '06 :: The Good Your Money Can Do
A conversation with Eva Yazhari '06, Co-Founder & CEO of Beyond Capital and the author of The Good Your Money Can Do
About this event
For BC/CU ID holders, this event will take place in person in Sulzberger Parlor (3rd floor, Barnard Hall). For members of the general public, this event will be streamed to Zoom for virtual viewing. You will receive the link to join the Zoom in your confirmation email.
Is the way you spend your money aligned with your values? Whether you're buying yourself a coffee or investing, the choices you make with your money matter. Join us for a conversation with Barnard alumna and entrepreneur Eva Yazhari '06 to chat about what conscious investing looks like and, for the entrepreneurs among us, how to build a business that attracts the attention of conscious investors.
Copies of Eva's book The Good Your Money Can Do will be distributed to the first 50 Barnard student in-person attendees.
In addition to being an author, Eva is also a Co-Founder and the CEO of Beyond Capital, an impact investment fund founded on the belief that investing is a powerful mindset that can inspire good and improve lives. Throughout her 16-year career, Eva has worked in the impact investment, finance, and asset management industries. Eva built Beyond Capital to be a recognized global brand. Its portfolio improves the lives of a growing 8 million low-income individuals, including investments in Kasha, a technology-driven e-commerce women's health company in East Africa; and Frontier Markets, a fast-growing distribution business providing goods and services for consumers living throughout rural India. Both companies are targeting addressable markets numbering billions of consumers and are uniquely poised for commercial financial returns as well as social returns. When it comes to impact measurement, Beyond Capital partners with pioneering firm Proof of Impact to independently verify and track the growth of outcome-linked metrics. Eva has interviewed more than 60 purpose-driven leaders to shed light on their professional and personal stories for The Beyond Capital Podcast. She has also explored the various angles of conscious money and living on The Conscious Investor, a weekly online magazine. Eva is also an impact investor.
SPARK is a series of provocations and conversations designed to ignite your thinking about change and how it happens. Through interviews, book talks, field trips, film screenings, and more, you'll get to know the women and nonbinary people leading change in a wide range of areas, and learn more about the hard, but important, work of building a better future. SPARK is open to all members of the Barnard community, including faculty, staff, alumnae, and friends of the college.
Funding for SPARK is provided by The Harnisch Foundation.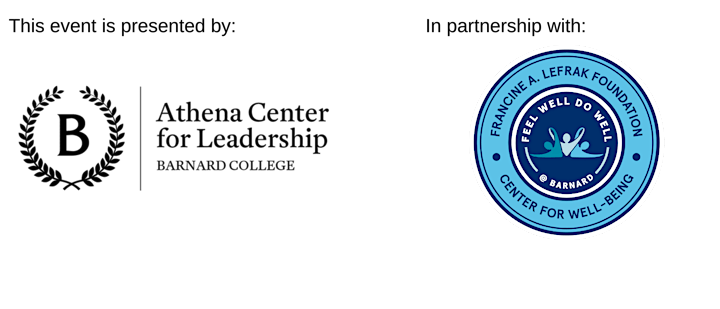 This event is cosponsored by the Francine A. LeFrak Foundation Center for Well-Being at Barnard College.
Barnard College provides reasonable accommodations for individuals with disabilities. If you need individual disability-related accommodations for this event in order to be able to attend, we encourage you to inform us in advance in order for us to accommodate you. Possible accommodations can include real-time captioning, ASL interpretation, Braille handouts, wheelchair accessibility and more. Specific individual requests can be made via our department's email: athenacenter@barnard.edu or by filling out the Event Accessibility Request Form.
Organizer of SPARK with Eva Yazhari '06 :: The Good Your Money Can Do
The Athena Center for Leadership at Barnard College was established in fall 2009 with an ambitious goal – to create a world renowned center dedicated to the advancement of women leaders. Not just any women leaders, but women who are visionary, bold, courageous, resilient and globally aware; women who embrace diversity and are determined to make the world a better place.
We are building a world where leadership is constantly re-imagined to reflect the needs of women and society and where it is commonplace for women to attain and exercise power.