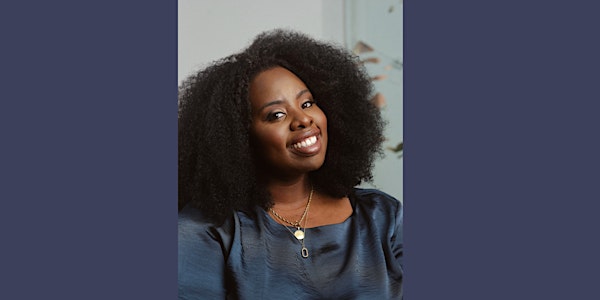 SPARK with Akoto Ofori-Atta :: On Journalism for Black Audiences
Join us for a conversation with Akoto Ofori-Atta, Cofounder and Chief Audience Officer of Capital B
By Athena Center for Leadership at Barnard College
When and where
Date and time
Thursday, December 2, 2021 · 6:15 - 7:15pm EST
Location
Barnard College, Ella Weed Room (Milbank 223) and virtual streaming 3009 Broadway Milbank Hall - 223 New York, NY 10027
About this event
For BC/CU ID holders, this event will take place in person in Sulzberger Parlor (3rd floor, Barnard Hall). For members of the general public, this event will be streamed to Zoom for virtual viewing. You will receive the link to join the Zoom in your confirmation email.
Join us for a conversation with Akoto Ofori-Atta, Cofounder and Chief Audience Officer of Capital B, a Black-led, nonprofit local and national news organization reporting for Black communities across the country, launching early 2022.
Akoto and Lauren Williams, formerly SVP and Editor in Chief of Vox, have teamed up to create a first-of-its kind, local-national hybrid nonprofit news organization for Black Americans: Capital B. For too long, news organizations have failed to recognize the contributions of Black Americans and address the issues facing their communities. Newsrooms are still majority white and male and this influences what news is reported and how it's communicated.
We're thrilled to be in conversation with Akoto and learn more about what journalism for underserved audiences can and should look like, and her journey to launch Capital B.
This event is presented in partnership with BOSS, Barnard's Organization of Soul and Solidarity.
For students who attend, Athena will sponsor a membership to Capital B — which makes you a founding member!
SPARK is a series of provocations and conversations designed to ignite your thinking about change and how it happens. Through interviews, book talks, field trips, film screenings, and more, you'll get to know the women and nonbinary people leading change in a wide range of areas, and learn more about the hard, but important, work of building a better future. SPARK is open to all members of the Barnard community, including faculty, staff, alumnae, and friends of the college.
Funding for SPARK is provided by The Harnisch Foundation.

Barnard College provides reasonable accommodations for individuals with disabilities. If you need individual disability-related accommodations for this event in order to be able to attend, we encourage you to inform us in advance in order for us to accommodate you. Possible accommodations can include real-time captioning, ASL interpretation, Braille handouts, wheelchair accessibility and more. Specific individual requests can be made via our department's email: athenacenter@barnard.edu or by filling out the Event Accessibility Request Form.
About the organizer
The Athena Center for Leadership at Barnard College was established in fall 2009 with an ambitious goal – to create a world renowned center dedicated to the advancement of women leaders. Not just any women leaders, but women who are visionary, bold, courageous, resilient and globally aware; women who embrace diversity and are determined to make the world a better place.
We are building a world where leadership is constantly re-imagined to reflect the needs of women and society and where it is commonplace for women to attain and exercise power.