Description
SPARK* events encourage learning and networking in an intimate setting of 50 professionals. This series is focused around sparking conversation, ideas, dialog & connections around a specific green-related topic chosen for the evening.

On March 26, come to network with your peers, hear from featured speaker Anna Cummins and learn about Plastic Pollution in our Oceans and the amazing work of the 5 Gyres Institute.
$25 in advance gives you access to event, open bar and light snacks. $35 at the door.

To sponsor this event, please contact Liz King liz@greendrinksnyc.com
---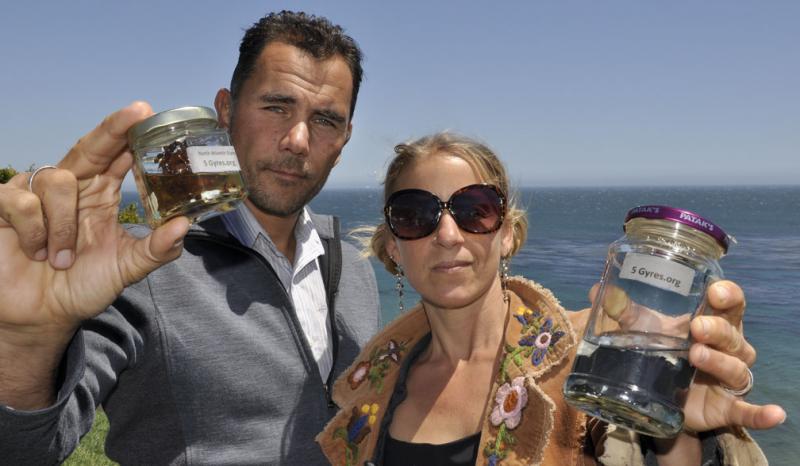 Anna Cummins and Marcus Eriksen, Phd, co-founders of The 5 Gyres Institute, are a husband and wife who have sailed over 25,000 miles through all the oceanic garbage patches of the world (and there are 7). Their means of getting the message out range from cross-country cycling/lecturing and knocking on the doors of mayors, to building plastic bottle rafts to float the Mississippi River and across the Pacific Ocean. Research expeditions across the Japan Tsunami Debris Field, and then the Great Lakes, are next. But the biggest challenge is coming soon - having a baby without using any plastic!
Marcus Eriksen
Executive Director, 5 Gyres Institute
323-395-1843
marcus@5gyres.org
www.5gyres.org

Marcus Eriksen received his Ph.D. in Science Education from University of Southern California in 2003, months before embarking on a 2000-mile, 5-month journey down the Mississippi River on a homemade raft. His experience on the river led to a career studying the ecological impacts of plastic marine pollution. His recent rafting adventure sent him across the Pacific Ocean from California to Hawaii on JUNK, a homemade raft floating on 15,000 plastic bottles and a Cessina airplane fuselage as a cabin (junkraft.com). The journey, 2,600 miles in 88 days, brought attention to the work of the 5 Gyres Institute, an organization he co-founded with his wife Anna Cummins. Together, they co-direct 5 Gyres, which is committed to marine conservation through research, education and adventure, studying and lecturing about the plague of plastic waste in our watersheds and in the sea.

His first book, titled "My River Home" (Beacon Press, 2007) chronicled his Mississippi River experience paralleled with his tour as a Marine in the 1991 Gulf War. In 2007 he joined board of the Mehadi Foundation and contributes his time to help the foundation assist US veterans and provide clean water to schools in Iraq. He also hosts "Commando Weather," a series of public service announcements about the science of weather and survival, for the Weather Channel. When not rafting, he enjoys writing and seeking any excuse to travel.
Anna Cummins

Anna Cummins has over 10 years of experience in environmental non-profit work, education, writing, and campaign development. She has worked in marine conservation, coastal watershed management, sustainability education, and high school ecology instruction. Anna received her undergraduate in History from Stanford University, and her Masters in International Environmental Policy from the Monterey Institute for International Studies. In 2001, Anna received a fellowship from the Sustainable Communities Leadership Program, to work with Santa Cruz based non-profit Save Our Shores, coordinating bilingual outreach education and community relations.

In 2007 Anna joined the Algalita Marine Research Foundation as education adviser, conducting school outreach and giving public presentations on plastic marine pollution. With Algalita, Anna completed a month long, 4,000-mile research expedition studying plastic debris in the North Pacific Gyre, and a 2,000 mile cycling/speaking tour from Vancouver to Mexico, giving talks about plastic pollution. Anna and her husband Marcus Eriksen recently co-founded 5 Gyres, in collaboration with Algalita and Pangaea Explorations, to research and communicate plastic pollution in the worlds oceans. Anna was elected a National Fellow of the Explorers Club in 2010.
Paul McGinniss, The New York Green Advocate, has interviewed a stellar array of change makers including Sylvia Earle, Dean Kamen, Ray Kurzweil, Fabien Cousteau and Josh Fox. Paul has helped to organize many environmental events including 7 Nights of Awareness for the December, 2011 NYC premier of the documentary film "The Big Fix".
Paul's new video series, The Advocates Advocate, is a platform to promote important advocates and celebrate their work. The first video in the series features Marc Yaggi, Executive Director of Waterkeeper Alliance, and Stefanie Penn Spear, Founder and Director of EcoWatch. Paul is also a New York based real estate broker and green building and renovation consultant. He advises people on how to set up grid independent, zero net energy, resilient living situations. He is currently working with his partners to establish a grid protected, 100% self sustaining farm community in Ulster County, NY.
TOTO Gallery

During the networking, browse the beautiful TOTO Gallery. A special thanks to TOTO for their support of the SPARK event!
TOTO is the world's largest plumbing products manufacturer. We offer a complete line of commercial and decorative plumbing fixtures and fittings, faucets, accessories, shower and flush valves, as well as lavatories, toilets, Air Baths and urinals. More than 1,500 TOTO engineers and their colleagues are committed to achieving the seamless integration of performance, conservation, technology, and innovation.
Organizer of SPARK*: The Oceans and the 5 Gyres
Since 2002, Green Drinks NYC has been hosting lively monthly networking events to connect and unite the environmental community of New York.  These events are friendly and upbeat.  Many people have found employment, made friends, developed new ideas, and had moments of serendipity. It's a force for the good spreading to over 700 cities around the world!