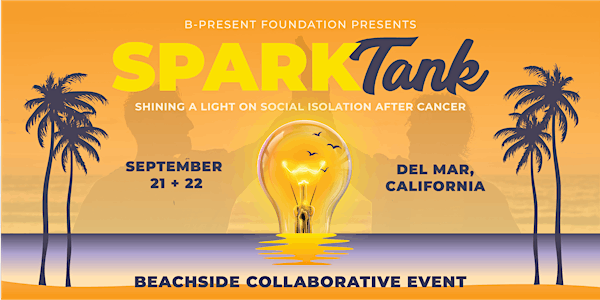 Spark Tank: Shining a Light on Social Isolation After Cancer
Beachside collaborative event where young adult cancer survivors & their supporters connect, innovate, & spark change for a brighter future.
When and where
Location
Del Mar Powerhouse Community Center 1658 Coast Boulevard Del Mar, CA 92014
About this event
Shine a light: Cancer treatment is over, and everyone is ready to return to a sense of normalcy. But some things still feel unfinished. Cancer elicits a new perspective on life, and many young adult survivors and supporters feel inspired to shine a light on the challenges and improve the experience for others that will follow. But how? Where to begin?
Spark change: b-present Foundation invites you to the first annual Spark Tank. In this one-of-a-kind innovation workshop, young adult survivors, supporters, researchers, health professionals, and advocates gather to connect and share their first-hand experiences and insights in a fun and inclusive environment. Together we will explore the gaps and barriers that contribute to social isolation and poor mental health after cancer, and brainstorm solutions that spark improved quality of life and health outcomes for AYAs with cancer.
Save the dates: This fun, inspiring, interactive, two-day event will be held on September 21 + 22, 2022, just steps from the beach in Del Mar, CA. There will be ample time for connection, motivational keynotes, team-building activities, innovating, problem solving, and beach walks.
Did someone say party? Let your light shine at our culminating event—a Glow Bright Beach Party. This fun and activity-filled night will be a chance to connect, share what we learned, and celebrate with our support community. There will be food, drinks, music, activities, dancing, and plenty of time to take in the beautiful ocean view.
The Details
Date: September 21 + 22, 2022
Location: Powerhouse Community Center, 1658 Coast Blvd, Del Mar, CA 92014
Who: Young adult survivors and their support community (including supporters, health and wellness professionals and community advocates) ready to spark change together.
Registration for the event is free. Space is limited and you must register to attend. Food and drinks will be provided throughout the two day event. Spark Tank registered guests must attend workshop to receive complimentary entry to our Glow Bright Beach Party.
This is a unique, first-of-its-kind event—you won't want to miss it!
AGENDA
WEDNESDAY, SEPTEMBER 21 - Shining a Light on Social Isolation after Cancer
3:30 PM Arrival/Check-in
4:00 PM Welcome/ Keynote with Jenni Dawn Muro
4:30 PM Workshop Session 1 with Colter Ray
6:00 PM Beachside Dinner
7:00 PM Workshop Session 2 with Abby Westerman
8:30 PM Creative Session with Special Guest Hernan Barangan
10 PM Event ends
THURSDAY, SEPTEMBER 22 - Innovating for a Brighter Future
3:30 PM Arrival/Check-in
4:00 PM Welcome + Keynote - Kelli Sargent
4:30 PM Workshop Session 3 with Colter Ray and Abby Westerman
THURSDAY, SEPTEMBER 22 - Beachside Glow Party & Fundraiser
6:00 PM Social & Sunset Cocktails
7:00 PM Beachside Dinner
8:00 PM Music / Dancing / Beach Activities
10 PM Event ends
HOTEL INFO
The Best Western Del Mar (720 Camino Del Mar Del Mar) Spark Tank Event room block over the dates of September 21-23, 2022 is now available. The hotel is just down the street from the Powerhouse Community Center (with free parking). Unused rooms in the block will be released on Wednesday, September 7, 2022.
HOW TO RESERVE:
Guests can book online here or call (858) 755-9765 and request the Spark Tank Event block. Guests need to enter their arrival/departure dates in order to receive the group rates.
Note: If requesting dates outside of your room block, please call the hotel directly to reserve these rooms.
IMPORTANT HOTEL RESERVATION + CANCELLATION INFO:
By booking directly through the hotel there is no charge for the reservation until check out. If, however, you fail to cancel your reservation prior to published cancellation policy for the block (2 days prior to checkin), or if you fail to arrive for your reservation, you will be responsible for 1 night's room and tax charges. If you book your reservations through a third party, you will need to contact the third party in which you booked your reservation to modify or cancel them. Third party cancellation policies vary depending on the reservation type and any agreements made between you and said third party. Some third-party reservations are also subject to prepayment at time of booking.
PARKING
Special events parking can be a challenge, especially during the summer months in Del Mar. A few options for parking are listed below:
Seagrove Parking Lot: Located at 1601 Coast Blvd. (across the street from the Powerhouse Park and the Community Center). This location accepts credit cards or cash (bills)
Under the L'Auberge Inn: Located off 15th Street, on the north side, just east of the post office, this location is metered and takes coins only.
Meters on Coast Blvd. Accepts credit cards, debit cards or coins.
Free parking in the residential areas north of the Del Mar Motel.
Local guests can stay in nearby hotels, and walk or utilize a rideshare service to the parks, beaches and community center.
Where practical, carpooling and rideshare are encouraged. A convenient dropoff location is the large passenger loading zone on the west side of Coast Blvd. in front of Powerhouse Park.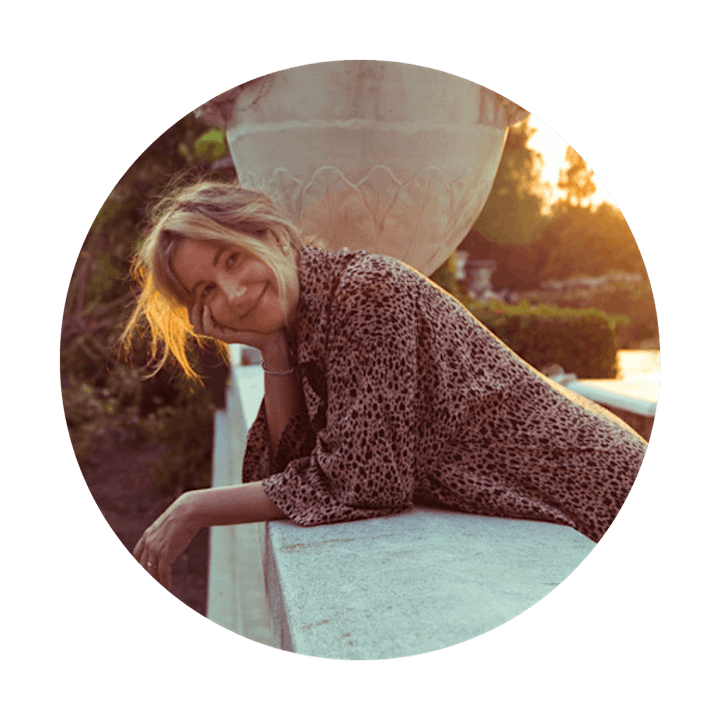 Jenni Dawn Muro is an accidental expert in surviving, beginning with ovarian cancer during college. Now a twenty-six-year survivor, she remains a light in the AYA community and beyond. Jenni's life has been a series of cancer, trauma(s), and chronic pain, yet her love of life is contagious. Find out why working with celebrities, traveling the world, and living on movie sets, she would still put "Cancer Survivor" at the top of her resume.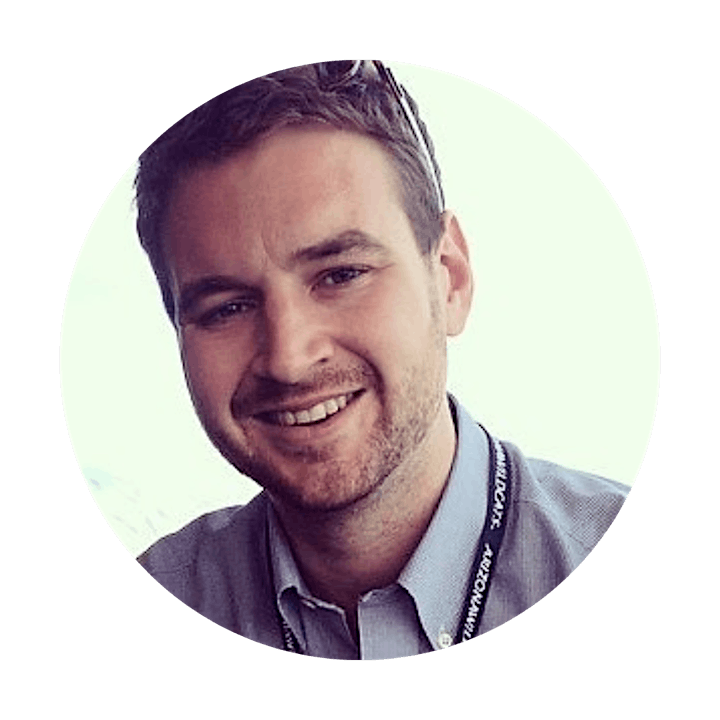 Colter Ray is an assistant professor at LSU and Expert Trainer at Empathy Bootcamp. Colter's research focuses on how people support loved ones who have been diagnosed with cancer, exploring issues related to reaching out and communicating support, as well as communication strategies that improve meaningful connections with others.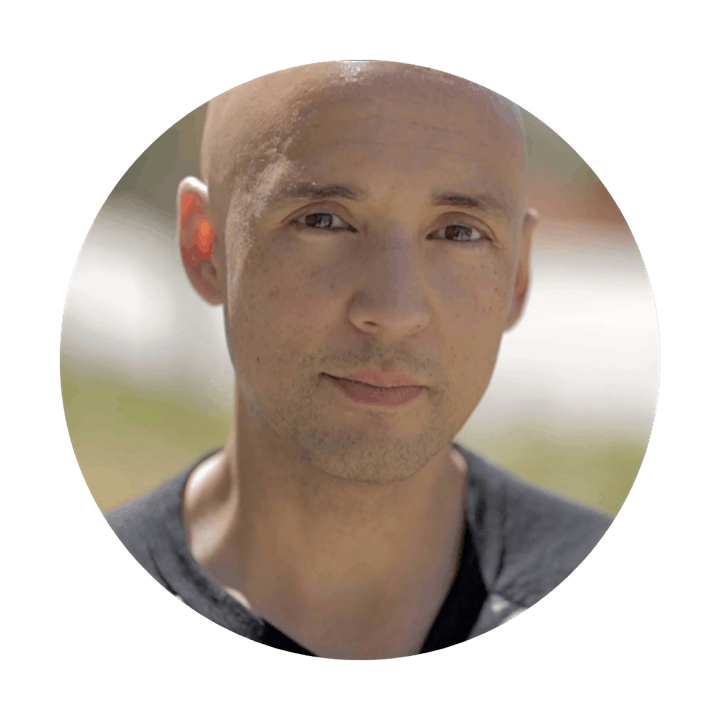 Hernán Barangan was diagnosed with Leukemia as a teenager — and while undergoing radiation therapy, he mutated into an atomic beast — umm, no — he fell in love with movies as a way to escape. He graduated from high school and cancer the same year, and would discover in the following decade that storytelling is actually about turning and facing your fears. He went on to build a career that spans documentary, commercials and screenwriting. Returning to face those aforementioned fears, he directed and stars in CANCER REBELLION (Executive Produced by Roger Daltrey of The Who), for which he traveled to all 50 states to interview 100 young adult cancer patients. Over the course, he discovered the power of filmmaking as a form of narrative therapy. He also directed THE 100%, a fully-immersive 360° interactive experience to benefit StandUp2Cancer; it won the Tribeca X Award and was nominated for an EMMY. He's a marathon hand-cycler, has rebuilt a VW from the ground up, makes a mean green smoothie and is proudly half Salvadoran, half Filipino, and all-guns blazing.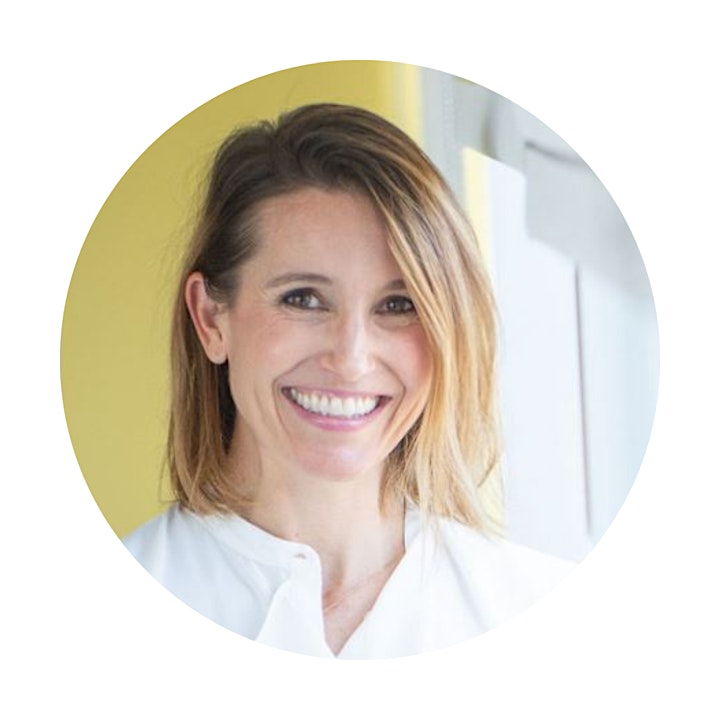 Kelli Sargent was born and raised in Los Angeles, CA. With over 18 years of experience in philanthropy, she is a marketing and fundraising professional with an entrepreneurial spirit. Kelli received her Bachelor's Degree and Paralegal Certification at the University of San Diego and, after graduation, was a paralegal for domestic violence victims. She is a USF Sport Management Master's Program alum who took her Master's thesis from idea to fruition with Run for Her, a 5k run/walk that raised over $7M for ovarian cancer (in memory of her mom) at Cedars-Sinai Medical Center where she worked for 9 years as a Senior Team Lead & Producer. As the Deputy Director at Tower Cancer Research Foundation (TCRF), she is pursuing her passion in philanthropy and survivorship support through the Programs offered at TCRF.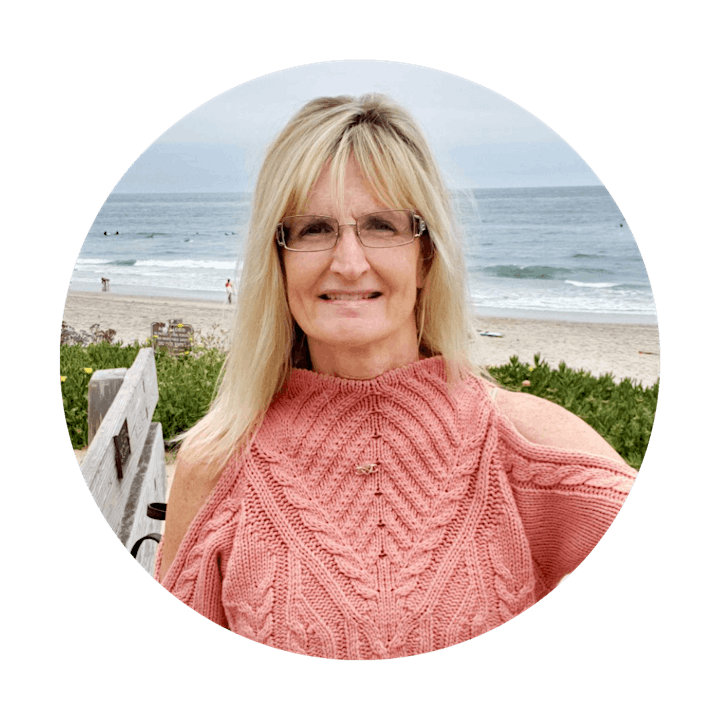 Abby Westerman is Co-founder and CEO of b-present Foundation, established in memory of her late daughter Kirsten, who she lost to cancer at the age of 20, seven short months after being diagnosed. Prior to founding b-present, Abby was an engineer and project manager for the Navy for over 33 years. She retired in 2018 to lead b-present as a full-time volunteer, and earned her Nonprofit Management Certificate from the University of San Diego in 2021. With Kirsten as her inspiration, Abby is a Mom on a Mission: energized by the AYA cancer community and committed to ensuring every AYA diagnosed with cancer feels connected and supported throughout treatment and beyond. She envisions a world where everyone experiences kindness and connection, especially in times of struggle. Abby lives in San Diego with her husband John, and they have a son Andrew (Kirsten's big bro and Abby's advisor on computers, music, and life). FUN FACT: Abby loves playing piano in her spare time, and if you're ever at EDC Vegas, you might just see her under the Electric Sky.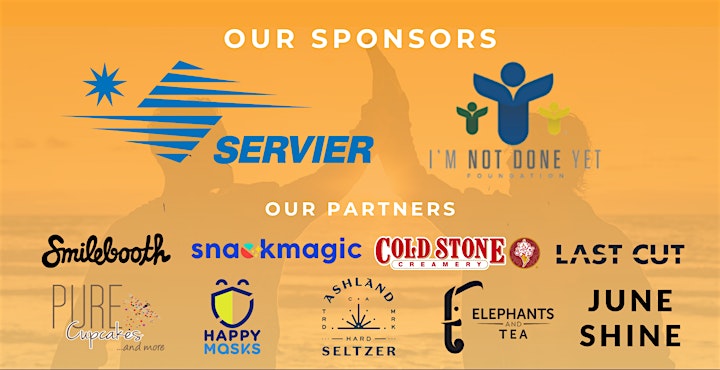 ABOUT B-PRESENT:
We improve the quality of life and health outcomes of young adults with cancer through programs that promote and strengthen connections between young adults and their communities of support because every young adult diagnosed with cancer deserves to feel connected and supported throughout treatment and beyond. Learn more on b-present.org.