SPARK Speaker Series February 25, 2014
When and where
Date and time
Tuesday, February 25, 2014 · 6:30 - 8:30pm EST
Location
The Moderns 900 Broadway Suite #202 New York, NY 10003
Refund Policy
Contact the organizer to request a refund.
Description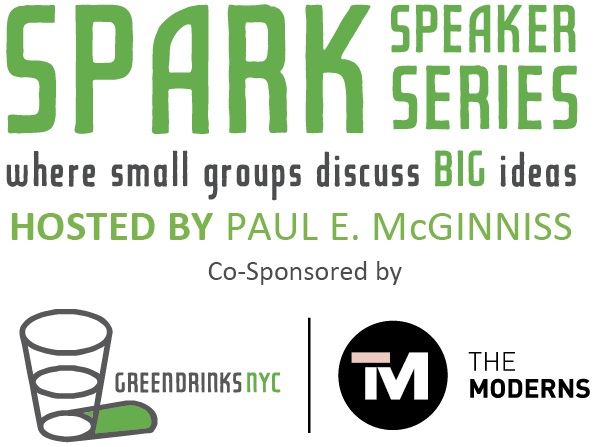 Join

Green Drinks NYC

for the
SPARK Speaker Series
Three Years After Fukushima: 
Lessons Learned from the Disaster and The Future of Indian Point


Ed Lyman from Union of Concerned Scientists, Philip Musegaas from Riverkeeper and Journalist
 Susan Q. Stranahan
Tuesday February 25, 2014 6:30pm to 8:30pm
Co-sponsored by and held at:
The Moderns 900 Broadway, Suite 202, New York, NY
* Complimentary Wine, Snacks and Refreshments Provided
*
DETAILS:

The nuclear disaster at Fukushima continues to unfold nearly three years after that fateful day, March 11, 2011. The lives and livelihoods of tens of thousands of Japanese have been irreparably harmed with devastating human, economic and environmental consequences. Here in the United States, what lessons have we heeded from this disaster? What are U.S. regulators doing to better protect the hundreds of millions of Americans who live near one of the nation's 100 operating nuclear reactors, including the Indian Point nuclear plant, 38 miles north of New York City? What are some of the known risks at the Indian Point plant and what is being done to address them?
Edwin Lyman is a, nationally recognized nuclear power safety expert from the Union of Concerned Scientists and the author (with Dave Lochbaum and Susan Q. Stranahan) of the Feb, 2014 book, Fukushima: The Story of a Nuclear Disaster. He will be joined by Philip Musegaas, Hudson River Program Director for Riverkeeper, New York's leading clean water advocacy group. Riverkeeper has a long history of work on Indian Point safety and environmental issues, including its current active legal challenge to Indian Point's re-licensing by the Nuclear Regulatory Commission (NRC).
Phillip Musegaas
Hudson River Program Director, Riverkeeper
Phillip leads our Hudson River Program and its team of attorneys on a diverse range of environmental campaigns, focusing on reducing sewage pollution, restoring native fisheries and preventing the relicensing of the Indian Point nuclear power plant. During his tenure as lead attorney, he has won a landmark federal court victory against the Nuclear Regulatory Commission on nuclear waste and negotiated a settlement with ExxonMobil to remediate a massive oil spill from its former refinery site in Greenpoint, Brooklyn. He is Riverkeeper's point person on New York City issues, including the remediation of Superfund sites on Newtown Creek and the Gowanus Canal and advancing sustainable climate resiliency initiatives for waterfront communities and infrastructure. Phillip represents Riverkeeper on Mayor Bloomberg's Green Infrastructure Task Force and Special Initiative for Rebuilding and Resiliency as an Advisory Committee member. He also coordinates the Hudson River Program's enforcement campaign, in collaboration with the Pace Law School Environmental Litigation Clinic and Riverkeeper patrol boat program and regularly speaks to the public, elected officials and the media about Riverkeeper's work on the Hudson. Phillip received a B.A. (magna cum laude) in Geography from the University of Washington, and a J.D. from Pace Law School.
Edwin Lyman, Senior Scientist, UCS Global Security Program
Edwin Lyman is an internationally recognized expert on nuclear proliferation and nuclear terrorism as well as nuclear power safety and security. He is a member of the Institute of Nuclear Materials Management, and has testified numerous times before Congress and the Nuclear Regulatory Commission. Since joining UCS in 2003, he has published articles in a number of journals and magazines, including Science, the Bulletin of the Atomic Scientists, Science and Global Security, and Arms Control Today, and he has been cited in thousands of news stories, including articles in the Boston Globe, Chicago Tribune, Los Angeles Times, New York Times, Wall Street Journal, Washington Post, and USA Today, and in segments on ABC, CBS, CNN, C-SPAN, MSNBC, NBC, NPR and PBS.
Before joining UCS, Dr. Lyman was president of the Nuclear Control Institute, a Washington, D.C.-based organization focused on nuclear proliferation. From 1992 to 1995, he was a postdoctoral research associate at Princeton University's Center for Energy and Environmental Studies (now the Science and Global Security Program). He earned a doctorate degree in physics from Cornell University in 1992.
Susan Q Stranahan
Susan Q. Stranahan is a journalist and author who has written extensively on environmental and energy issues for many years. As a staff writer for the Philadelphia Inquirer (1972-2000), she was the lead reporter for the Inquirer's coverage of the Three Mile Island accident, which was awarded a Pulitzer Prize. She also served as a member of the Inquirer's editorial board for a decade.
As a freelance journalist, she has written for many national publications and is the author of "Susquehanna: River of Dreams," published by Johns Hopkins University Press. She taught environmental writing at the University of Pennsylvania for five years. Stranahan is a graduate of the College of Wooster. She lives on Chebeague Island, Maine.
Host Paul E McGinniss
Paul McGinniss, The New York Green Advocate, has interviewed a stellar array of change makers including Sylvia Earle, Dean Kamen, Ray Kurzweil, Fabien Cousteau and Josh Fox. He is a featured contributor to EcoWatch.

Paul has helped to organize many environmental events including 7 Nights of Awareness for the December, 2011 NYC premier of the documentary film "The Big Fix."

Paul is also a New York based real estate broker and green building and renovation consultant. He advises people on how to set up grid independent, zero net energy, resilient living situations. He is currently working with his partners to establish a grid protected, 100% self-sustaining farm community in Ulster County, NY.


About the organizer
Since 2002, Green Drinks NYC has been hosting lively monthly networking events to connect and unite the environmental community of New York.  These events are friendly and upbeat.  Many people have found employment, made friends, developed new ideas, and had moments of serendipity. It's a force for the good spreading to over 700 cities around the world!