Spark Series: Fostering Innovation & Equity in Our Schools
Event Information
Refund Policy
Refunds up to 7 days before event
Description
Spark Series: Fostering Innovation & Equity in Our Schools
Keynote: Ashanti Branch
Date: October 19, 2017
Time:
4:00 pm - Networking Reception
5:00 pm - Keynote Presentation
Location: University of San Diego, Mother Rosalie Hill Hall
Tickets:
Single Event Tickets: $50
Season Pass: $120 (includes one ticket for each of the three Spark Series events, see below for more info)
The Spark Series (formerly known as the Spotlight on Education Series) ignites San Diego educators through world-class, cutting-edge, visionary thinking. It is a venue for site administrators, teacher leaders, central office administrators, university students, professors of education and business leaders to hear insights and perspectives from respected thought leaders in education.
The 2017-2018 Spark Series will kick off on October 19, 2017 with a keynote address from acclaimed speaker and Ever Forward Club Founder and Executive Director Ashanti Branch.
Mr. Branch works to change how young men of color interact with their education and how their schools interact with them. As a young teacher in the East Bay, Branch recognized, "When my students aren't learning, it's not usually because they can't; it's because they have deep-seated behaviors that are holding them back." This led Branch in 2004 to create the Ever Forward Club to provide a safe place for these young men to "take off their masks and be supported for who they really are," and 93 percent of Club members have gone on to college. Documentarian Jennifer Siebel Newsom and Stanford's d.school have helped Branch's organization reach thousands of Bay Area students.
Branch will use this concept of "taking off the mask" to show how to "look behind our masks that we wear on a daily basis and that often get in our way of living truly fulfilling lives."
---
You may purchase single event tickets for $50 and season passes for the entire three-event 2017-2018 Spark Series for $120:
October 19, 2017: Ashanti Branch, MEd, Founder and Executive Director, Ever Forward Club
January 25, 2018: Kevin Wang, MEd, Founder & Ringleader, TEALS – Computer Science in Every School
May 2, 2018: Chris Emdin, PhD, Associate Professor, Columbia University, Author and Public Speaker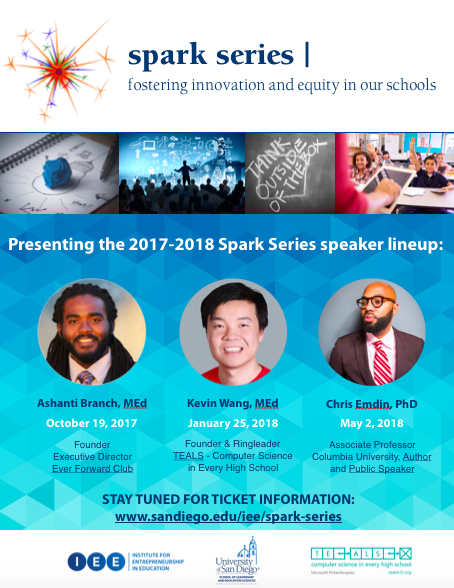 Date and Time
Location
The Institute for Entrepreneurship in Education
University of San Diego
5998 Alcala Park
San Diego, CA 92110
Refund Policy
Refunds up to 7 days before event