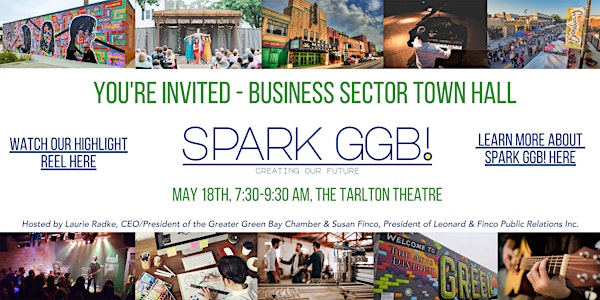 Spark GGB! Business Sector Townhall
Spark GGB! Business Sector Townhall
When and where
Location
The Tarlton Theatre 405-409 West Walnut Street Green Bay, WI 54303
About this event
Our community is in the midst of its first creative sector assessment plan for the Greater Green Bay area. The goal of Spark GGB! is to better harness arts and culture as a powerful asset to help advance community strategic priorities.
The voice of the business sector in this assessment is critical to developing a vibrant community in which we work, live, and play.
This town hall will take place on May 18th at the Tarlton Theatre at 7:30 AM, hosted by Laurie Radke - President/CEO of the Greater Green Bay Chamber & Susan Finco - President of Leonard & Finco Public Relations Inc.
In order to achieve that goal, the collaboration has undertaken a regional cultural assessment of Brown County that will take place over the next five months. Since the start of this process in March, the collaboration's consultants have been gathering data on Green Bay's creative assets, conducting interviews with sector leaders, and gathering information on public priorities. The coming phases will include a community-wide survey and open-format, town hall listening sessions. The session will be facilitated by our consultants, Christine Harris and Mary Reinders. Both have experience in creative asset mapping, collaborative planning, and community research. The session will be recorded for analytical purposes only. They will not be shared with the general public. We prioritize transparency and inclusivity in our work. After all of our town hall discussions are completed, we will publicly share the larger cultural assessment results here: https://greenbayart.org/spark-ggb/