Description
New Date! New Location!
Welcome to Freelancers Union SPARK!
We host meetups for freelancers by freelancers: we invite you to bring your expertise, questions, and elevator pitches to the table to workshop and discuss.
Join us on the first Wednesday of every month (and on Facebook in between!) to meet other entrepreneurs in the area, get inspired, and talk about stuff like...
DECEMBER'S SPARK:
As the year draws to a close, we're coming together to unwind, share a few laughs, and raise a glass to all we have accomplished as a community. Think of it as your official UN-office holiday party!
Join us at cove's brand new Dupont location - thanking them for sponsoring us for the past year, and be sure to bring a friend or two-- even if they tend to wear ugly holiday sweaters!
There will also be time to network with other freelancers who may be able to offer tips you hadn't considered before. Last year we had some great, informative and helpful conversations.
Regardless of industry, we all share similar experiences as independent business owners! We try to ensure everyone leaves with insights and connections that will help their business thrive.
---
SPARK is built on the premise that we're stronger together than we are on our own.
Check out our DC Facebook group to swap jobs, resources, and meet other people who love their "boss!"
The national conversation is live at #FreelanceSPARK. Join us in a whole bunch of cities cities across the country!
Quick tips:
Yes, this event is for freelancers of all industries. We're all connected by our efforts to succeed in the gig economy.
No, this event will not be taped- it's a meetup!
Sometimes we do bring in an expert speaker- we'll announce that above.
---
SPARK is sponsored by:
Spark is sponsored by SPENT, which enables smarter spending for freelancers. Whether its work or play, keep more of your cash. The SPENT Money app is the best on the go way to keep your expenses organized. SPENT Travel offers great hotel rates with up to 25% cash back. Learn more at www.spentapp.com.
SPARK DC is brought to you by: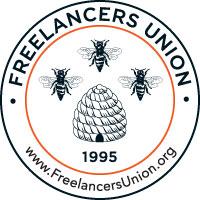 About Freelancers Union
Freelancers Union is a membership organization that provides benefits, resources, and advocacy for 350,000 independent workers nationwide. To learn more or join, visit freelancersunion.org. Membership is free.
About Cove
No one likes to work, but everyone likes to be productive. Cove provides a place in your neighborhood to get things done, alongside others doing just the same. If you ever find yourself trying to work out of the lonely living room, noisy coffee shop, or boring office, cove is for you. To learn more or join, visit cove.is.