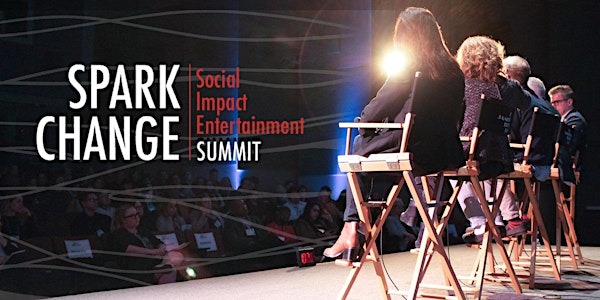 Spark Change Summit 2022: Make Shift Happen
Presented by Creative Visions, the Promise Institute for Human Rights, and the UCLA Skoll Center for Social Impact Entertainment Media
When and where
Location
Hammer Museum 10899 Wilshire Boulevard Los Angeles, CA 90024
About this event
Now presenting our third Spark Change Summit! This year's theme, Make Shift Happen, will showcase the unparalleled power of storytelling and its potential to affect today's complex issues and support human rights.
Join us as we focus on entertainment that raises awareness, changes behavior, influences policy and catalyzes movements. During the daytime program, we'll be hearing from an amazing lineup featuring award-winning producers, writers, directors, creatives, educators, policymakers and industry experts, with sessions exploring critical and timely topics.
Following our daytime program, we are thrilled to host an official Networking Reception beginning at 5:00 pm, followed by a 6:00 pm film screening.
We hope you'll join us!
As a reminder, participation in the Summit is on a first-come, first-served basis. We are looking forward to seeing you on October 27!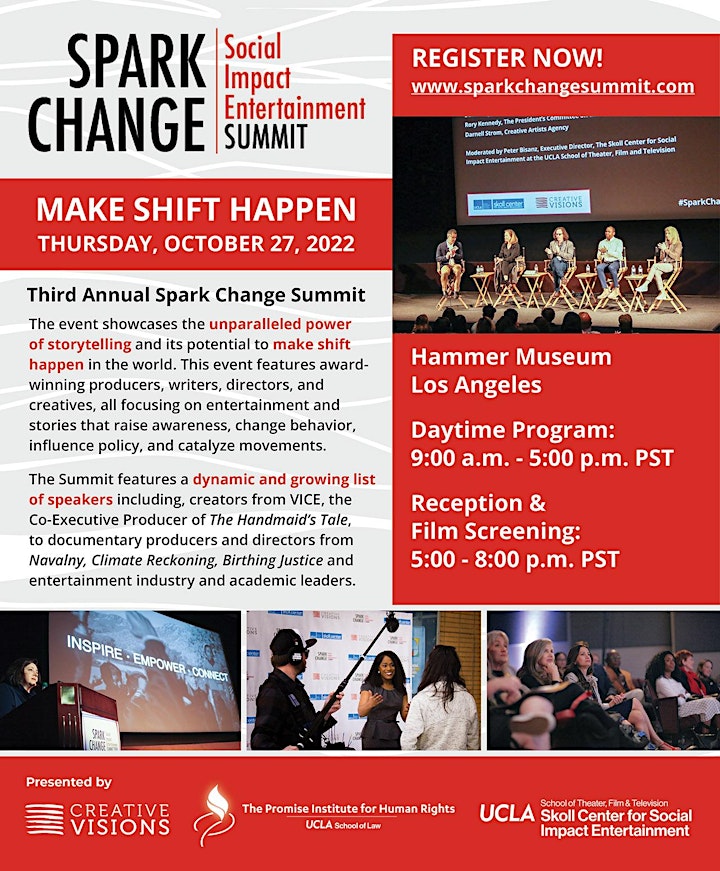 FAQs
Where should I park to attend the event?
Convenient self-parking is available under the museum. Parking entrances are located on the east side of Westwood Boulevard (northbound) or on the west side of Glendon Boulevard (southbound), between Wilshire Boulevard and Lindbrook Drive. Rates are $7 for the first three hours with museum validation, and $3 for each additional 20 minutes, with a $20 daily maximum. There is a $7 flat rate after 6 p.m. on weekdays, and all day on weekends. Accessible parking is provided on levels P1 and P3. Valet parking is available on Lindbrook Drive for $10. For more information about accessible parking as well as a map of other parking options, visit the Hammer Museum's website.
Note: due to construction around the museum, visitors are advised to follow the pink line on the ground from P1 level outside and around to the exterior door on Lindbrook Drive.
What if I have questions about accessibility?
We strive to host inclusive, accessible events that enable all individuals, including individuals with disabilities, to engage fully. If applicable, please share any accessibility needs with us via the registration form, and feel free to reach out to info@sparkchangesummit.com with any questions about accessibility.
How can I learn more?
Please click here to visit our website or email info@sparkchangesummit.com with any questions.
Please note that the seating for the event will be available on a first-come, first-served basis.