Description
Welcome to Freelancers Union SPARK!
We host meetups for freelancers by freelancers: we invite you to bring your expertise, questions, and elevator pitches to the table to workshop and discuss.
Join us on the first Wednesday of every month (and our Facebook group for in-between events) to meet other entrepreneurs in the area, get inspired, and talk about stuff like...
---
JUNE'S SPARK:
Join us for a special SPARK event featuring Council Member Rafael Espinal, Council Member to the 37th District and, as Chair of the Council's Committee on Consumer Affairs, a key advocate for the passage of the Freelance Isn't Free Act. We will discuss the passage of the Freelance Isn't Free Act, the impact on workers, and will workshop basic skills and strategies to help you protect your work:
- Getting paid on time
- Protecting yourself with a solid contract
- Maintaining control over your work

- Troubleshooting client issues
- Resources to help freelancers

The Brooklyn Spark will also be having a guest speaker, Nakia D. Hansen of Odegard Law.


Nakia D. Hansen is an attorney and digital strategist who acts for creatives, artists, do-gooders, businesses and personalities active in the digital space. Following a career in social media strategy and communications, Nakia now focuses on intellectual property, business, marketing and internet law. Combining her passion for law and her new media expertise, Nakia equips creative entrepreneurs and small business owners with the legal knowledge and digital media expertise needed to confidently launch, grow and protect their business endeavors. Nakia graduated from the University of North Carolina at Chapel Hill with a BA in African & African-American Studies, and later went on to earn her JD from Temple University's Beasley School of Law and a Master of Laws (LL.M) in Intellectual Property from the Benjamin N. Cardozo School of Law.
Odegard Law is a boutique New York law firm specializing in consulting with creative professionals. Odegard Law represents, counsels, and advocates on behalf of agencies, creative small businesses, and artists so they can focus on what they do best. Learn more at odegardlaw.nyc.
There will also be time to network with other freelancers who may be able to offer tips you hadn't considered before.
Regardless of industry, we all share similar experiences as independent business owners! We try to ensure everyone leaves with insights and connections that will help their business thrive.
---
SPARK is built on the premise that we're stronger together than we are on our own.
Check out our NYC Facebook group to swap jobs, resources, and meet other people who love their "boss!"
The national conversation is live at #FreelanceSPARK. Join us in a whole bunch of cities cities across the country!
Quick tips:
Yes, this event is for freelancers of all industries. We're all connected by our efforts to succeed in the gig economy.
No, this event will not be taped- it's a meetup!
Sometimes we do bring in an expert speaker- we'll announce that above.
---
SPARK is sponsored by:

Are you a busy freelancer looking to attract new clients or build an audience? With about.me, you can create a page to present who you are and what you do in one link. Add a custom domain to your link (e.g. yourname.com) to take control of your online presence and present yourself professionally. Freelancers Union members get 15% off their first year of the Domain + Page plan. Click here to access the discount.
SPARK Brooklyn is brought to you by: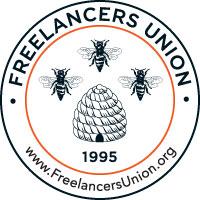 About Freelancers Union
Freelancers Union is a membership organization that provides benefits, resources, and advocacy for 350,000 independent workers nationwide. To learn more or join, visit freelancersunion.org. Membership is free.

About The Yard
The Yard is New York City's premiere office space and coworking community designed to support your business growth. Our office collective includes universal 24/7 access to beautiful custom spaces, giving you maximum flexibility with minimum maintenance. Our spaces focus on design + function so every element of our environment promotes your creativity, collaboration, and connections. If your business is evolving, it's time to work at The Yard.
Freelancers Union Members receive 20% off your first two months!