Spanish Serenades

Sunday, October 15, 2017 from 5:00 PM to 7:00 PM (EDT)
Event Details
SPANISH SERENADES


Sunday, October 15th, 2017, at 5 p.m.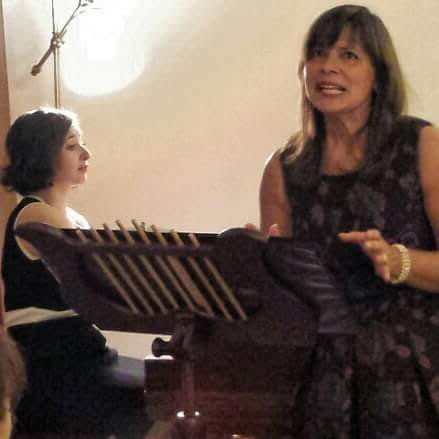 PATRICIA SONEGO, soprano
YELENA GRINBERG, piano
Dear Friends!
Join us on Sunday, October 15th, 2017, at 5 p.m., as we celebrate the 150th birthday of Enrique Granados (1867-1916) - one of the great Spanish pianist composers of the 19th centuries who pioneered a uniquely Spanish nationalist style - and the composers in his circle. In this poignant program, we will explore the rich legacy of the Spanish song and the leading exponents of the Spanish romance, including Granados, Turina, Falla, alongside the lesser-heard Spanish song composers, such as Marin, Sor, Rodrigo, Mison, Vives, Guridi, Montsalvatge, and Toldra. Our program will open with Enrique Granados' colorful, Goya-inspired Coleccion de tonadillas: escritas en estilo antiguo (1912), followed by Jose Marin's deeply passionate 17th-century lament, Ojos pues me desdenais, Fernardo Sor's dramatic seguidilla, Muchacha y la verguenza, Joaquin Rodrigo's lively De donde venis, amore? from his characterful collection, Cuatro madrigales amatorias (1947), a Mozartean-type Seguidilla dolorosa de una enamorada (1757) by Luis Mison - an 18th century theater composer, Amadeo Vives' theatrical Oyeme tu retrato, Nina Isabella from his impassioned Canciones epigramaticas (1915), Guridi's deepfelt lament, No guieros tus avellanas and his folk-inspired Como quieres que adivine, Turina's Andaluzian, flamenco-flavored Poema en forma de canciones (1917), Montsalvatge's Cancion tonta, from his collection Canciones para Ninos (1953), composed for one of Spain's most renowned sopranos, Montserrat Caballe, Toldra's stunning song, Abril (1920), representative of his native Catalan tradition, Manuel de Falla's folkloric and justly beloved Siete canciones populares Espanolas (1914-15), with their flavorful sounds of Spain's diverse regions, such as Jota, a Moorish dance often accompanied with castanets, and, for the grand conclusion, Granados' hauntingly beautiful six Canciones amatorias (1915), filled with piquant Spanish rhythms, melodies, and modal coloration, the sensual sounds of the Spanish guitar, as well as complex and subtle piano accompaniment. Don't miss this special tribute to Enrique Granados and the composers in his circle showcasing some of the most glorious Spanish romances ever composed!
Patricia and I look forward to seeing you all on Sunday, October 15th!
Best wishes,
Dr. Yelena Grinberg, founder and artistic director of the Grinberg Classical Salon Series
When: Sunday, October 15th, 2017, at 5 p.m.

          Doors will open at 4:30 pm 
          Food-and-wine reception to follow the performance
Where: Private Residence on the Upper West Side  (West 90s)
          You will be emailed the exact home address after you register through this website
Admission: $28
          Admission price includes the wine-and-hors d'oeuvres reception with the guest artist(s)
          Limited to just 21 seats!
          Note: Advance ticket purchase through this site is required. NO tickets sold at the door!
Contact: Dr. Yelena Grinberg (ygpiano@gmail.com)
Program:


SPANISH ROMANCE:
ENRIQUE GRANADOS (1867-1916)
Colección de tonadillas: escritas en estilo antiguo (H136 p.1912)
Texts:  Fernando Periquet (1873-1940)
      El majo discreto
      La maja dolorosa No.2
      La maja dolorosa No. 3

JOSE MARIN (1619-1699)

Tonos
Ojos pues me desdeñais (c.1660)
FERNANDO SOR (1778-1839)

Seguidillas (c.1800-1808)
Muchacha, ¿y la vergüenza?
Text: Anonymous
JOAQUIN RODRIGO (1901-1999)

Cuatro madrigales amatorios inspirados en musica Española del sigolo XVI (1947)
¿De dónde venís, amore?

LUIS MISON (1727-1776)

Tonadilla
Seguidilla dolorosa de una enamamorada
from Una mesonera y un arriero (c. 1757 )
AMADEO VIVES (1871-1932)

Canciones epigramáticas (1915)
Óyeme tu retrato, Niña Isabella
JESUS GURIDI (1886-1961)

Seis canciones Castellanos (1947)
Popular Castilian songs collected by Cesareo Garda of Navarre, in Candeleda, Avila, in July 1936
IV. No quiero tus avellanas
V. ¡Como quieres que adivine
JOAQUIN TURINA (1882-1949)

Poema en forma canciones, op. 19 (1917)
Text: Ramón de Campoamor (1817-1901)
III. Cantares

XAVIER MONTSALVATGE (1912-2002)

Canciones para niños (1953)
Text: Federico García Lorca (1898-1936)
IV. Canción tonta
EDUARDO TOLDRA (1895-1962)

Abril (1920)
Text: Trinitat Catasús
MANUEL DE FALLA (1876-1946)

Siete canciones populares Españolas (1914-15)
Texts: Spanish Folksongs

I. El Paño Moruno
II. Seguidilla Muciana
III. Asturiana
IV. Jota
V. Nana
VI. Canción
VII. Polo

ENRIQUE GRANADOS (1867-1916)

Colección de canciones amatorias (H24 c.1915)
Texts: Castilian Romances before 1700
I, II, IV,VII: Anonymous; III & VI: Luis de Góngora (1561-1627); V: Félix Lope de Vega (1562-1635)
I. Descubrase el pensamiento
II. Mañanica era
III. Llorad, Corazon, que teneis razón 
IV. Mira, que soy niña, ¡Amor, dejame! 
V. No llores, ojuelos 
VI. Iban al pinar 
VII. Gracias mia
 **************************************************************************************************************************
To learn more about the artists, please visit their websites: 
     Patricia Sonego, coloratura soprano - http://www.patriciasonego.com 
     Yelena Grinberg, pianist - http://www.yelenagrinberg.com
**************************************************************************************************************************
For more information on the Grinberg Classical Salon Series, please visit: http://yelenagrinberg.com/grinberg-classical-salon-series/
When & Where

Upper West Side

New York, NY 10025


Sunday, October 15, 2017 from 5:00 PM to 7:00 PM (EDT)
Add to my calendar
Organizer
An intimate, elegant, and enlightening series of Classical music salon lecture-recitals on the Upper West Side (West 90s), followed by a food-and-wine reception with the guest artist(s).