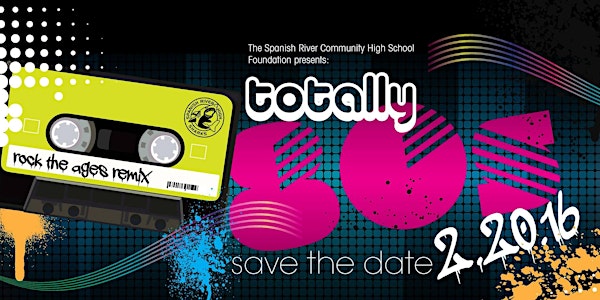 Spanish River Community High School Presents Totally 80's
Location
Pavilion Grille
301 Yamato Road
Boca Raton, FL 33431
United States
Description
Break out your cassette player, tease up your hair and get ready to relive the best decade ever at Spanish River Foundation's "Totally 80s" Main Event!

Honorees:
Randi & David Winter
"Community Impact Award"

Keith Sonderling '01
"Alumni Achievement Award"

Co-Chairs:
Leslie Lapidus Brennan Rimer

Proceeds benefit the students and programs at Spanish River Community High School.
Contact Kate Adornetto for more event information or find out how you can be a sposnor today! Email: kadornetto@spanishriverfoundation.org
Join us for an evening with speed painter Micahel Israel, delicous food and drinks from the Pavilion Grille, plus live music and more! General Admission $125 *Price Increase to $140 on 2/15
Sponsor a Teacher to attend for $75:
When you purchase a ticket to sponsor a teacher, please note you cannot specify which teacher you want to attend. All teachers will be given the opportunity to have their names placed in the raffle for receiving a sponsored ticket. Thank you.