Description
Five courses perfectly paired with these five delectable Oregon wines:
1st Course
Chemistry Pinot Gris
Parmesan Asparagus Bites
2nd Course
Stoller Chardonnay
Fried Eggplant Sticks with Castillo de Pinar Marinara
3rd Course
Stoller Rosé
Spicy Melon Prosciutto Salad
4th Course
Chemistry Pinot Noir
Lartigue's Herbed Tuna
5th Course
Stoller Pinot Noir
Certified Angus Tenderloin
About Bill Stoller
BILL STOLLER spent the first few weeks of his life here on the property and was raised on the family farm outside of Dayton, Oregon. He received a degree in business and economics from Pacific University, as well as an MBA from Portland State University. In 1983, Bill co-founded Express Employment Professionals, currently the largest privately-held staffing company in the world, with more than 800 offices in three countries. Additionally, in 2001, he founded Xenium, a human resources outsource company. This business success has enabled Bill to pursue his passion of wine and to contribute to his community. Bill's most prominent civic commitment was to his alma mater, as the former chair of the Pacific University Board of Trustees.
True to his Oregon upbringing, Bill sees himself as a custodian of the land he loves, and cares deeply about sustainability and environmental protection. Driven by these values, he sought to create a business that would last for the next two centuries and beyond.
When Bill acquired the family property from his cousin in 1993, many considered it to be marginal farmland at best. But Bill recognized that the rocky, well-drained Jory soil, the elevation between 300 and 650 feet, and the land's south facing slope were all ideal for growing wine grapes.
Bill, already a veteran of the wine world thanks to his co-ownership of Chehalem Winery, planted his first 10 acres each of Pinot Noir and Chardonnay in 1995. He leveraged the experience of consulting viticulturists, but also adapted many newer vineyard techniques in order to maximize the fruit quality.
As an ardent preservationist, Bill built from the ground up a business he could one day entrust to his great-grandchildren. This drive for sustainability earned the winery the first-ever LEED Gold certification in the world.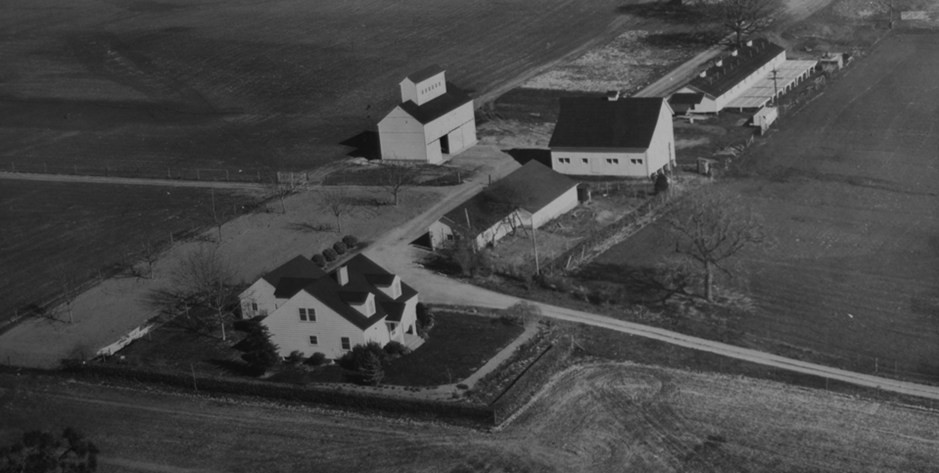 History of the Farm
For Bill Stoller, purchasing the family property brought his connection to our estate full circle. With experience working the family farm in his youth and serving as a partner at our sister winery Chehalem, Bill understood that our sloped, rocky terrain with its low-yielding soil, would be ideally suited for a world-class vineyard.
Our farm has been in the Stoller family since 1943 when Bill's father and uncle purchased the land to raise turkeys. Throughout the next five decades, the farm grew from a small family operation into one of Oregon's largest with nearly 700,000 free-range turkeys at its peak. When the family farm ceased its operations in 1993, Bill seized the opportunity and acquired the land with the vision of cultivating an enduring legacy for our land and Oregon wine industry.
A Land Made for Wine
Bill's vision to transform the family farm into a vineyard stemmed from much more than wishful thinking. With knoledge from his investmetn in Chehalem, and the help of Burgundian winemaker Patrice Rion and local vineyard consultants, Bill confirmed that the very factors that made our land a poor choice for traditional crops were perfect for an award-winning vineyard.
Bill knew that growing vines often contradicted conventional farming logic. The rocky terrain that broke discs and plows when tilled, the southern-sloped ground that made growing wheat difficult, and the low-yielding Jory soils were all sought-after ingredients of a successful vineyard.
In 1995, Bill planted 10 acres each of Pinot Noir and Chardonnay, combining the experience of consulting viticulturists with innovative vineyard techniques in order to maximize the grape's quality. Today, we have 225 acres planted to vine. Of that, 70% is planted to Pinot Noir, 25% is planted to Chardonnay, and 5% is planted to other varieties including Aligoté Gamay Noir, Pinot Blanc, Pinot Meunier, Riesling, Tempranillo, Syrah, and Viognier.