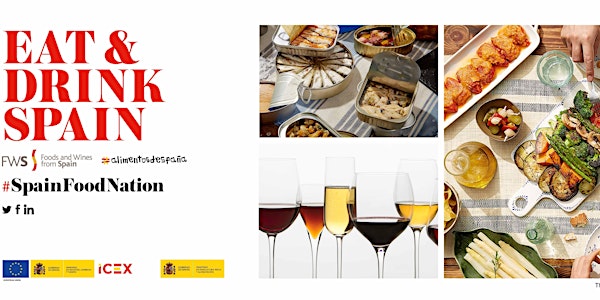 Spain's Great Match 2022 Trade & Media Tasting | NYC
Sip & Savor at Spain's Great Match on October 12th
When and where
Location
Mercado Little Spain by José Andrés 10 Hudson Yards New York, NY 10001
About this event
ONLINE REGISTRATION HAS CLOSED; ON-SITE REGISTRATION WILL BE OPEN, PLEASE HAVE A BUSINESS CARD AT CHECK IN.
Foods and Wines from Spain and Alimentos de España are pleased to host Spain's Great Match, the 28th Annual Event organized by the Trade Commission of Spain in New York City as Spanish flavors take center stage at this lively, action-packed afternoon devoted to Spanish wine and culinary seminars, regional spotlights, and food-and-wine pairing challenges. Educationally rich programming is presented by a team of Master Sommeliers and culinary experts. Seminars include a deep-dive into the DO Cava, in-depth exploration of the DO Jerez, and a fascinating look at the fare and culinary heritage of the southeastern DO of Jumilla.
Spain's Great Match events will be held at Mercado Little Spain– a veritable love letter to Spain, created by José Andrés and the Adrià brothers as an "all-day destination for the very best of Spanish food, drink, and culture." Inspired by the food halls and markets of Spain, Mercado Little Spain is located at 10 Hudson Yards in New York City.
Wine Tastings and Culinary Workshop
Along the way, attendees can look forward to sampling 300+ new vintages from many of the country's leading wineries alongside producer tastings of premium EVOO's, mono-varietals and blends, a selection of cheeses and cured meats from Spain and more, at one of the country's largest celebrations of Spain's culture and gastronomy.
Walk-around food and wine tastings featuring delicacies including:
A variety of Spanish jamón and cheese
Albondigas– traditional Spanish meatballs
Croquetas de jamón
Boquerones
Tomato Gazpacho with Spanish sherry and EVOO
Patatas Bravas– spicy Spanish potatoes
Manchego & wild mushroom bikini sandwiches
Wood-fired Paella
Jamón Ibérico carving, and more...
Activities include:
Walk-around food and wine tastings
Live cooking demos
Chef and Master Sommelier-led culinary & wine seminars
Master Sommelier-led mini wine varietal flights
Food and wine pairing challenges
Mixologist-led Artisan Cocktail bar
Fittingly, the event will take place at José Andrés' Mercado Little Spain at 10 Hudson Yards in New York City on Wednesday, October 12, from 12:30-4:30 pm (unless you are confirmed for Seminar 1 which begins at 11 am) with a public evening tasting to follow.
________________________________________________________
EVENT SCHEDULE
Wednesday, October 12, 2022
Trade & Press Tasting:
11:00am - 12:30pm | Trade & Press Seminar 1: DO Cava (info below)
12:30pm - 4:30pm | Trade & Press Tasting
1:00pm & 1:30pm | Mini Varietal Tour: Wild Whites, led by Laura Williamson MS
1:30pm - 2:30pm | Trade & Press Seminar 2: DO Jumilla (info below)
2:00pm & 2:30pm | Mini Varietal Tour: Radical Reds, led by Christy Canterbury MW
3:00pm & 3:30pm | Mini Regional Tour: Aragón , led by Evan Goldstein MS
3:30pm - 4:30pm | Trade & Press Seminar 3: DO Jerez (info below)
Evening Public Tasting (separate ticketed event):
6:30pm - 9:00pm | Evening Public Tasting
7:30pm & 8:00pm | Mini Regional Tour: Essential Spain, led by Evan Goldstein MS
_________________________________________________________
SEMINAR THEMES
11:30am - 12:30pm | "The Perfect Match: Cava's World of Flavor"
Led by aromatic gastronomy expert François Chartier
Given Spain's rich gastronomical culture, it's little wonder that the country's celebrated sparkling wine would be food friendly. Reacquaint yourself with the joys and four quality levels of Cava– from Cava de Guarda to Cava de Guarda Superior de Paraje Calificado– while learning a foolproof method of food and wine pairing. Join aroma expert François Chartier, creator of the aromatic science of molecular harmonies and author of Tastebuds and Molecules: The Art and Science of Food, Wine and Flavor, to understand (and taste) why certain foods and wines work well together at a molecular level.
1:30pm - 2:30pm | "Wines from the heart of Mediterranean Spain"
Led by Carolina Martínez Origone (General Secretary of the CRDOP Jumilla) and Evan Goldstein MS
Jumilla's standard-bearing wines made from Monastrell have become a huge success in the American market. But there are more treasures to discover from this high elevation region in the southeast of Spain with its centenarian vines, dry-farmed vineyards and sandy soils. The regulatory council for Jumilla PDO is conducting this superb tasting to highlight Jumilla's top-quality vineyards, estates and wines.
3:30pm - 4:30pm | "The miracle of Biological aging in Sanlúcar: from Manzanilla to Amontillado Sherry"
Led by César Saldaña, President of The Regulatory Council of Jerez-Xérès-Sherry
Sanlucar de Barrameda is synonymous with fine sherry, and there would be no sherry without "flor." Flor is the film-forming yeast under which sherries age and that film can get especially thick in the cool, cathedral-like bodegas of this coastal area. This seminar explores the role of flor – its impact on the structure and wonderful flavors, from brine to almonds to Mediterranean herbs, of the wines. This seminar will also remind you why no meal in Spain is complete without a glass of sherry.
_________________________________________________________
We're Going Green!
In an effort to lessen our environmental impact, we're going digital for this event! Maps, printed information and other interactive features will be available on Spain's Great Match digital guidebook. Download the Spain's Great Match Guidebook app from Apple's app store or Google Play. Open the app and select the Find Guides tab at the bottom left. Search for "Spain's Great Match" and tap Download.
Downloading the Guidebook will not only provide all information about the food, wine, beer, and spirits producers in attendance, but will give you access to a range of exciting interactive elements! Vote for your favorite food and wine pairings in the Spain's Great Match Challenge or put your palate to the test in a blind tasting for great prizes.
_________________________________________________________
THIS REGISTRATION PAGE IS FOR QUALIFIED TRADE & MEDIA ONLY.
For tickets to the evening event open to the public, please visit: https://SGMNYC22tix.eventbrite.com
This year, 100% of ticket net proceeds will go to World Central Kitchen, José Andrés' charity that uses the power of food to nourish communities and strengthen economies through times of crisis and beyond, a cause that goes straight to the heart of the hospitality industry and one that has made a particularly meaningful difference during Covid. For more about World Central Kitchen's mission, please visit: https://wck.org/mission.