About this Event
SPAGA
The Disco Biscuits' Aron Magner unplugs his formidable stack of keyboard gadgetry to introduce his new band SPAGA, and in doing so, takes his 20-plus year musical journey back to where it all began—the piano. The keyboardist, who is best known for trailblazing a fusion of jam-rock and electronica with his Disco Biscuits' bandmates, has come full circle by returning to his jazz upbringing. A "mostly acoustic" trio, SPAGA is a showcase for Magner's grand piano stylings, supported by the immediacy and interplay of upright bass and drums. The trio features Jason Fraticelli on bass and Matt Scarano on drums, two prominent Philadelphia-based jazz musicians in their own right. SPAGA's first full-length, self-titled album will be released July 19 on Magner's own, AM Records.
SPAGA's six original compositions are often impressionistic and dreamlike. A lively and engaging conversation between three distinct, eclectic musicians, these fresh tracks leave the door wide open for improvisation, spontaneous interpretation and musical/spiritual interrelation. "When we first began recording, I was having fun exploring songs with no preconceptions of what the music actually was yet or, for that matter, who we were as a trio, and that provided for unexpected and welcoming results," says Magner. A concept record of sorts that explores themes of origins, it was important for Magner to keep the project, and all involved with it, a reflection of the idea of "roots." He chose local Philadelphia musicians, a local studio, and brought in people from his friends and family circle. The evolution was organic. "I'd been meditating on the idea of origins and kept coming back to a creed we should all subscribe to: 'Think Globally, Act Locally,'" continues Magner. "The concept reigns true for SPAGA and really helped to inform the genesis of the band."SPAGA allows Magner looks to a new frontier of live music presentation: unique venues and curated spaces in which the surroundings become a reflection of the experience, highlighting the organic nature and intimate vibe of this music. More than just improvisations on a collection of instrumental songs, it's an unsung story told through music and experience. With a number of shows already scheduled and more performances being planned for later this year, SPAGA will continue to intrigue and draw audiences to Magner's ever unfolding musical adventure.
--------------------------------------------------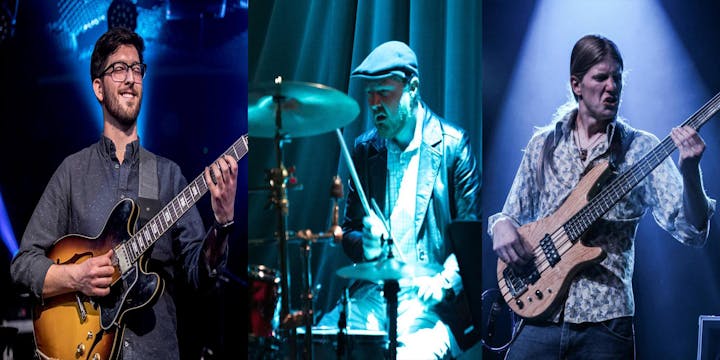 Bass - Sean Dandurand (Dandu, Other Black)Drums - Dylan Johnson (Dandu, Retrofette)Guitar - Thomas Jennings (Mama Magnolia)
Sean Dandurand has been immersed in the world of music his whole life. He first started playing cello at the age of four, learning classical music. At the age of 10, Sean got a bass guitar in hopes of joining his sisters' punk band. Since then, a steady diet of funk, jazz, hip hop, folk, and heavy metal music have shaped his playing style. Sean regularly writes, records, and performs with his jazz fusion trio Dandu, as well as 11 piece soul band Other Black, and progressive folk group Chimney Choir.
--------------------------------------------------
Standing Room Only, General Admission venue