Spades & Board Game Saturdays @ The Underground Lounge ($5 Admission & 2 Item Minimum) (2 for 1 Facebook Special)

Saturday, June 22, 2013 from 12:30 PM to 5:30 PM (EDT)
Event Details
You are invited to attend our Meetup on Saturday afternoon, June 22nd, for Spades & Board Games Saturdays, @ The Underground Bar & Lounge on the Upper West Side!!!
This Facebook special is 2 for 1 admission. You and a guest are admitted for $5 total!!!

At this Meetup, we will have several tables available for those that wish to play cards or board games. The list of games available are:

**Spades**
**Taboo**
**Cards Against Humanity**
**Apples to Apples**
**Battle of The Sexes**
**Scattegories**
**Trouble**
**Dominoes**
**Chess**
**Checkers**
**Uno**
**Connect 4**
**Monopoly**
and MANY, MANY more!!! :)


Feel free to bring your favorite board game with you to share and play with your fellow group members as well!!!

There are also several HDTV screens showing the various games for the day as well!

**The Underground Lounge is a rather cool bar on the Upper West Side. Drinks are very inexpensive, and the drink specials for our group will be posted here at a later date.

Also, they have a kitchen available, and the menu choices will be posted here later as well.**

**Note, the $5 Admission Charge is required. It covers the cost of the materials, cards, chess sets and the MANY MANY brand new board games we have available for this event. Your support of this type of positive gathering for our group outside of a club party or networking event is greatly appreciated**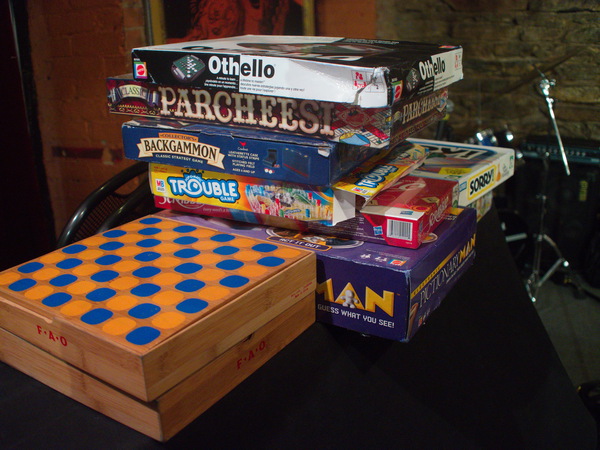 Have questions about Spades & Board Game Saturdays @ The Underground Lounge ($5 Admission & 2 Item Minimum) (2 for 1 Facebook Special)?
Contact Pointmen Promotions
Spades & Board Game Saturdays @ The Underground Lounge ($5 Admission & 2 Item Minimum) (2 for 1 Facebook Special)