| | |
| --- | --- |
| Spaces & Places of Protest | |
Event Details


A two-part event—panel and open house—organized to facilitate conversations and connections between planners on important topics in an informal setting.  Urban planners, urban designers, urban placemakers and APA 2017 National Planning Conference attendees are encouraged to attend.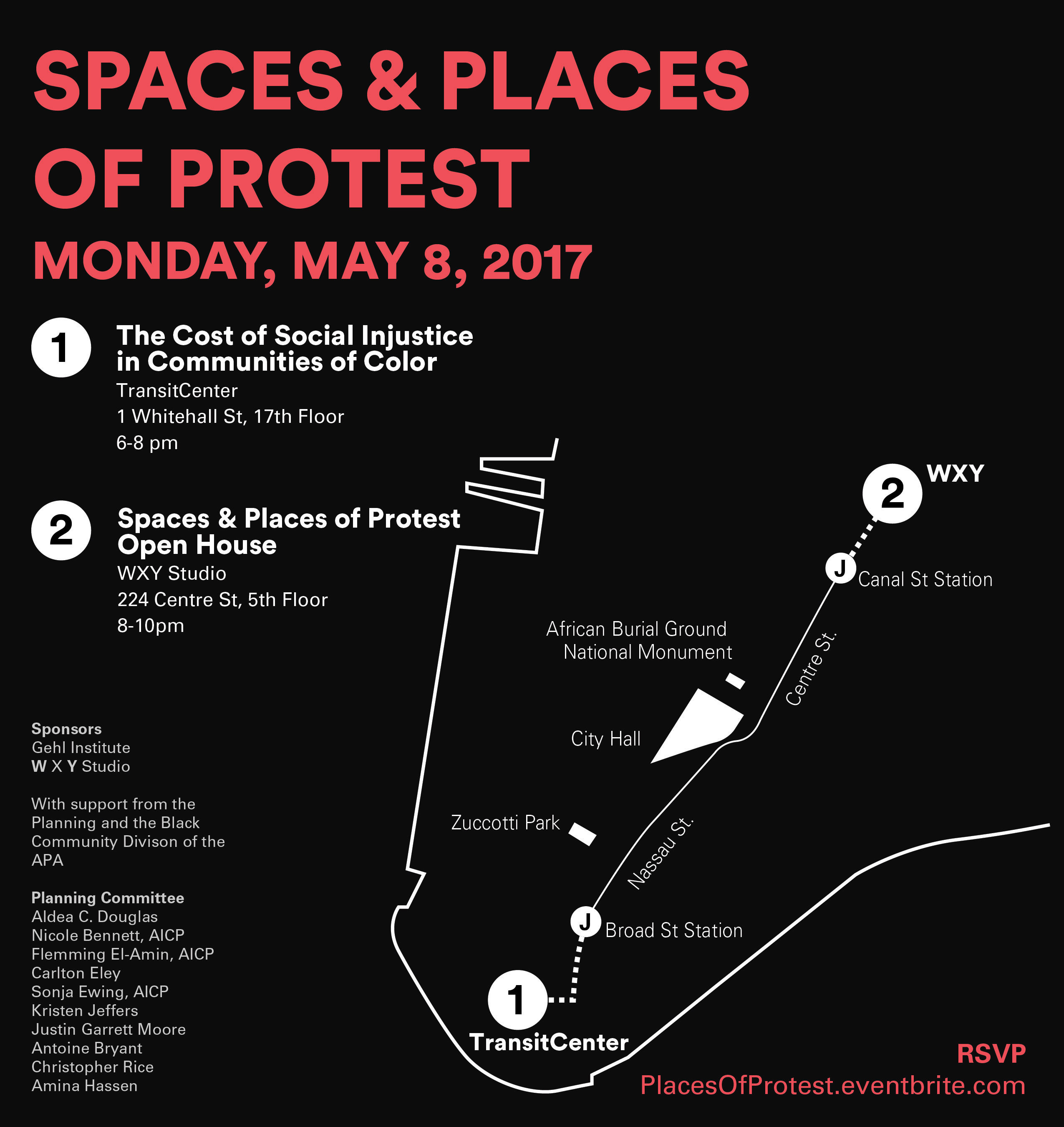 ---
1 | The Cost of Social Injustice in Communities of Color:Lessons, Strategies and Next Steps (2 CM)
6 - 8 pm
TransitCenter| 1 Whitehall Street ( at Bridge St,17th Floor)

Moderator: Shin-pei Tsay, Executive Director Gehl Institute
Panelists:
Justin Garrett Moore, Executive Director NYC Public Design Commission
James Rojas, Place It!

In recent years, the explosion of social media and technology has dramatically changed how people have viewed injustices in the US across the world and in turn increasing visibility. This panel will discuss the historical impact the various events taking place in US cities has had on communities of color and how public officials can positively activate change via policies and planning efforts. It will also dive into forecasting the future of these communities affected by social unrest and how urban design, land use, state and federal laws can affect these communities.
---
2 | Spaces & Places of Protest Open House
8 - 10 pm
WXY architecture + urban design | 224 Centre Street (at Grand Street, 5th Floor)
A reception for the panel, WXY invites planners from across the country to share and discuss how recent protests have manifested in the physical and built environment in their region over food and refreshments. Since January, cities across the country have seen an increase in both organized and spontaneous protest activity. Social media and technology has helped to facilitate quick connections through apps like Instagram, Facebook and Twitter. Protest photos and maps will be displayed at this Open House to continue conversations around these important topics. 
---
When & Where

1 | TransitCenter 2 | WXY Studio

New York, NY


Organiser
Spaces & Places is a grassroots network of urban planners, policymakers, and designers formed in 2016 to amplify urban planning and design work led by and with communities of color.
Organizing Committee
Akima Brackeen, DB Architects
Aldea Coleman, North Carolina Department of Transportation
Amanda Miller, Hoffmann Architects
Amina Hassen, WXY Studio & BlackSpace
Amy Leong, Adamson Associates Architects
Antoine Bryant, Moody Nolan & Houston Planning Commission
Carlton Eley, The Eley Group, LLC
Dasjon Jordan, MIT
Emma Osore, Arts & Business Council of New York & BlackSpace
Germane Barnes, Opa-locka CDC & University of Miami
Ifeoma Ebo, NYC Mayor's Office of Criminal Justice & BlackSpace
June Grant, SFNOMA
Justin G. Moore, AICP, NYC Public Design Commission & BlackSpace
Justine Johnson, New York City Economic Development Corporation & BlackSpace
Lynn M. Ross, AICP, Spirit for Change Consulting, LLC
Nicole H.Bennett, AICP, WSP USA
Prescott Reavis, Director, Anomli Design + Planning
Sonja Ewing, AICP, Prince George's County Parks & Recreation
Stephen DeBerry, Bronze Venture Fund