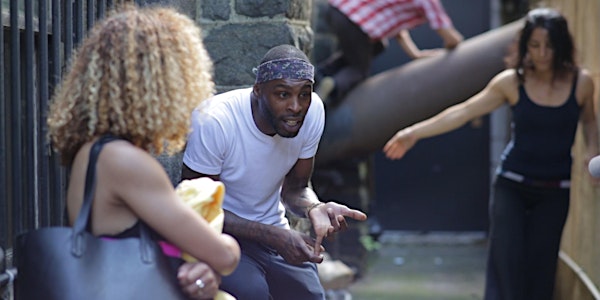 SPACES: Oakland
An immersive experience that merges contemporary performance and the ancient art of storytelling.
When and where
Location
OAKLAND CITY HALL 1 Frank H. Ogawa Plaza Oakland, CA 94612
Refund Policy
Contact the organizer to request a refund.
Eventbrite's fee is nonrefundable.
About this event
SPACES is a site-specific participatory work, created and performed with the local community that gives this place its life and identity. In Oakland, local residents and artists work together to create a series of performances that ultimately give a glimpse into Oakland, one of the most vibrant and culturally diverse cities in the US.
Performed at the beautiful Oakland City Hall and Frank H. Ogawa Plaza, participants are invited to inhabit in a new way these symbols of government that have shaped today's urban space and life.
For more information visit www.kaimeraproductions.com/spaces-oakland
-----
Pricing Notes:
To make our show accessible, we are offering multiple price tiers, so please pay what you can.
In addition, nobody will be turned away for lack of funds. Email info(at)kaimeraproductions.com for support.
-----
Your Physical & Emotional Safety is Important!
SPACES isn't a "traditional" performance, but an experience that will require your full engagement: you walk, sit, stand, move, and possibly connect with friends and strangers in a pressure-free environment.
It has been a while since all of us have ventured out to experience live performance. That is why, in order for you to be and feel safe, our team is working closely with the Oakland City Hall staff to have the appropriate measures in place: the space is very large, we limit audience size to 80, and require that all audience members wear a mask. In addition, all of our artists and crew, and the vast majority of our storytellers are vaccinated. Artists and storytellers will only remove their masks when at a safe distance from the audience.
Guests will receive an email with an up to date protocol in the days prior to attending the performance.
-----
The Creative Team
Artistic Director: Simón Adinia Hanukai
Choreographers: Sarah Crowell with Lauren Cox
Vertical Dance Choreographer: Melecio Estrella
Dancers: Sarah Crowell, Rose Huey, Macio Payomo, and Rashidi Omari
Vertical Dancers: Rose Huey, Sarah Keeney and Maddy Lawder
Music Curation: YR Media Team featuring Rami Kingsley-Doyle. Noel Anaya, Xingzhou Chen, Will Flattery-Vickness and Ben Frost
DJ: Dion Decibels
Live Vocals and Percussion: Christelle Durandy & Mena Ramos
Stage and Production Management: Phred Sugarman
Production, technical, and marketing support provided by The Downtown Oakland Association/Oakland Central.
Press Relations: Mary Carbonara, marycarbonara@gmail.com or 415-845-9994
The concept for SPACES was created by Jonathan Camuzeaux, Lauren Cox and Simón Adinia Hanukai. SPACES: Oakland is being developed in parallel with SPACES: Saint Denis.
A project of Kaimera Productions.
-----
Developed as part of the Oakland/Saint-Denis cooperation project of Villa San Francisco in coproduction with the French American Cultural Society, the Institut Français, California Humanities, and in collaboration with Légendes Urbaines, which brings together urban and cultural actors, institutions and academics in the San Francisco Bay Area and Grand Paris.
In partnership with the City of Oakland Cultural Affairs Division, Destiny Arts Center, BANDALOOP, Downtown Oakland Association, The Townfolk Project, and YR Media.
This project is made possible with support from California Humanities, a non-profit partner of the National Endowment for the Humanities. Visit calhum.org. Additional support is provided by the French Embassy in the U.S., The Clorox Company Foundation, and the MAP Fund.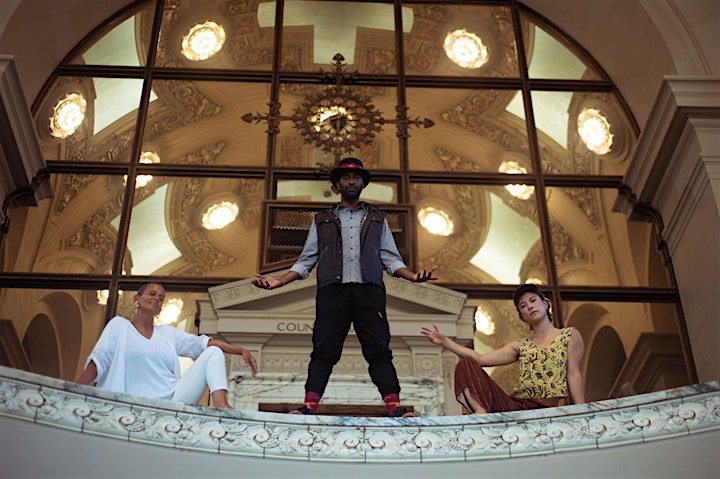 Pictured:
Top of page: Shawn Gotts, Andrew Suseno, and Funda Gul performing in SPACES: Harlem Image by: Dylan Lopez
Bottom of page: Photo features SPACES: Oakland dancers Sarah Crowell, Rashidi Omari & Rose Huey. Photo taken by Layeelah Muhammed.