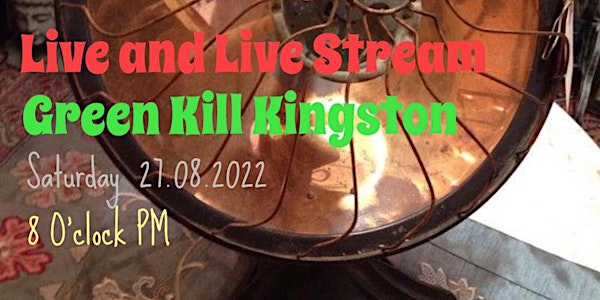 Spaceheater, August 27, 8 PM, Livestream/Live Audience
reen Kill presents Spaceheater, Saturday, August 27, 8 PM, Livestream/liveaudience.
Refund Policy
Contact the organizer to request a refund.
Eventbrite's fee is nonrefundable.
About this event
Green Kill presents premier performce of Spaceheater, Saturday, August 27, 8 PM, livestream/liveaudience, featuring guitarists Rick Warren and Sal Cataldi, bassist D. Strahl and drummer Dana Fasano. 
This event will be livestreamed on the Green Kill Sessions YouTube Channel and will be open to a live audience of 30. Tickets are 5 dollars.
1. Please click "Tickets" button to access livestream or live audience ticket.
2. Select "Livestream Ticket" or "Live Audience Ticket". Audience members attending in person must be masked! Please choose the right ticket. A Livestream Ticket provides you with a link to the Green Kill Sessions livestream which can be accessed remotely on your own equipment. A Live Audience Ticket puts you on a list for a reserved set at the event, and also provides you a livestream link. If you are coming to the event, please arrive 15 minutes before starting time. There are no ticket sales at the door. All tickets must be reserved on Eventbrite.
3. Enter the number of tickets you would like to buy.
4. Enter your credit card information: Name, Number, Expiration Date, and CVV code. Double-check the info you entered. Make sure it's correct. It's easy to slip up!
5. select "Place Order". You will then have access to the page which has a watch event link. Click on that link to see the YouTube event address. An email will also be sent to the email address you provided with the link.
Shortly before the event, you will receive a reminder link.
Please be advised that tickets are not transferable. If you wish to buy a ticket for someone else, you must use their email when buying a ticket for an event.
Because COVID is still a potential hazard guests attending the livestream in person must be masked and vaccinated. Artists organizing events can limit the number of a live audience or decline to invite any in-person attendance.
Spaceheater
Spaceheater is a new quartet comprised of four veteran Hudson Valley musicians, guitarists Rick Warren and Sal Cataldi, bassist D. Strahl and drummer Dana Fasano.  Together, they put their effects-driven guitars, thumping bass and polyrhythmic drum assault to work on everything from the heaviest rock to jazz and blues to ambient and industrial sounds, in some originals compositions and obscure covers. The latter span from early Pink Floyd to electric-era Miles Davis to the incessantly melodic jingle emanating from Carvel Ice Cream trucks every summer.
Spaceheater is an apropro name for the group as it was birthed during rehearsals in the cold winter months of 2021/22 at Kingston's Green Kill art gallery. While jamming there, the group was warmed by space heaters, ones whose fumes may have played a role in imbuing their work with its unique hallucinatory bend.  Their sound combines the loose meandering  jammage of "St. Stephen"-flavored Grateful Dead with the edgy prog/industrial/space rock improvs of latter-day King Crimson and Krautrock.
Warren and Cataldi has been working together for two years in the experimental duo, Guitars A Go Go, during which time they produced the acclaimed debut CD, Travel Advisory.  Hudson-based Warren studied improvisation at The Creative Music Studio in Woodstock led by renowned jazz vibist Karl Berger. He is active with the Hudson-based Slink Moss and the Magic Stones and the popular acoustic folk duo, Rick and Marilyn, with songwriter Marilyn Miller.  West Saugerties-based Sal Cataldi is best-known for his acid jazz meets folktronica solo project Spaghetti Eastern Music, which has been acclaimed in media like The New York Times. He is one half of the duos, The Vapor Vespers, a music/spoken word project with Alaskan poet Mark Muro, and the Hari Karaoke Trio of Doom with Kansas City drummer D. Hitchcock, a group featuring contributions by noted players like Eno/Brand X bassist Percy Jones. Cataldi also composes and performs live solo electric guitar scores for movement works by Charles Dennis, the noted NYC/Hudson Valley based performance artist and co-founder of NYC's P.S. 122.
Emerging from the dirt known as CBGB and the '70s NYC underground bassist Dave Strahl has a style rooted in the downtown punk and no wave scene. His playing first attracted attention in the band New Noise Continuum. Strahl mixes old with new, up with down and in with out. Prior to relocating to Kingston, he was the owner and operator of NYC's Candy Ear Studios, where he engineered and/or produced recordings by a variety of artists including Jackson Smith of the Patti Smith Group, actor and DJ Idris Elba and latin flutist Roberto Pitre to name a few. His rehearsal studio, Grey Area was home to a number of bands including Helmet, Foetus, The Cro Mags, Prong and the Swans.
Kingston-based drummer Dana Fasano is best-known for his recent work with Waster, one of the Hudson Valley's leading thrash/hardcore ensembles.  Over the past three years, this group has released five well-received EPs and performed at leading venues like Colony Woodstock.  A good deal of his 40-year career was spent recording and touring with Florida-based ensembles.  Since his return to the Hudson Valley, Dana has performed and recorded with numerous bands, in genres from punk to funk to explorational prog and jazz, including Jack Rack and The Standback, Geezer, Of the Atlas and Owlbrook.
Contact:  Quentin Flack, 516.236.3817, hondalicious99@aol.com