Spacecraft Electric Propulsion 11-12-15 Tech Lunch

Thursday, November 12, 2015 from 11:30 AM to 1:30 PM (PST)
Event Details
LA-LV Section Technical Programs Presents
                    Technical Workshop / Seminar
Spacecraft Electric Propulsion  
   Presenter:  Dr. Rostislav Spektor
  Engines and propulsion are a critical limiting technology for flight. Conventional chemical rockets have gotten us to orbit and even small probes to interstellar distances, but these feats are close to the limits of their theoretical energy and efficiency. Electric propulsion has already produced more than an order of magnitude higher specific impulse in the laboratory and in flight. Come to this technical luncheon to learn about this exciting "new" technology.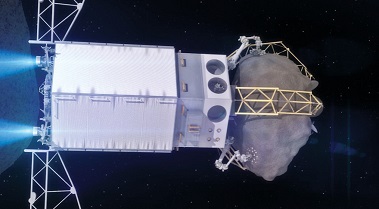 Electric Propulsion (EP) technology was known to be an effective mode of spacecraft transportation since the dawn of the space age. First satellite tests of EP devices were conducted as early as 1964 and by the 21st century hundreds of EP thruster were responsible for performing station-keeping duties on multiple satellites and enabling NASA to visit far off asteroids. Because, in part, of the latest advances in the solar array technology, the role of EP devices has expanded to orbit insertion as well as very low orbit station maintenance – a role that chemical propulsion would not be able to fulfill. Recently Boeing has flown all-EP satellites, which rely entirely on electric propulsion (i.e no chemical thrusters) and many other companies are rapidly developing their all-EP satellites, as well. In this talk we will trace the development of EP technology from its early implementation to the current state-of-the-art and discuss the benefits and drawbacks of flying electric propulsion on satellites. We will also peer into the future and discuss how EP may change the way we explore space.

Our Presenter:
  Dr. Rostislav Spektor is the Electric Propulsion and Plasma Science section manager in the Propulsion Sciences Department at the Aerospace Corporation. He is also the current chair of the AIAA Electric Propulsion Technical Committee (EPTC) and the technical chair of the International Electric Propulsion Conference, which will be held in Atlanta, Georgia in 2017.  Dr. Spektor holds a PhD in Aerospace Engineering, with emphasis on electric propulsion and plasma science, from Princeton University. He also has a BS degree in Nuclear Engineering as well as in Materials Sciences from UC Berkeley. Dr. Spektor joined The Aerospace Corporation in 2004 as a Member of Technical Staff and participated in the design, construction, launches, and orbital support of multiple Air Force satellites. In his role as a laboratory section manager he is responsible for coordinating the efforts of a dozen PhD scientists and supporting stuff. He also helped to develop and implement multiple commercial contracts, design and improve innovative diagnostics technics and is an author of multiple journal and conference papers.     
Date                     Thursday, November 12, 2015
Time                11:30 AM — 1:30 PM (Pacific)
Location          Aerospace Corporation
                              Cafeteria Bldg A3 Room 1607 A & B
                              2310 El Segundo Blvd.
                              El Segundo, CA 90245
Lunch      Included and will be available starting at 11:30 AM 
Link  http://electricpropulsiontechlunch.eventbrite.com
We invite you to join us for this technical event.
Please sign-up early, it helps our volunteer and shows appreciation for our hosts at Aerospace. The pizza lunch starts at 11:30, the presentation before 12:00, and Q & A should wrap up by 1:15. Directions with a map and entry instructions are included in your ticket confirmation or a subsequent email. Plan for a 5-minute walk to security check-in from the conference parking area, or request handicap parking at the gate. 
Registration End Date: 1:00 PM 11/5/15-US Residents
We Regret that Foreign Nationals Cannot be Registered After 11/4/15.
If you have problems or are a foreign national, email  gary.moir@ingenuir.com
When & Where

The Aerospace Corporation
Cafeteria Bldg A3 / 1607 A & B
2310 El Segundo Blvd.
El Segundo, CA 90245


Thursday, November 12, 2015 from 11:30 AM to 1:30 PM (PST)
Add to my calendar
Organizer
AIAA Los Angeles-Las Vegas Section
The nonprofit American Institute of Aeronautics and Astronautics (AIAA) is the principal society and voice serving the aerospace profession.  AIAA's mission is to address the professional needs and interests of the past, current, and future aerospace workforce and to advance the state of aerospace science, engineering, technology, operations, and policy to benefit our global society.
Spacecraft Electric Propulsion 11-12-15 Tech Lunch