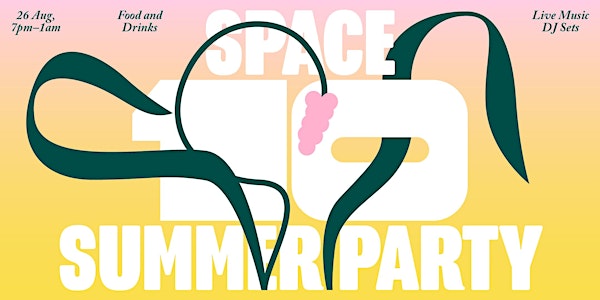 SPACE10 Summer Party
We're waving goodbye to summer with an evening of music, food and dancing — and you're invited.
When and where
Location
SPACE10 10 Flæsketorvet 1711 København Denmark
About this event
Summer is fleeting in Copenhagen, so we're taking pause, throwing open our doors, and welcoming our community for an evening of music, food and a bit of dancing.
We'll have TS Høeg and CHAIRNOGOODFORBACK performing live, chased by DJ sets by Mokomizik, Malika Mahmoud, and Tjiquita. YAM will be plating up modern Caribbean eats, while experimental duo PinkPong will be serving no-waste drinks made with restaurant leftovers.
Please join us for this (hopefully) sunny, late-night gathering of friends, collaborators and community at SPACE10 HQ.
How to attend
Our events are open to all and free to attend. Please register in advance.
Join us at SPACE10 in Copenhagen on Friday 26 August 2022 from 7pm CEST. We hope to see you there!
We're mindful of privacy rights and obligations under GDPR, so we'd like you to know that we intend to capture the event with photographs. The photographs will likely be used to share our activities with our community, in articles or publication presentations. For further information, we encourage you to have a look at our Privacy Notice. If you in any way feel that we crossed a boundary and wish for your image not to be used, we highly welcome you to contact us — either at the event or through journal@space10.com. Thanks in advance, and we're looking forward to seeing you.
Collaborators
Mokomizik is a record label and collector–selector project by Hvar + Elise. Originally from the UK and now based in Copenhagen, they also run Bonbon Disco and Love Jamboree. As collectors, they have amassed a treasure trove of underground music from across the world. From obscure disco and boogie to 90s soca, house, and jazz, their carefully curated and genre-defying selections are known to light up any dancefloor.
Malika Mahmoud is a DJ creating mixes and selections characterised by an ever-expanding curiosity. She challenges the idea of singularity by jumping in tempo and genre, often mixing dancehall, hard drum, reggaeton, techno, dembow, and amapiano together in an expression of her ambiguity.
Tjiquita is a Danish-Honduran DJ mixing tracks that reflect the diversity and colourfulness of Latin American club music. Her sets include everything from Mexican dub and Brazilian-Afro funk to Puerto Rican reggaetón and Colombian jungle techno.
TS Høeg is a musician, writer, composer, orchestra leader and self-appointed outertainer. With equal parts showmanship, avant-garde spirit and great creative excess, he has played an enormous role in Danish cultural life.
CHAIRNOGOODFORBACK is a Danish electro-industrial duo consisting of experimental jazz drummer Frederik Hauch and classically influenced saxophonist Rasmus Christian Pedersen. Their approach is one of playful exploration and intuitive guidance, applying everything from analogue synths and sampling Frederik Hauch's drum sets to musique concrete strategies and field recordings.
YAM is a food concept by British-Caribbean chef Kai Semple, modernising and revitalising classic Caribbean dishes with a modern flair.
PinkPong creates drinks and desserts from restaurant leftovers. A project by experimental duo Oksana and Piotr, PinkPong brings together Japanese simplicity with the thrilling unknown and mysticism of Okinawan culture, while working in a sustainable way.