Description
Space Tech Symposium @ Berkeley 2.0 is a gathering of space tech pioneers in industry and research on UC Berkeley's campus. There exists a lot of mobility between space and non-space industries across the entire space stack. Working at a large, established company is no longer a prerequisite to entering the industry - a development we are excited to showcase. To that end, our panelists include startup executives, researchers, and engineers who have successfully transferred their technical knowledge between their respective fields and space technology. Whether you want to build a space startup from the ground up, apply your technical knowledge in an unconventional way, or are already a space industry veteran, this event is for you.
Attendees will be able to interact with presenters as well as with fellow industry professionals attending the event. We'll be holding 3 main speaker panels on Robotics in Space, Biology in Space, and Earth-Space Services, as well as a keynote presentation.
Early Bird Discount (lasts until April 25): $30 for industry professionals, $10 for students
After April 25, industry tickets will be $35 and student tickets will be $12, so buy now!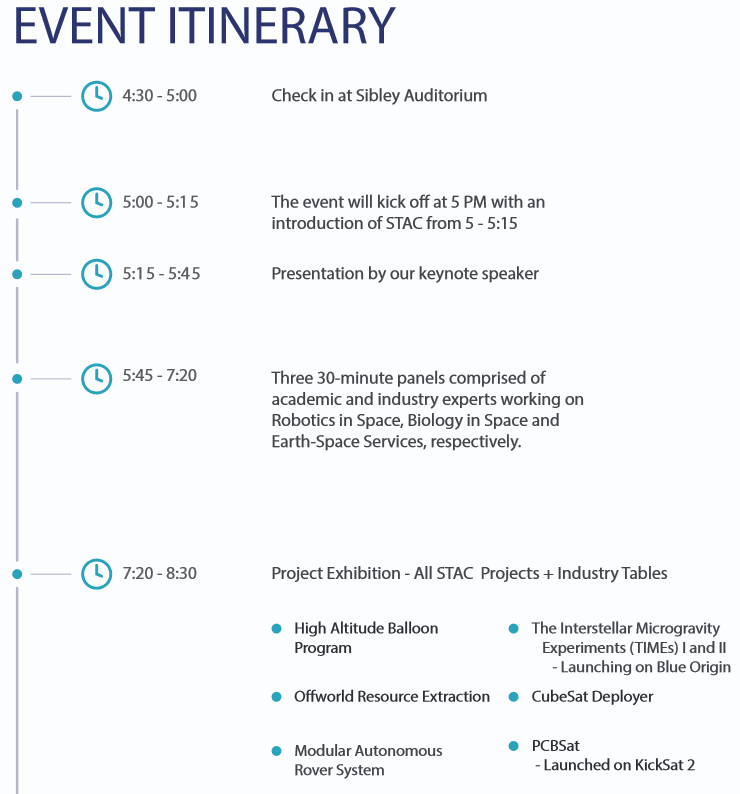 Robotics in Space Panel:
Alice Agogino - Director, Berkeley Emergent Space Tensegrities Lab
Alice M. Agogino is the Roscoe and Elizabeth Hughes Professor of Mechanical Engineering. She currently serves as Chair of the Graduate Group in Development Engineering and Education Director of the Blum Center for Developing Economies. She directs research in the BEST (Berkeley Emergent Space Tensegrities) Lab and the Product Design MEng program. She is also co-founder and CEO of Squishy Robotics, developer of rapidly deployable sensor robots for disaster response, monitoring and space exploration. Agogino has authored over 300 peer-reviewed publications, is a member of the National Academy of Engineering (NAE) and has won numerous teaching, mentoring, best paper and research awards.
Terry Fong - Director, NASA Intelligent Robotics Group
Terry Fong is NASA's Senior Scientist for Autonomous Systems and the Chief Roboticist at the NASA Ames Research Center. Terry previously was the project manager for the NASA Human Exploration Telerobotics project, which develops and tests advanced remotely-operated systems on the International Space Station (ISS). Terry's latest robot, Astrobee, was launched to the ISS in April. Terry received his Ph.D. in Robotics from Carnegie Mellon University.
Alexander Harmsen - Co-Founder and CEO, IRIS Automation
Alexander Harmsen is CEO and Co-Founder of Iris Automation, a high tech start-up building computer vision collision avoidance systems for industrial drones. With backing from Bessemer, Y Combinator, over $10M in private equity investment from other Silicon Valley investors, and operations in multiple countries, Iris Automation is attempting to radically disrupt the industrial drone sector. He also sits on the Board of Directors for Unmanned Systems Canada, a national industry representation organization that has been at the forefront of commercial unmanned systems for more than a decade.
Previously, Alexander was the first Software Developer at Matternet, a medical drone package delivery start-up, and worked on computer vision systems at NASA's Jet Propulsion Lab in Los Angeles. He is very interested in intersections between drones, autonomous vehicles and real-world applications that will affect billions of people, always excited about meeting other people making big changes in the world!
---
Biology in Space Panel:
Rachel Clemens - Commercial Innovation Manager, CASIS
Rachel Clemens has focused her career on advancing life science research and product development through experiments in space. Rachel obtained a PhD in molecular biology at OHSU and then worked as a research scientist at NASA Ames Research Center. In her current role as a Commercial Innovation Manager at the ISS US National Lab, she brings life science research to low earth orbit. She is eager to entertain even the craziest of ideas and passionate about finding new solutions to Earth-bound problems.
John Cumbers - Founder and CEO, SynBioBeta
John Cumbers is the founder and CEO of SynBioBeta, a global innovation network and community of entrepreneurs, thought-leaders and investors. He is the co-author of "What's Your Bio Strategy?" a book on the impact that synthetic biology is having on all business. John ​​has been consulting to leading companies and investors on the impact of synthetic biology for over a decade. He has received multiple awards and grants from ​NASA and the National Academy of Sciences for his work in the field.
Daniel Garalde - Senior Scientist, Oxford Nanopore Technologies
Daniel Garalde used nanopores to study single-molecule functional complexes of DNA polymerases in one of the pioneering nanopore research groups at University of California Santa Cruz where he did a Ph.D in computer engineering. Daniel consulted Oxford nanopore on strand-sequencing technology in 2010 and joined Oxford Nanopore full-time in 2011. He has driven forward-looking research projects including cDNA and Direct RNA sequencing, drawing on his experience with electrical engineering, biochemistry and nanopores. Daniel is currently supporting customer projects and research collaborators in California from Oxford Nanopore's new San Francisco office.
Antonio Ricco - Chief Technologist of Small Payloads & Instruments, NASA Ames
Tony Ricco is the Chief Technologist for Small Payloads at NASA's Ames Research Center in Silicon Valley. He received BS and PhD degrees in chemistry from UC Berkeley and MIT, respectively. Tony's professional experience includes development of chemical microsensors and microsystems, polymer microfluidic systems for biotech. applications, point-of-care medical diagnostic devices, and autonomous bioanalytical systems for biological space studies and the search for life on the icy worlds of our solar system.
---
Earth-Space Services Panel:

Nick Allain - Brand Development Executive (Formerly of Spire Global)
Nick shaped Spire's global brand presence for more than 6 years and brought press to New Space in nearly every major outlet. He was an early member of Spire's team, dating back to when the company was still in its San Francisco incubator. Previous to his work in New Space, he worked at Brown University where he lead the ivy's live streaming program which hosted talks from luminaries including the Dalai Lama and Gloria Steinem.
Benjamin Longmier - Co-Founder and CTO, Swarm Technologies
Dr. Ben Longmier was previously the Founder and CEO of Aether Industries (acquired by Apple in 2015). While at Apple, Ben led an Aerospace R&D effort for several company objectives. Prior to working at Apple, Ben was a tenure track Assistant Professor of Aerospace Engineering at the University of Michigan. Ben holds a PhD in Engineering Physics from the University of Wisconsin-Madison and worked as a Postdoctoral Fellow at NASA-JSC.
Rachel Olney - Founder and CEO, GeoSite
Rachel Olney is a Stanford University Mechanical Engineering PhD candidate and the Founder and CEO of Geosite Inc. She has taught innovation frameworks and built standard operating procedures for the most elite special operations. She has also helped create and scale an international program in national security innovation and conducted research for the US Air Force on the Strategic Implications of Ultra Low-Cost Access to Space. As the CEO of Geosite she leads a Venture Capital backed Silicon Valley startup disrupting the geospatial data industry, making it easier for logistically intensive industries, such as Oil and Gas and the Department of Defense and Intelligence Communities, to easily leverage spatial data to increase operational efficiency.