Join us to learn from global pioneers about career opportunities in space, how the landscape is growing, and how you can get started.
About this event
How are space opportunities exploding?
How can you get a job in space or even start a space venture?
What is the outlook for business in space?
Sign up for a free live webinar on Friday, October 22nd with a panel that has stretched the frontiers of space ventures and jobs. Our panelists have vast experience and a great overview of the global space ecosystem from investments and ventures to all kinds of space careers.
Join Space Nation's 3rd Friday of the month free Lost in Space webinar series.
Sign up now for this unique webinar to ask the panelists questions, learn, share perspectives, and gain insight into space opportunities.
Please note our this webinar is held earlier than our regular webinar in the series.
PANELISTS
Karin Nilsdotter, CEO & Future Astronaut at Spaceport Sweden
Stephan Reckie, Executive Director of GEN Space
Bernd "Berny" Weiss, Adviser and Researcher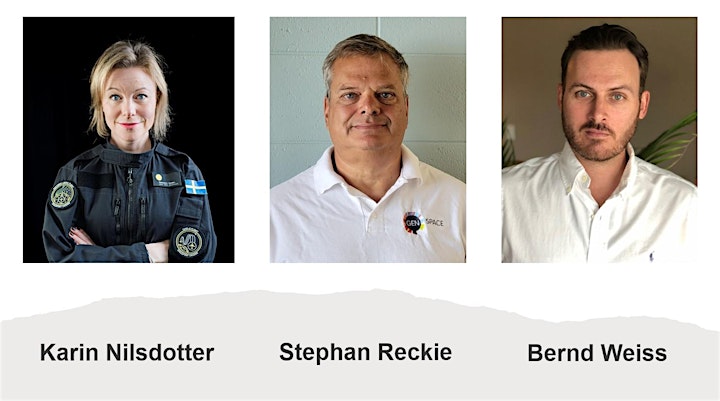 Karin Nilsdotter
Karin is an astropreneur, future astronaut and an internationally renowned advisor to the tech and space industry. WIRED identified Karin as a global game changer, and she has been awarded Tech Woman of the Year in Sweden and is recognized on the Singapore 100 Women in Tech List.
As CEO of Spaceport Sweden, a pioneering initiative to establish Europe's gateway for space travel and cross-industry innovation, Karin is passionate about advancing humanity in space and using technology to empower communities on Earth. She co-founded "Hack Space for the Planet" together with Embassy of Sweden in Singapore and SGInnovate, applying space technology and data to solve the UN SDGs.
Karin serves the UN Space4Women as expert and mentor and on the board of GEN Space, Warp Institute, was the first international board member of the Commercial Spaceflight Federation in the USA and is a selected global executive with Airbus STAR Program. She has founded Women in Space Sweden and TEDxKiruna and was voted to feature as a role model on the Swedish National Football Team Shirt for the World Cup. She has an Executive MBA, is an alumnus of Singularity University.
Stephan Reckie
Stephan is the Executive Director of Global Entrepreneurship Network (GEN) Space, a universal network of ecosystems for Astropreneurs. He is the co-founder of Angelus Funding, a trust-based global angel network investing in innovative and impactful opportunities, and is a World Business Angel Forum Senator and a member of the Global Business Angels Network. Stephan is a co-founding partner at Edge of Space, a company providing STEAM access to space. As the CEO of the non-profit Transform Poverty Global, he is focused on addressing global poverty along with climate change. Stephan serves on the board of directors of numerous impactful companies, including Spring Health India, University Corporation for Atmospheric Research (UCAR), and recently has personally made 39 angel investments. He is an adjunct professor at the Daniels College of Business at the University of Denver, teaching graduate and undergraduate entrepreneurial presentation and sales skills. Stephan is also the Universal Sales Director at Space Nation and is responsible for their sales and revenue generation.
Stephan holds Bachelors and Masters of Science degrees in Electrical Engineering from Tufts University. He is a second-generation Armenian Russian and a true native New Yorker, fluent in 5 languages. Stephan enjoys traveling the world, having flown over 8 million miles, the equivalent of 16 moon missions. Stephan is a driven volunteer for several impactful organizations and is an active community leader.
Bernd "Berny" Weiss
Bernd is managing adviser at Astromerge, a specialized partnership working on advancements in space, transportation, and health. Bernd is involved at the internationally renowned Ecosystem2030 think-tank. As a researcher in Product Innovation and Space Technology at Luleå University of Technology, Bernd aims to develop fundamental concepts for circularity and a sustainable human presence in space. He launched multiple initiatives and startups, including the Alliance for a Sustainable Future in Space, the Space Career and Leadership Center, and the SpaceJobFair. Bernd is a strong advocate for multidisciplinary ecosystems, intercultural exchange, and cross-industry innovations.
MODERATOR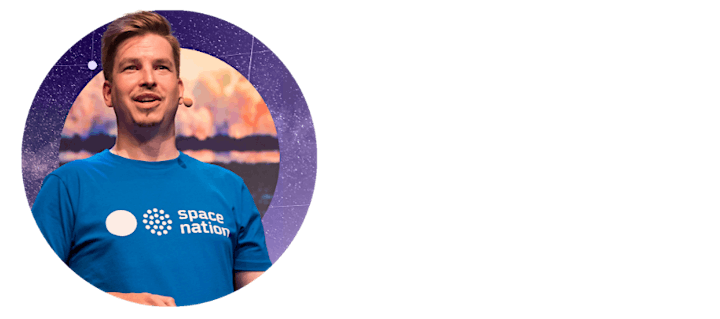 Kalle Vähä-Jaakkola
Captain & Co-founder of Space Nation
A former Finnish special forces military trainer and private sector educator with a love for humanity and space. Cool-headed with unstoppable resilience toward the vision of settling humanity into space to lift humanity for Universal Citizenship.
About Space Nation
Space Nation's vision is to evolve humanity into thriving Universal Citizens on Earth, the Moon, Mars, and Beyond. Space Nation Spaceport offers a safe place to get uncomfortable together with explorers around the world. You can take thrilling scenario training missions such as the Quest to Save the ISS or join weekly challenges and live events in the Universal Citizens Network. Learn more at spaceport.spacenation.org.
Organizer of Space Jobs and Astropreneurship Opportunities are Launching Now!
Space Nation offers otherworldly missions to explore new frontiers, expand your mind and evolve together in a rising community of Universal Citizens.