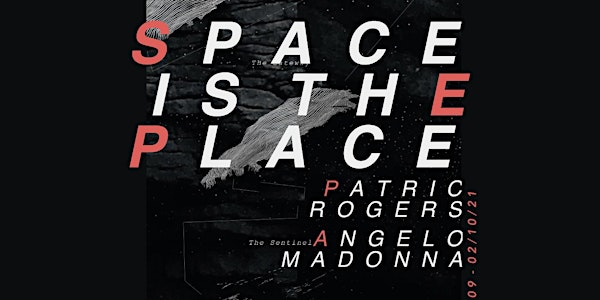 Space is the Place, Patric Rogers & Angelo Madonna Exhibition launch
Exhibition launch for Space is the Place, and project by Padric Rogers & Angelo Madonna. This is part on Convenience 'In Cahoots' programme.
When and where
Location
Bloom Building and Coffee Abbey Close Unit 1 Bloom Building Birkenhead CH41 5FQ United Kingdom
Refund Policy
Contact the organizer to request a refund.
Eventbrite's fee is nonrefundable.
About this event
"SPACE IS THE PLACE"
By: Angelo Madonna & Patric Rodgers
A part of the "In Cahoots" 21/22 programme
Space is the Place is Patric Rogers in collaboration with Angelo Madonna's deeply personal memoir to his most sacred of spaces, Hilbre Island. It is a cerebral exhibition project exploring the psychogeography of one of Wirral's iconic landmarks. Space is the Place encourages the viewer to connect deeper to the environments and places around them and to explore how our connection to place is made through our experiences, dreams, memories and through the landscape itself.
The project began it's life during the our recent lock down period in the mind of its creator Patric Rogers. Patric spent many years during the summer months working on Hilbre Island. Often alone he was left in the quiet of the island to explore it's history, secrets and mysteries. For him the island became a teacher and a place of reflection and solace. Our recent period of national difficulty has opened the doors for people to explore their surroundings with a new found appreciation and it is through the telling of the stories of the island, its history, mysteries, folklore, psychogeographic power and the people who are drawn to it that this exhibition aims to help others connect to their own spaces of reflection and solace.
In this multi part installation experience, Space is the Place encourages the viewer to consider their own sense of space and place exploring how, place, dreams, memories and landscape combine to create a deeper connection with the landscape.
"Space Is The Place" will take place @Convenience Gallery @Bloom Building
About Paddy Rogers & Angelo Madonna:
Paddy RogersPatric Rogers is a contemporary artistbased in Wirral, Merseyside. His workdrifts between mediums from filmmaking,to music to photography and painting.Frequently focuses on the hidden parts ofour world both internal and external, inthe landscape and within ourselves. Hismost recent works explore our connectionto place, and environment throughpsychogeography, history, folklore andmyth and how these combine to help us tocreate a deeper connection to ourenvironment and sense of place.
@patch_1138
@before_you_a_door
https://beforeyouadoor.blogspot.com/
Angelo Madonna
Angelo's work is an on-going research onvisual, sound and material where the mainobjective is to explore affective potentialitiesemerging from the relation betweenmaterials and matter, object and humans.
@angelomadonna66
https://www.angelomadonna.org
If you can donate to attend, please consider it, your donations support us a s a not for profit organisation to do more work like this, putting on free exhibitions, workshops, talks and more. It really makes a huge difference.