Event Information
Location
The Point
14513 Center Point Way
Suite 600
Bluffdale, UT 84065
Refund policy
Contact the organizer to request a refund.
Eventbrite's fee is nonrefundable.
The year 3023 and your space ship has just landed on a planet not on your radar. Lucky for you the inhabitants like to party!
About this event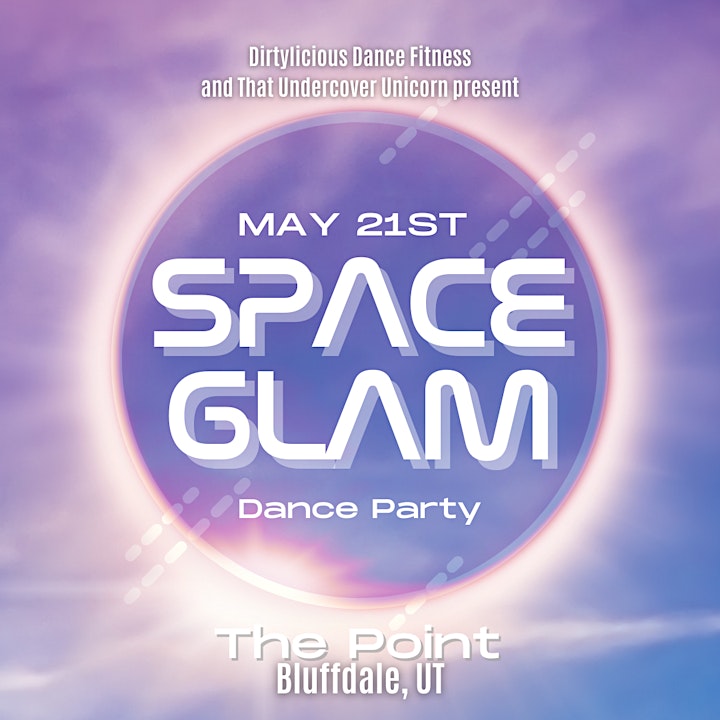 The Space Glam Dance Party is for women (18+) looking to make all of futuristic space glam dream come true because this party is gonna be out of this world...
DRESS CODE: Space glam, sleek spacesuits, metalic, and futeristic styles all encourages.
Your Ticket includes FULL access to everything at this Event:
One ENTIRE Evening of Space Glam Happiness to Dance All Night with all your Girls
• Our DJ will have you dancing like it's 3099
• Learn a space dance combo at a fun mini Dirtylicious® Class - Taught by Dirtylicious Nicole
• Space Glam themed photo-ops with Fun Props – Photo Booth
• Galactic Space Buns Hair Bar - Shade 9 Salons
• A Glam Bejeweling and Ear Piercing Bar (Piercing not included in ticket price)
• Space Food
• Soda Bar
• Rockstar Energy Drinks
• Gourmet Fruit-Infused Water Bar
• And EVEN MORE Mean Surprises from the Future
• Swag Bag ($50+ value) for each guest!
YOU DO NOT WANT TO MISS THIS EVENT!
Full Access VIP Tickets:
Early-Bird VIP Tickets - $25 (For the first 100 women)
VIP Tickets - $30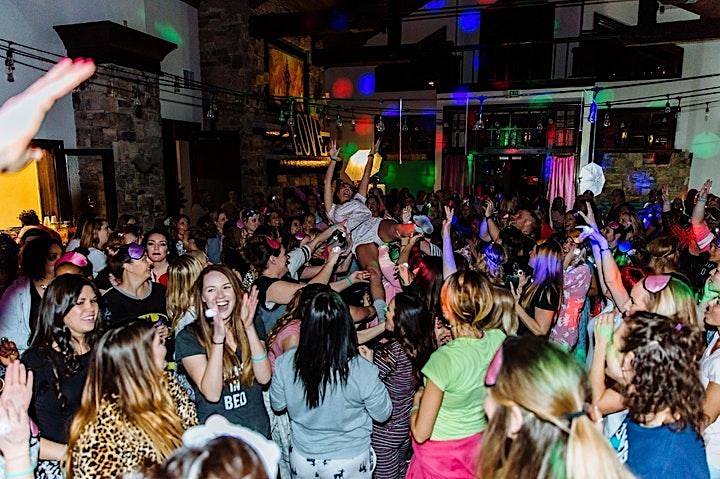 PLEASE READ THIS BEFORE PURCHASING TICKETS
BY PURCHASING A TICKET I AGREE TO THE FOLLOWING RELEASE AND LIABILITY WAIVER:
ALL TICKET SALES ARE FINAL AND NON-REFUNDABLE
By purchasing a ticket to the "Space Glam" Dance Party, I hereby grant the following rights and permissions to ThePartyPlannerAcademy LLC. :
1. Liability & Safety. I hereby release, discharge, and agree to hold harmless ThePartyPlannerAcademy LLC. and its heirs, representatives, and assigns from any and all liability associated with the Activity. This complete waiver of liability includes, but is not limited to, any and all theft, death, damage, and/or injury to my person, guests, and/or property, which are in anyway related to my participation in the Activity, as well as any and all associated damages, monetary awards, injunctions, legal fees/costs, and/or judgments. I understand and agree that my safety is primarily my own responsibility. I agree to observe any rules and practices set forth to minimize risk of injury to person or property and to stop and seek assistance if I do not believe I can safely continue my participation in the Activity. I agree to refrain from any actions that would pose a hazard to myself or others.
2. Permission & Credit. ThePartyPlannerAcademy LLC. has given me limited permission to capture images and digital media clips/streams at the Activity for promoting the Activity on social media and the internet. I understand that I am prohibited from representing that I am a co-creator, contributor, representative, or sponsor for the Activity, the Activity's sponsors (for the specific Activity), or ThePartyPlannerAcademy LLC. unless I receive expressed written permission from ThePartyPlannerAcademy LLC. I agree to credit ThePartyPlannerAcademy LLC. (@chesley.curtis) on any posts related to the Activity.
3. Model Release. I understand that I may be photographed or included in digital media clips/streams taken at the Activity. I give ThePartyPlannerAcademy LLC. the universal and irrevocable right to use my name, voice, likeness, and depictions in connection with the exploitation and promotion of the Activity in any manner and any medium whatsoever (including, but not limited to, promoting future events on social media and blog posts).
4. Consideration. My opportunity to participate in the Activity is the sole and sufficient consideration for this Agreement, and no additional compensation will be provided under any circumstances.
5. Governing Laws.The following provisions govern this Agreement:(i)incorporates the entire understanding of the parties and supersedes any or all agreements; (ii)modifications must be in writing and signed by both parties (iii) waiver of a breach or default shall not be deemed a waiver of a subsequent breach or default to either the same provision or any other provision of this Agreement;(iv) this Agreement shall insure to the benefit of, and be binding upon, the parties' respective heirs, executors, administrators, assignees, and successors shall be governed by the laws of the State of Utah.
Date and time
Location
The Point
14513 Center Point Way
Suite 600
Bluffdale, UT 84065
Refund policy
Contact the organizer to request a refund.
Eventbrite's fee is nonrefundable.